There are so many reasons why I have enjoyed college more than high school. Aside from the obvious (new-found independence, dining halls that are open 24/7, etc.), one of my favorite things about college is that I find, more often than not, that I actually enjoy my class assignments. Gone are the days of pulling my hair out over chemistry and calculus problems, and in their place: projects and assignments that I would actually describe as fun, and that I look forward to working on. Bun Voyage was one such assignment.

I took a social media seminar last semester, and one of our assignments was to keep a blog on any topic that we wanted. Because I had been blogging about my personal life for years now, I wanted to try something different. I wanted to take my readers on a journey, and also write about my love for food. After a little brainstorming, I came up with Bun Voyage, a journey to find the best burger in Athens, GA.

I spent all of my spring semester going out to eat at different Athens restaurants, eating burgers, and then writing about them and giving them a rating to help me determine just exactly what makes a great burger. My criteria included quality of the meat, freshness of ingredients, creativity, presentation, and then an overall rating.

Below are three of the best-rated burgers from my semester-long search:



1)

Five Guys Burgers and Fries




Five Guys is about as traditional as a burger place can get. With a fairly simple menu of burgers and hot dogs, there's really no question on what you're going to get. I ordered a Bacon Cheeseburger with lettuce, tomato, ketchup and mustard and an order of Cajun fries.


The burger was cooked right there before my eyes and delivered hot to my table. The meat was extremely juicy (although it could have used a touch more salt), and the ingredients were all very fresh. The burger was huge, and way more than I could eat, but for only $5, that is hardly a problem.

For being ready in a flash, and for giving me a great value (and then some), I gave the burger at Five Guys an 8.5.

To read the full post, check out Party of Five.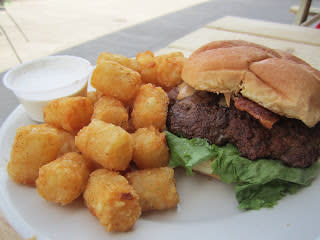 2) Clocked
The burger that I had at Clocked in downtown Athens was on the other end of the spectrum when compared to Five Guys. I had heard tale of a Peanut Butter Bacon Burger at Clocked, and it had gotten rave reviews from my fellow burger fans, but I wouldn't believe it until I tried it for myself.
Seated outside the diner with a cream soda and a cool breeze, I waited eagerly for a burger with a topping I had previously only reserved for toast. When it arrived, I was shocked by how delicious it was. The meat was flavorful and juicy, and the peanut butter added the perfect sweet accompaniment to the crispy bacon. Not to mention the tater tots with the blue cheese dressing. I remember feeling like I needed a nap after this burger, but before it made me sleepy, I thoroughly enjoyed every single bite.
For introducing me to the unsuspecting harmony of peanut butter and meat, and for being off the wall in general, I gave the burger at Clocked a
9.5
.
To read the full post, check out
Rock Around the Clocked
.
3) Farm 255
I have never been bashful about my adoration for this lovely farm-to-table restaurant, but I had never thought of it as the kind of place I would go for a burger. However, one night at dinner with friends, I decided to see what kind of spin Farm 255 would put on a burger. With locally sourced meat and vegetables from nearby farms, I was expecting a burger that would be sure to please. And please it did.
The meat had that wonderful grassy flavor that only comes from cows happily chewing cud on a local farm, and the caramelized onions and sharp Tillamook cheddar provided the perfect sweet and salty flavors. The rosemary french fries were delicious as well, and the homemade pickles on top of the burger really emphasized just how much effort was put into producing the humble hamburger.
For homemade toppings, locally sourced ingredients, and giving me thoughts of happy cows on a nearby farm, I gave the burger at Farm 255 a
9.5
.
To read the full post, check out
Down on the Farm
.
If you visit any of these restaurants and try one of these burgers, let us know what you think! Or is there a delicious hamburger in Athens that we didn't mention? Tell us what you think we're missing!