Happy May, everyone!  As school is winding down and summer is nearing, Cinco De Mayo is the perfect opportunity to celebrate in
Athens
.  From entertainment, to authentic Mexican dishes, to festivals, there's no need to head any farther south for this holiday.
Start your morning with some local flare at Heirloom Cafe and Fresh Market's Spring Artists Market!  Rescheduled from April 28th, the market runs from 10:30 AM - 2:30 PM and will feature the wonderful work of local artisans in forms such as jewelry, photography, and pottery.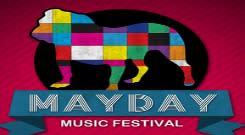 The
May Day Music Festival
, hosted by UGA's own Music Business Program students, will begin at 1:00 PM at The Melting Point at Foundry Park Inn & Spa.  There will be eighteen performing acts between The Melting Point's two stage
s.  With flavors of Rock, Electronica, Folk, Funk, Jazz, and Indie, this is truly a music festival with something for everyone!  
Doors at 12:30 PM.  Tickets are $5.00.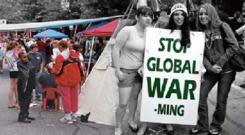 The
Athens Rights Humans Festival
will continue to celebrate politics and culture on Cinco de Mayo.  This will be the second and final day of free, family-friendly activities such as street theater performances, music, and oratories- all amidst beautiful downtown Athens.  
Update
:  the festival was a rainout on Saturday; check the
Facebook page
for Sunday plans.
If you're craving some nighttime comedy, Sean Patton will be the evening entertainer at The World Famous on North Hull Street at 8:00 PM.  Sean, a previous guest on "Conan" and "Late Night with Jimmy Fallon," performing within The World Famous' intimate setting are sure to make for a fun night.  Tickets are $8.00 in advance and $10.00 at the door.
And, of course, no Cinco de Mayo is complete without some queso and margaritas.  This year, my favorite Mexican spot is a little-known restaurant on North Chase Street named Tlaloc El Mexicano.  Since discovering Tlaloc last month, I have hardly been able to forget their delicious (and cheap!) fish tacos and fajitas.  Tlaloc is from Teotihuacan, a city in the heart of Mexico, and their authentic menu is sure to satisfy.  What is your favorite spot to eat Mexican in Athens?
¡Esperamos que tenga un día bueno!