One of my best friends is named Daisy. She has long, wavy, absolutely beautiful golden hair, and she hasn't touched a curling iron in her life. She wakes up every morning looking like a million bucks, while I am in the bathroom, only hoping to achieve such effortlessly perfect locks. She has big, chocolate-brown eyes, and just one flutter of those golden-tipped eyelashes has every boy on the block staring. She is in amazing shape, which is no wonder considering the amount of running that she does every day; yet, somehow, I've never seen her sweat. And on top of that, she is one of the most loyal friends I have, and she treats every time she sees me like it's the first time we've been together in years, full of joy and enthusiasm and excitement.
...did I forget to mention that Daisy is my dog?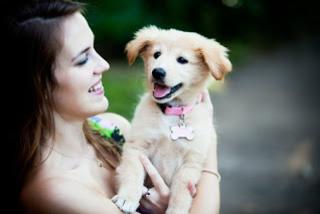 Whoever said that dog was man's best friend was right on the money. Daisy might be a one-year-old yellow lab mix that I found via petfinder.com, but she is one of the best friends I could have asked for. And as a resident of Athens, Georgia, I get the feeling that many of the people here also count their furry, four-legged friends among their best ones.
One of the things that stands out about Athens is just how pet-friendly this city really is. From restaurants that welcome pets to stores that put on fashion shows with canine counterparts, pets are welcome all across the city.
If you're visiting Athens from out of town and would like to bring your pet with you, there are
plenty of hotels
that cater to pets. If your pet is used to being treated like royalty (and let's face it, aren't they all?), then he will feel right at home at
Hotel Indigo
in downtown Athens. Not only is your pet given a warm welcome upon your arrival, he is also fitted with a stylish Hotel Indigo collar and given both a bed and bowls to make his stay as comfortable and luxurious as possible. If you happen to stay on a Wednesday night, bring your pet to Canine Cocktail Hour from 5-7 p.m. where your pet can mingle with other pets and where you can enjoy a delicious $3 Salty Dog or Greyhound beverage.
It can be frustrating to travel with a pet when it seems like you can't take them anywhere, especially to some of the city's best restaurants. But many Athens restaurants are pet-friendly, and you'll find that a great deal of the local eateries with outdoor seating will allow you to bring your furry guest along for lunch.
Big City Bread Cafe
serves breakfast, lunch and dinner, and their large outdoor patio is shaded by big, leafy trees. And we all know that shade is a dog's best friend on a hot summer day. Relax on the patio and enjoy a slice of their "Quiche of the Day" with local produce along with a bowl of Tomato, Goat Cheese and Scallion Soup. Or go for dinner and splurge a little bit on the Rabbit Cassoulet or Coq Au Vin. If you're too full for dessert, grab several of their home-baked desserts to nibble on later, because trust me, you won't be able to resist once you see them.
Even though the temperatures are reaching into the low 90's lately, it's still important for you and your pet to get some exercise, although early morning or late afternoon hours might be kinder to you both.
Athens-Clarke County Leisure Services
maintains over 2,500 acres at 41 different parks, many of which are open to pets as long as they're on a leash. If your pet wants to run free and wild, dog parks can be found at Memorial Park, Sandy Creek Park and Southeast Clarke Park.
Southeast Clarke Park is home to
Wiggley Field
, which accommodates both small and large pets with two smaller parks in one. And for the dog who wants to show off a little bit, Wiggley Field offers an agility course with tunnels, ramps, poles, and anything else you want to use to show off your pet's skills. Another cool thing about this dog park? A double water fountain, with a tall spout for those on two legs, and a shorter one for those on four.
But what if you don't have a pet, and all of this pet-friendly information about Athens is making you wish you had your very own canine companion? As many pets as there are in loving homes here in Athens, there are still many more in local shelters and humane societies that need a good home.
Whether you want to scout out your future pet, or simply volunteer a few hours to play with some of the cutest pups around, you can visit the
Athens-Clarke County Humane Society
every day (except Wednesday) from 10 a.m. - 4 p.m. As a volunteer, you're welcome to take the dogs for walks around the grounds, play a little fetch, teach them a few tricks, or just give them a good belly rub while they nap in the sun. And if you find one that you just can't resist, well...what better souvenir to take back home from your trip to Athens, Georgia, than your new best friend?
Grammy-nominated musical artist Florence and the Machine soared to the top of the Billboard charts last year with her single, "Dog Days are Over." I hate to contradict you, Florence, but it seems as though the "dog days" of Athens are still in full swing.
Have we missed any of your favorite pet-friendly places in Athens, GA? Let us know if there's somewhere special you and your furry friend like to go here in the Classic City!