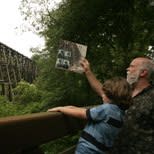 Back by popular demand,
Athens Music History Tours
will be running this weekend during
AthFest
! Taking one of these tours would be a great break from the crowds of Athfest without leaving the music scene! The Athens Music History Driving Tour will be led by local 'scenester' and former Side Effect, Paul Butchart on the
Athens Welcome Center
's Classic City Tours bus. The tour will explore the sights and sounds that cultivated Athens' rich musical heritage. Paul knows the scene well and has many great stories to prove it. Stops include the Murmur trestle, the "Sidewalk of the Stars," and Ricky Wilson's grave. It won't let you down!
Taking one of the Music History Tours will be a fun and exciting way to really immerse yourself in the Athens music scene this weekend. You will be sure to learn so much, even if you consider yourself a music junkie! I will be going on one of the tours this weekend, so be on the lookout for a blog post about my experience some time soon.
Info on the Music History Tours:
Departs from City Hall / Welcome Center KIOSK at the corner of Washington Street and College Avenue
-- Friday, June 25, 11:00 a.m.
-- Saturday, June 26, 11:00 a.m.
-- Sunday, June 27, 11:00 a.m.
TICKETS: $10 with AthFest Wristband; $15 without wristband
Approximate running time is two hours. The tour will depart from the KIOSK on Washington Street in front of City Hall at 11:00 a.m. on Friday, Saturday, and Sunday of AthFest. Tickets are on sale at the Athens Welcome Center or at the KIOSK.
Space is limited. Call 706-208-8687 for your reservation or click
here
.