Residents of Athens, Georgia, I applaud you. Because of your unwavering love for the unique dishes from the kitchen of

Mama's Boy

's, located at 197 Oak Street, this Classic City staple has (once again) been voted 'Athens' Best Breakfast,' by Flagpole Magazine. I applaud you, and I thank you, for knowing a truly good breakfast when you eat one. As you all will agree, I'm sure, this ain't your ordinary eggs & bacon wake-up call.





I came in late on a Saturday morning. However, this was no typical Saturday morning. I had been up since 5 a.m., traveled an hour-and-half, competed in a short triathlon, and driven back. Needless to say, nothing fuels an appetite similar to that of a bear like covering 21 miles of lake and road. I needed a meal that the measly bagel-halves and orange slices served at the end of the race just couldn't really provide. I needed the hearty deliciousness of a Mama's Boy

Breakfast Taco Plate

.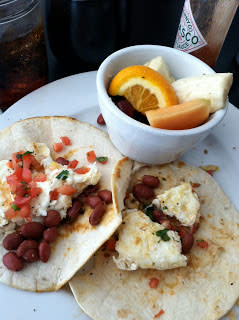 Mine came to the table served open-face with fresh salsa, scrambled egg whites, and red beans on a warm flour tortilla. With a growling stomach that refused to let me fiddle with delicately wrapping my eggs and beans up into the traditional taco style, I just dove right in, fork and knife in tow. This protein-packed breakfast was exactly what my aching muscles and empty tummy needed. Two tacos and a cup of assorted fruit was precisely the right portion of food to satisfy my rampant hunger.
Don't wait for a lazy weekend brunch to fulfill your Mama's Boy calling, however! If it's a tall, hot stack of flapjacks you have a persistent hankering for, come in for
Pancake Tuesday
, every Tuesday morning. The unique specials change each week, depending on what's in season. (Just as a teaser, a few weeks ago they were serving up Apple Pancakes with Cinnamon Whipped cream. Incredible.) And just in case you miss the breakfast hour altogether, never fear! Mama's Boy offers a phenomenal lunch menu, as well. I would particularly recommend the
Grilled Pimento-Cheese Burger
, a classic American beef patty topped with a delicious, slightly smoky, Southern twist. Messy? Maybe a little, but this burger is totally worth it (and each table always an ample supply of napkins to take care of any cheesy mishaps, anyway!).
Enough with the bland, boxed cereals and greasy drive-thru breakfasts already! You shouldn't have to settle for anything less than Athens' finest for the most important meal of the day. The Breakfast Taco Plate prepared by
Mama's Boy
in Athens, GA certainly serves double-duty, both as the perfect start-up meal to power you through the work day, and as a well-balanced recovery meal if you need a little rejuvenation!
---Elizabeth Bertrand