Let's face it. We're all looking for ways to save money. It's usually a difficult task, particularly when revolving around the very vital process of keeping yourself fed. With all the delicious options of restaurants located in Athens GA, it can be hard sometimes to pass up a friend's invitation to eat out. However, my wallet just can't support my dining decisions, and I find myself following the typical college diet of ramen and fast food's dollar menus far too often.
After a few stomachaches too many, I decided to actively search for deals around Athens that would allow me to get away from the kitchen a few times each week (I have to confess - I
abhor
washing dishes). After asking my friends and spending a lot of time on Google and
www.VisitAthensGA.com
, I came up with a pretty substantial list of different places to try.
I can't say I've gotten to try even half the places on that list, but I did want to share with you some of the restaurants I have been to and thoroughly enjoyed. The topic of today's post? One of my favorite things to discuss -- ethnic food!
Now, when one thinks about eating on a budget, a restaurant specializing in sushi does not generally come to mind. However,
Utage
's lunch menu is the first steal I want to talk about. Because Japanese food is generally in the more pricey category, the lunch combination

option is a serious deal. You can choose two menu items from a given list (yes, sushi is on that list) which will be served with miso soup, salad, and rice, all for under $8! And don't worry if you can't stomach raw fish; they offer different meat dishes and noodles. They also have plenty of sushi rolls including only cooked protein. Of course, besides the awesome price, the food is tasty, fresh, and satisfying. On a side note - if you are a fan of tofu, I would highly recommend the agedashi tofu. This dish contains cubes of silky tofu encrusted with a delicately crispy layer sitting in a sauce that I dream about sometimes.
This next deal is so good, it has been solely responsible for the end of my dinnertime fast-food
runs. Many in the Athens community rejoiced when Maba Grill, a Vietnamese bistro, opened up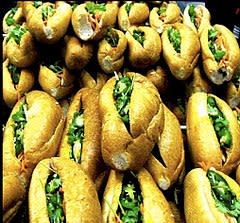 downtown. What's not to love? Big steaming bowls of chewy noodles and crunchy bean sprouts, delicious options for both meat-lovers and vegetarians, grilled meats sitting on top of beds of noodles or rice awaiting a sprinkle of fish sauce...all ready to be consumed! But what I really want to highlight here is my personal favorite to order - the banh-mi, or Vietnamese sandwich. You get an option of chicken, steak, mushroom, or tuna on your sandwich, which is comprised of a complex mixture of flavors and textures all contained within a crusty baguette. The best part? It's less than $4! With this low price, me and a couple of my friends have been known to purchase multiple sandwiches during a single visit in order to save some for later.
My last deal is an Athens favorite. I have been to the Latin American
Cali N Tito's
too many times to count, and I will continue adding on to that number until I am no longer within driving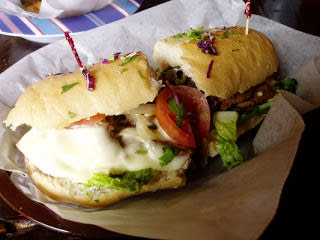 distance of the place. This place has earned itself a permanent place on the Athens dining map
through its fun atmosphere, reasonable prices, and consistently great-tasting food. While dinner is inexpensive as well, the real deal comes during lunchtime. During lunch, you can get a combo
that includes an entree, a side, and a drink (try the limeade if they haven't run out of it!) for around $7. It's an enormous amount of food for a very small price, and the restaurant is a great place to go with your friends. As for any personal recommendations of mine....well, I seriously recommend that you go as many times as you can so you can try the whole menu. I am particularly fond of the sweet plantains, which are always very nicely caramelized, but honestly, all of the sides are equally as good.
I wish I could talk more about other places I have found, but if I didn't limit myself to three restaurants, I might never stop! Even though I condensed my list, though, doesn't mean you have to as well -- what are some of your favorite deals in Athens when it comes to ethnic foods? Have you been to the places I listed, and if so, what are your recommendations?
- Debbie