Did you know that 61 percent of low-income families do not have a single piece of reading material suitable for a child? Or that one-third of Georgia children go to school unprepared to learn?
I did not realize what a
vital issue
literacy is in Georgia until last August, when I started working with a program called
Ferst Foundation for Childhood Literacy
. Ferst Foundation is a public non-profit with the mission to "provide books for local communities to prepare all Georgia preschool children for reading and learning success."
Children registered for the Ferst Foundation program receive a free book at his/her home every month until five-years-old. If registered at birth, each child will receive up to 60 free books for his/her own personal library! The children's classic The Little Engine That Could is the first book each child receives, and Look Out Kindergarten, Here I come! is the final "graduation" book that is received when the child turns five.
The local Clarke County partnership with Ferst Foundation,
Success By Six/Wee Read
, has a similar message: "to ensure that all children in our community receive the early experiences necessary for success in school and in life." This program also provides a newsletter with effective reading techniques, parenting information, local events and activities for children, and a book activity page.
If you have a child under five-years-old, I highly recommend registering your child for Ferst Foundation for Childhood Literacy.
I have had the honor of volunteering with this truly inspirational program for five months. I am the Account Executive for this account through
Creative Consultants
, the student-run PR firm at UGA. My team (five other students) and I have planned and executed PR strategies to increase public awareness of the program and recruit registered families. One of our most exciting projects for the semester is to film and edit a promotional video for the program. We hope to release the video on the Ferst Foundation Web site,
YouTube
and other social media outlets. Please contact me at emilyekittle@gmail.com if your child is enrolled in the program and you would like to volunteer for filming.
Below are photos and testimonials from local Clarke County families registered with the program. I hope the testimonials will encourage you to register your child for Ferst Foundation. Stay tuned for the final production video which will be released in mid-to-late April!
Reading isn't just a pre-bedtime activity in the Dutcher household. They read (and occasionally re-read) a few different books daily. In this photo, Leslie Dutcher reads a current favorite from Ferst Foundation, Pip and Squeak, to her son soon after they arrive home from work and school. Leslie, a primary school teacher, recognizes the importance of early childhood learning and highly recommends this program.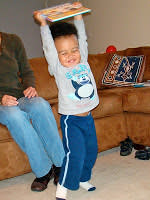 "He is excited to receive the book each month. When I take the book out of the mailbox, and before we even get to the house, he wants me to open the book." -Leslie Dutcher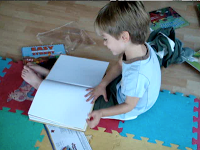 "Ferst Foundation is a great program and it's really exciting. Tristan receives books that are his own and he has thoroughly enjoyed getting them. It is something that really excites him every month- something to look forward to and make him excited about reading. I tell anybody that has kids to definitely join Ferst Foundation." -Beth Lowery, mother of Tristan (photo).