Folklore has a variety of expansive and comprehensive definitions. A Stuff You Should Know podcast on the topic defined folklore best as, "traditional art, literature, and knowledge that is disseminated largely through communication and behavioral example." Simply put, all the things people say and do. Even simpler put, folklore is everything and everywhere. Athens has a rich sense of history and culture that reaches far beyond the University of Georgia and the city makes this history and culture readily available to locals and visitors alike. Its this culture that sets the city of Athens apart from the rest. Make your next trip a cultural exploration by truly taking in all that Athens has to offer. 
A student at UGA can easily get trapped in the campus bubble, with experiences limited to campus, student housing, popular restaurants and bars. Fortunately for me, the university requires all freshmen students to enroll in a one hour credit course over a topic of your choosing ranging from the history of chocolate, a survey of Sense and Sensibility, to the implications of the Holocaust. These small seminar-style classes hold 10 to 15 students and are designed to aid freshmen in acclimating to college. My roommate and I registered for Digital Storytelling simply because the time worked in our schedule and the topic didn't sound terrible. Little did we know that this once a week course would open our eyes and hearts to the real Athens.
Our Digital Storytelling instructor was a man passionate about the sharing of ideas and Athenian culture. Outside of UGA, he took photographs for the monthly Rabbit Box Storytelling, an event inspired by popular storytelling series The Moth. At Rabbit Box, people who've signed up ahead of time get on stage and tell stories based on a preselected theme. Stories must be told and not read, pertain to the theme, be true, take less than eight minutes to tell, and have a clear beginning, middle and end. 
As the young and naive freshmen we were, my roommate and I were not very excited to hear that our one hour credit course required us to attend Rabbit Box. Stuck inside the campus bubble, we'd never heard of Rabbit Box and honestly were more eager to meet and learn from other students, not locals. Begrudgingly, we set a date to attend on the evening themed Family Ties. Looking back, I know now that was a night that defined my Athens experience, campus experience and career aspirations. 
The event was incredible. People kept filing in and soon the cozy Foundry venue was packed with people enjoying dinner or a cocktail while chattering excitedly. The room was beautiful, the atmosphere was buzzing and the stories were wonderful. Some made me laugh, some made me cry but all made me fall in love with Athens, Georgia.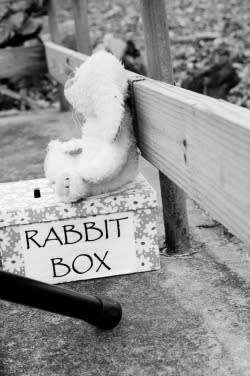 Folklore isn't just local myths told by mountain men. Folklore comprises of the tradition, culture and stories of a group of people. If you are anything like my family and like to branch out, take a step back from the touristy scene and do as the locals do, I urge you to immerse yourself in the folklore of Athens. The depth, sincerity and charm of this city will overwhelm you and leave you with an authentic Athens feel. 
I'm still a frequent Rabbit Box audience member, never quite brave enough to take the stage myself. At first the lack of students in attendance upset me, but with time I saw the beauty in it. Rabbit Box is a product of proud native Athenians. Though the Georgia Bulldogs are a large part of Athenian culture and folklore, there is more to Athens than the colors red and black. 
Don't just visit Athens. Make the most of your stay and truly immerse in it.  
Photo Source: Rabbit Box Storytelling Facebook