Before moving to Athens GA, I didn't really know how to ride a bike. 
That is to say, while I had the ability to ride around in circles in my driveway, I had never voyaged outside the boundaries of my neighborhood. My lack of experience didn't come from a lack of interest though, the disconnect was more the result of my community, which didn't really support biking as a means of transportation or even public activity. Biking was strictly for kids in driveways and families in parks.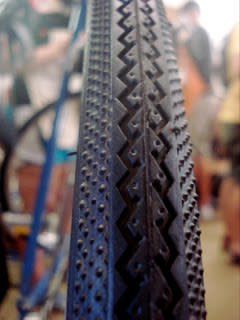 With another bike rack always just around the next corner and bike lanes sharing over 54 miles of road, Athens, GA is a far cry from my bike-oppressive roots. As a town that not only supports, but encourages, traveling with just two wheels, Athens is a rare kind of city in the South. After years of hosting special events like the pro cycling 
Twilight Criterium
, bicycles have even come to be a symbol of the Classic City. It's hard to imagine a downtown without brightly colored road bikes carrying Athenians of all ages. 
Just last month, Athens-Clarke County received the distinguished designation of Bike Friendly Community from the League of American Bicyclists. Now numbering among only 2 other counties in the state (179 nationally out of over 450 applied) to receive this designation, Athens, GA has been recognized for its efforts and success in creating a bike friendly community. And who do we have to thank for this prestigious honor? Aside from a willing community and cooperative local government, the biggest strides made in the way of making Athens a safe and accessible biking city have come from the commitment of local non-profit,
BikeAthens
.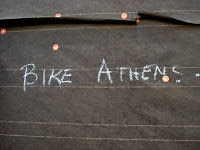 BikeAthens has been passionately promoting its mission of informing the community about bicycle and alternative transportation options since 1992. With unrelenting dedication, BikeAthens has carried out its goals through advocacy and, most impressively, community service. 
With support from local agencies and committed volunteers, BikeAthens' 
Bike Recycling Program
 refurbishes and re-allocates used bikes to those in the community not adequately served by public (and private) transportation. Since its start in 2001, the BRP has repaired over 600 bikes which are donated largely to the Athens Area Homeless Shelter along with a couple of other local organizations. With volunteer operations taking places every Monday and Wednesday from 6-8:30 and Sunday from 2-4:30, the program works to unite the city over a common goal.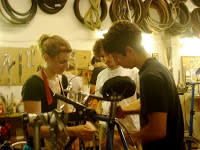 Volunteers rebuild an old road bike
So, as a blossoming Athens biker myself, I decided to get my hands dirty for the good of the greater community. Situated in the Chase Park Warehouse next to
Pig Pen Studios
, BikeAthens workshop has the quirk and heart of all the best Athens locations. Maybe somewhat wishfully prepared, I navigated the somehow artful construction of the Warehouse in a clean set of clothes with two of my willing friends. Inside the buzzing workshop, a few clusters of volunteers hovered around bikes in repair. Not much of a mechanic myself, I realized I may have overestimated my abilities to help, but my doubts were quickly quieted as the nearest group of volunteers greeted us with aprons and pulled us into their current project- a beautiful blue road bike in need of a fresh chain. Teams worked and laughed together all around the workshop engrossed in their repairs, and before I had even managed to smear any grease on my face, we had successfully added the good-as-new chain to our blue beauty. In talking with the wide variety of volunteers of assorted age groups and levels of expertise, it seemed quite clear that what they all shared was a common appreciation and recognition of the value of a town striving for openness and accessibility.
In a larger warehouse unit next door, ready-to-be refurbished bikes of all shapes and sizes covered the concrete floor awaiting the day they'll be pedaled through the welcoming streets of Athens once again.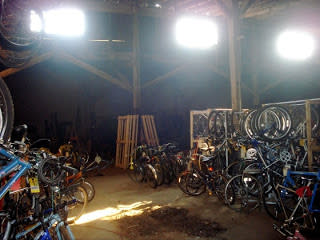 If you're like me and haven't experienced much of the world by bike, Athens, GA, is the best place to start. Throw your old bike in the trunk and make a visit, I guarantee you and your bike will be welcomed with open arms.
Oh, what's that? You don't have a bike? Even better! You'll get plenty of help making the perfect purchase from the experts at
Sunshine Cyles
,
Ben's Bikes
, or the
Hub Bikes
. Or help support
BikeAthens
by buying one of their refurbished bikes, with proceeds funding further repairs and workshop costs, at Earth Fare on Saturday, June 18, from 2-4 p.m.
Maintaining safety is an important part of being a bike friendly city, so BikeAthens in conjunction with the League of American Bicyclists will host
Cycling Course
: Traffic 101. Come refine your techniques and knowledge of the road in this two-part class Friday, June 17 from 6:30-9 p.m., and Saturday, June 18 from 9-1 p.m.  For more information on these events, visit their website
here
. 
Get a little adventurous this summer- come explore Athens by bike! Check out the BikeAthens Google Map Bicycle Tour of Athens:
View Larger Map
Or grab a free Athens-Clarke County bike map at any of these locations (links to map locations):
Check out more tours and itineraries
here
. Find everything else you need to know about planning your visit on our
site
.