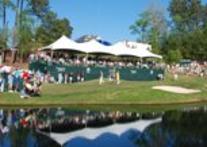 Spring is here...hopefully to stay this time...and this weekend is a great time to get out and explore all of the activities going on in Athens.

Look at some of this weekend's most exciting events.

Fourth Annual Athens Regional Foundation Classic
April 13-19 Jennings Mill
Professional golf returns to Athens and Jennings Mill, a Bob Cupp-designed, 7,000+ yard course. The event offers a $500,000 purse with proceeds benefiting the Athens Regional Foundation.

Click here for tickets and more information.

16th Annual Piedmont Gardeners' Tour
This spring garden tour has been sponsored and presented by The Piedmont Gardeners since 1992, and features an inside look at Athens' most inspired private gardens. Six gardens will be featured. Your ticket is a brochure that includes a map and directions. Rain or shine. The home of Vince and Barbara Dooley is on the list.

For more information click here.

Antebellum Trail Pilgrimage
Georgia's Antebellum Trail Pilgrimage will take place from April 16-18, April 23-25 and April 30-May 2 from 10am – 4pm. It will feature events and tours along the Trail as well as entrance into private, historic homes not generally open to the general public. Tickets are $25 per person and include access to your choice of seven attractions and/or events. The tickets can be purchased at any of the Welcome Centers along the trail and used on any of the three weekends.

Looking for more? Don't forget about UGA Athletics like Baseball and Track and Field or the Great Southland Stampede Rodeo. Or check out the Stay and Do page from Athens Life Unleashed.