As the week winds down and my energy levels start to decrease, I begin to employ a personal technique to get me through to Friday, and I'm sure some of you use it, too. A sure method of revving myself back up is to plan for my weekend; I love finding about the numerous events happening in Athens over the weekends and deciding which of them capture my interest.





Are you like me? Does planning ahead for your free time give you that extra burst of excitement and motivation? If so, I'm glad you have come, because I have several events for this weekend's calendar that I would love to share with you all!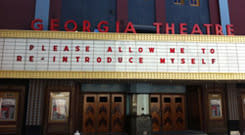 1. Want to experience Athens' famed music scene? You should definitely check out the Athens-based band
Futurebirds
as they perform at the Georgia Theatre on Friday. This band has been praised for their undeniable character and ethereal sound. Their opening act is Gary Clarke, Jr., a singer-guitarist who has been making waves within the music industry and garnering support from well-known artists such as Eric Clapton and Sheryl Crow. This will be yet another great show from a great Athens venue, and it only costs $12! Doors open at 8 p.m.; Clarke's set begins at 9 p.m., and at 10, Futurebirds will take the stage. Keep in mind that this is not a family event; all shows at the Georgia Theatre are 18 and over.
2. Calling all of Bulldawg Nation -- the
first home game
of the football season is finally here! This Saturday, thousands of people will be coming together at Sanford Stadium to cheer on the Dawgs to victory. They will be playing the South Carolina Gamecocks at 4:30 p.m., and if you weren't able to get tickets, do make sure to tune in on ESPN. Grab your friends and join the tailgating festivities, or just make it a party in your very own living room. Also, if you're coming from out of Athens to see the game, make sure to check out some great hotel deals from the Athens website. Go Dawgs...Sic 'Em!
3. This weekend marks the 10th anniversary of September 11th, and I'd like to highlight the
September 11 Memorial Ceremony
that occurs right here in Athens. It is located on Bob and Nancy Hart's property; they decided to build a memorial garden and trail after a visit to New York City. The ceremony will include a choral group and a reading of each of the victims' names, and the Harts encourage attendees to walk the trail either before or after the 30 minute ceremony. This event takes place on Sunday at 6:30 p.m., and there is no admission fee. The trail itself is filled with artwork and structures all commemorating the lives lost on that day.
The events don't stop there. Check out some more things to do this weekend!
Experience the full moon while on the water at

Full Moon Paddles

hosted by the Sandy Creek Park. Admission ranges from $5 to $12 depending on whether you are a resident and whether you bring your own boat. It is held on Friday and Saturday from 8-10 p.m., and make sure you register in advance! This event is for ages 12 and older.
Don't miss the

Edmund Lewandowski: Precisionism and Beyond

exhibit at the

Georgia Museum of Art

this Saturday. Lewandowski was an artist and educator who chose architectural and industrial images as his subject matter; catch his work from 12-5 p.m.!
Looking for a little something different to round out your football weekend? Try

Football Weekends at Hotel Indigo

, where you can celebrate our team by enjoying live music. On Friday, listen to Justin Brogdon from 4-7 p.m., and on Saturday, make it a day-long affair by joining them for the pre-game radio broadcast as well as a post-game tailgate.
So jump-start your weekend (and your energy!) by planning for it now! Who's going to the game this weekend? Or doing anything listed in this post? If not, what are your plans?
- Debbie