When getting to know people, I feel it is important to learn about their history and background to better understand how they have come to be who they are today, and I think this applies to places as well. Take Athens, Georgia, for example. This city has such a vibrant and diverse environment and is home to one of the nation's finest universities; where and how did it all start? Surely such an interesting place must have a history worth learning about.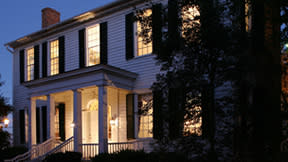 It is with this thought in mind that I went on the Athens Heritage Tour, offered daily and one of the many
Classic
City Tours
made available by the Athens Welcome Center. This particular tour takes you through the historical districts of Athens, which I thought were probably areas that I didn't really pay attention to or pass through during my day-to-day life. How wrong I was!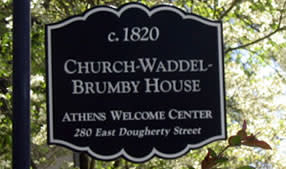 This tour begins in the Church-Waddel-Brumby House which is home to the
Athens Welcome Center
; it is also believed to be the oldest residence in Athens, GA. The house itself is designed to take you to the time period of 1820-1829. As you walk through its rooms decorated in hand-painted wallpaper as well as period furniture, you are truly taken back through time. After exploring this memory-filled home, it's time to board the shuttle and see other historical buildings and sights.
It was during this portion of the tour that I was astounded by how much of Athens' beautiful sights I had missed or taken for granted while driving around these past three years. The historical neighborhoods were a really special visual experience, and, for me personally, quite inspirational as I now know that I must have Victorian lace ironwork for my future home (it's gorgeous!). You are also able to see some unique Athens landmarks such as
The Double-Barreled Cannon
as well as
The Tree that Owns Itself
. While driving through areas more familiar to me, I realized how interesting it was to learn about the origins of these preserved buildings and homes that are now used to house local businesses, museums, event space, and more.
And speaking of interesting things, some of the facts we learned on the tour were pretty neat! Did you know that the University of Georgia was not originally supposed to be built in Athens? Actually, the decision-making factor was that Watkinsville, the other city in consideration, had a pub (which was something Athens did not have at the time, surprisingly), and people didn't want the students to be distracted from their studies. It's tidbits like this that make the tour so interesting as well as visually-appealing.
I do wish I had been able to take personal pictures to share with you the beauty of the tour, but unfortunately, my camera battery decided to malfunction on the day of the tour. However, if you are a proud Athen-ian, and you haven't looked into this tour yet, I would strongly encourage you to check it out! It is very reasonably-priced, and as a nice deal, you can even get $5 off through
www.

VisitAthensGA.com
.
So find some free time, and book your tour by calling the
Athens Welcome Center
at 706.353.1820 to learn about our great city today!