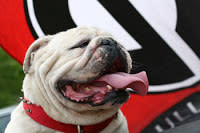 All the details on this Saturday's contest!
Text "DAWG" to 95495 this Saturday, November 14 to enter.
One luck dog will receive 2 nights at the all-new Hotel Indigo plus entertainment and dining, a value of more than $700. Experience trend-setting Southern culture beyond the hedges.  
For official rules, click
here
. 
Are you just going to bug me with lots of texts? You can choose to opt-in to receive future information from Athens about upcoming events and specials.  Or you can opt-out.  It's up to you.
Will you give my information to anyone else? No.  We never give our patrons information to other organizations.
How does this work? It's just like sending a text message.  Open up a new text message.  Type in 95495 as the recipient.  Type dawg as the text.  Now hit send!  It's that easy!  You're all entered.
Who can enter? Anyone who loves Athens and would be interested in returning for a special weekend!
Remember this contest is Saturday only so don't forget & text to win! Good Luck!