If you're anything like me, then you probably don't know what to do with yourself now that football season is over. Thankfully, Athens, GA recognizes the importance of a year-long football season and has given locals another reason to celebrate. As of late-January, Herschel's Famous 34 Pub and Grill has been an oasis for Georgia fans everywhere and a hot, new hangout spot for family and friends alike. 
???
The Athens Convention & Visitors Bureau's Kelli McCain
and Chuck Jones with Herschel Walker at his
restaurant grand opening.
???
Owned by legendary Georgia running back Herschel Walker, Herschel's Famous 34 Pub and Grill features half a dozen 60-inch TVs, complimentary wireless Internet and table-side tablets featuring messages from the football start himself. The menu is also pretty impressive, featuring steaks, burgers and salads, in addition to more than 34 flavors of craft brews and wings. 
So if you're looking for a fun, sports-friendly restaurant to visit with your family or friends, I highly recommend Herschel's 34 Pub & Grill. I ordered a full rack of ribs served with fries and apple-cider slaw when I went, and I must say, my meal was nothing less than perfection. And if that doesn't get your mouth watering, just get a glimpse at the menu, and a couple of delightful images from my recent meal . . .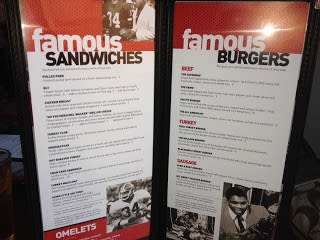 ????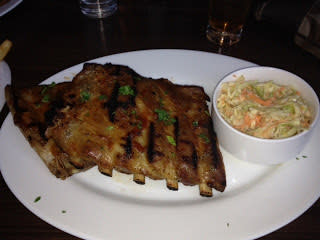 (Ribs with apple-cider cole slaw)
?????????
(Feta, roasted tomatoes and spinach omelet)
?????