I will be the first one to tell you that I am no artist. In fact, the last art class I had was in elementary school, where I remember making a crooked clay pot constructed with uneven coils (I gave it to my mother, and it now proudly stands hidden in our basement). But this doesn't mean I don't appreciate art and those who create it. In fact, something I love about Athens is its great art scene -- there are so many exhibits to see and so many local artists that are showcased in different Athens businesses.
So maybe you will understand my excitement when I heard about the opening of
Artini's
this past summer. If you haven't heard of them, they basically have a set calendar each month of different paintings; you choose which painting you like, register for the class, and show up that night ready to stir your creative juices!
They will teach you step-by-step how to paint the chosen piece of artwork, so if you're a beginner like me, you will have no problem creating a masterpiece. Even experienced painters and artists are welcome, however; if you want to add your own flair, use different colors, or change certain aspects of the design, you are totally welcome to do so. You are provided with all the necessary tools to make your painting: an apron, easel, canvas, paints, brushes, etc.

I was very excited the week before going in to paint my "Sitting Pretty" piece. The night of, I arrived at Artini's at around 6:30 (they recommend getting there 30 minutes early in order to get a parking space in the limited lot they share with Gigi's Cupcakes and Sweet Peppers Deli), and used my extra time to look at some of the great art being displayed in the space as well as get myself situated. I talked to a few of the people sitting around me; many of them also were first-timers sharing the same excitement and nervousness I felt about how the painting would turn out. As our instructor began the class, we set to work on our canvases, equipped with our brushes and aprons.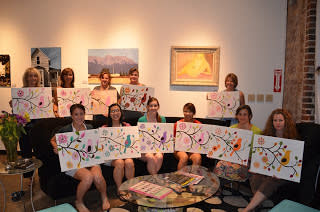 As we got further into the session, we all started
really having fun with our paintings! Looking around, I saw a variety in designs and colors, and even the instructor was giving suggestions on how to alter the paintings to one's own taste. She gave us plenty of time for each step to make sure that everyone was happy with their work, and even though I sometimes worried about small imperfections and details (those thin branches gave me a very difficult time), I was very content with the final outcome.
What made Artini's a great experience besides the fact that I came out of it with something nice to put in my room? First of all, the people at Artini's create a really fun and relaxing atmosphere; they are very personable and like to get the classes pumped by playing music and serving beverages. This brings me to my second point: they offer refreshments while you paint, so if you are of age, you can order a bottle of wine with your friends. This would make a great place to have a private party for birthdays or any other special events.
Now, I do know there are other places in Athens that offer similar types of experiences, such as
Pints & Paints
and Sips n Strokes. Unfortunately, I personally have not had the opportunity to visit these places; however, I have heard great things from people who have gone. I would like to eventually go, since each place offers such distinct options, and honestly, my room is a little bare.
Have any of you gone to any of these places recently? I'd love to hear about your experiences!


- Debbie