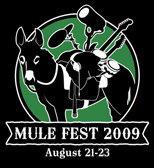 Head to Athens for Mule Fest this weekend! There is an amazing lineup of over two dozen bands, plus comedians and family fare. The entertainment will be presented on two stages. The outdoor main stage will be located in the First American Bank & Trust parking lot adjacent to The Green Room, an intimate, inside performance space, at 512 N. ThomasStreet, just down the street from The Classic Center and The Foundry Park Inn & Spa.



The festival kicks off on Friday, August 21st at 6:30 PM. Music begins at 7:00 PM and comedy in the Green Room featuring Chris Patton, Harold Kizzapps, Jonathan Lowder, and Brian Stoltz will commence at 8:00 PM. On Saturday, August 22nd the festival will start at 10:00 AM with the music of Pam Blanchard and The Sunny Side Up Band and will continue until 12:00 midnight. The festival concludes on Sunday, August 23rd at 7:30 P.M. with The Lee Boys from Miami, who recently performed on Late Night With Conan O'Brien.





The music includes almost all genres of music, including acoustic performances, jam bands, alternative-rock, Americana, blues, funk, jazz and soul. Additional performers include: The Incredible Sandwich, The Bearfoot Hookers, Half Dozen Brass Band, Betsy Franck & The Bareknuckle Band, BradDowns & Poor Bastard Souls, Fly Brothers, Free Lunch, Ken Will Morton,JazzChronic, Laissez Funk, Lingo, Lefty Hathaway, Nathan Sheppard, Soulhound, Trey Wright Trio, The Tropical Breeze Steel Drum Band, and more.





Wristbands for the 3-day festival are $15.00 in advance and $20.00 day of show. Day passes are available for the Friday evening shows at $8.00 in advance and $10.00 day of show. Day passes for Saturday and Sunday are $10.00 in advance, and $12.00 day of show. This will be an all-ages event. Children under 12 will be admitted free with the purchase of an adult ticket.