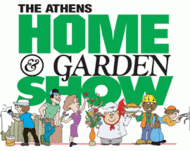 Athens is never short of places to visit, people to see and things to do. And this weekend is no different.

There are a host of events in Athens this weekend for every type of person. For a complete list of ideas click here.

Here are a few of my picks for the weekend:

OK so we all LOVED the snow right? But what beats the warmer weather we are all accustomed to? Spring is almost here, so why not stop by the 15th annual Athens Home and Garden Show.

Held at the Classic Center, the show will also include area builders, retailers, Realtors(R), bankers and other professionals to answer questions. A Kids' Corner includes activities, arts and crafts, and other family events.

The cost is $5 adults/$4 seniors/$3 ages 3-12/under age 3 free. For more information click here.

Looking to stay inside? The Georgia Men's Basketball team will take on South Carolina Saturday at Stegemen Coliseum. We all still bleed red and black and after a very impressive game vs. Florida a few weeks ago, anything is possible. Tickets are $15 and the game starts at 2:00 p.m. For tickets click here.

Don't forget to take advantage of the many FREE events going on at UGA. This Friday be sure to stop by the African American Film Festival. It starts at 9 p.m. at the main library!

For more ideas visit Flagpole Magazine's event calender by clicking here.