Springtime in Athens, Georgia is simply unbeatable! With luscious gardens all around and colorful flowers in full bloom, it's no surprise that the city's annual gardening events are always a major hit. In fact,

the Piedmont Gardeners Garden Tour

and

Plantapalooza

are two upcoming gardening events that are visitor favorites.

The Piedmont Gardeners Garden Tour

(April 20) features an inside look at five of Athens' most inspired private gardens, while

Plantapalooza

(April 6) offers a wide array of unique garden plants available for sale.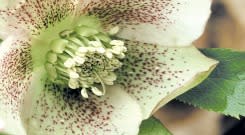 The following submission, which originally appeared in

Southern Distinction

magazine and appears below with permission, features Connie Cottingham's outlook on

Plantapalooza

:





The latest trend in home landscaping is growing your own food. You've been hearing all the catch phrases: slow food, organic gardening, container vegetables, urban gardening, ornamental vegetables, backyard harvests. So the very human thing to do is to run out and buy the most familiar plants or well-marketed contraption and jump on board. The problem with that is we often start with the most difficult item, get discouraged, and pronounce that we have a brown thumb. If you start gardening with a peach tree and packs of tomato and pepper seed, then you are setting yourself up for disappointment by starting with the most difficult things to grow. Take an easier route to success.




First, fruit trees can be complicated. If you want to get started with fruit, berries are perfect. They are tasty, healthy, not too big, and work well in a home landscape. Build your confidence with berries, then move to fruit trees (figs are an easy option.)




If you want to grow tomatoes and peppers, start with plants. You don't need too many and by buying plants you can choose different varieties. Let the professionals with greenhouses grow them from seed.




I asked Jeannette Coplin at the

State Botanical Garden

what plants would be available at the plant sale. "The emphasis this year is on urban gardening, with apples, pears, peaches, figs, plums, pomegranates, blueberries, and blackberries, plus container and space-saving tomatoes." Yippee! - I am headed straight to the vegetables at

Plantapalooza!

plant sale at the

State Botanical Garden

on April 6 to pick out my tomatoes and pepper plants. Cherry and yellow pear tomatoes (just as small as cherry tomatoes, but pear shaped) are easier for me to grow than the larger tomatoes. I will only grow things from seed if I can plant the seed directly in the ground. Beans do well for me. They are robust, fast growers and Mother Nature helps me keep them watered. In cooler weather, turnips, radishes and lettuce are easy to grow from seed.




You see, even if you've done a lot of research or a gardener has held your hand and shown you the tricks (like planting tomato plants deep,) you are going to experience blunders in the veggie garden – we all have. And each one will teach you. And each year you get more knowledgeable and want to try something new.




Growing herbs is almost foolproof and herbs add more than flavor – they can have pretty blooms or serve as an evergreen groundcover. The main thing to remember about herbs is that most love sun and cannot handle wet, boggy soil. To start, try rosemary, which can be an evergreen shrub here and has beautiful blue flowers. Oregano, with attractive blooms and low, dense, evergreen foliage, is also easy.




Expect many vegetables and herbs – plus annuals, perennials, tropical, trees, and shrubs – at

Plantapalooza

! At the top of my list is a mint tea collection - six different mint plants in a jumbo 6-pack. Fresh mint can be made into an herbal tea or flavor lemonade, iced tea, and fruit salads.




Mint is a very easy plant to grow. In fact it can be too easy, taking over a flowerbed. The trick is to grow mint in containers, keeping the containers away from soil (a plant could escape out the drainage hole and take root in the ground.) Another trick with mints and most herbs is to harvest often, which encourages new, flavorful growth and keeps the plant attractive.




No matter what your level of gardening experience, you will find some great plants at

Plantapalooza

! in Athens on April 6. The Southeast Tourism Society has named it a Top 20 Event in the Southeast. I have met gardeners who drive in from South Georgia or Atlanta to attend. Three UGA plant sales – at The

State Botanical Garden of Georgia

,

The Trial Gardens at UGA

and the UGA Horticulture Club are happening from 8 am to 2 pm. Allan Armitage will lead tours at the Trial Gardens and UGA professors, master gardeners, designers and horticulturists will be available at these sales to help you with your plant selections. Those that attend earn discounts on full price plants at several area nurseries. Find out more at

plantapalooza.uga.edu

or by calling 706-542-6014.