The schedule has been released and the good news is being spread- AthFest 2011 is set to stimulate, inspire and entertain us on all fronts of artistic festivity planned for the eagerly anticipated event. For almost a year, we have been patiently awaiting June 22 - 26, 2011 -- the return of Athens, Georgia's favorite music and arts festival, dreaming of the week when our most talented regional musicians and artists will come together again and illuminate the streets with the sights, sounds, and performances of their respective crafts. 
For those who will be experiencing it for the first time, AthFest is a festival to celebrate Athens, Georgia music and arts.  Local and regional musicians, artists, performers, and other creative minds will showcase their work throughout the downtown area of Athens, GA. As music is the force that drives the Classic City, it is also the focus of the festival featuring 3 outdoor stages hosting 3 days of shows from an impressive line-up of headlining acts at no charge to the public. Some very exciting performers headlining this year include:
Futurebirds
, the pensive alt-country band will stop back home in Athens from their tour promoting the blossoming success of their current album;
Guadalcanal Diary
, will celebrate the 30-year anniversary of their formation as pioneers of 80's Southern indie-pop;
Jason Isbell & the 400 Unit
, the soulful blues rock group with honest, poignant lyrics will play the sounds of the South.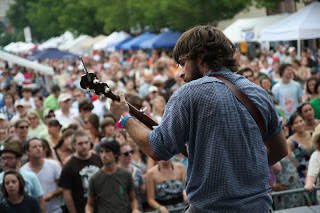 The second and main stage outdoor performances are just the icing on the AthFest cake, though. The "club crawl" event taking place Friday and Saturday night will feature a diverse line-up of local bands and artists performing at around 12 of the best music venues in town. Think
40 Watt
,
The Melting Point
,
Little Kings
,
Caledonia
and more. The venue schedule features some exciting Athens favorites, both the weathered and up-and-coming alike, filling virtually every stage in the downtown area. Some exciting performances to look out for:
Hope For A Goldensummer
, the recently re-emerging folky sister sirens will bring their haunting Southern voices to Little Kings Shuffle Club;
Modern Skirts
, the still buzzing alt-rock band return their harmonic success to the The Melting Point;
Reptar
, the young, fresh electro-pop band of boys will beam their high energy to a sure-to-be-dancing crowd at the 40 Watt;
Twin Tigers
; the dynamic and melodic sounds of their strong Athens influences will be heard at Go Bar. These among a total of around 200 other amazing bands and artists performing in venues and outdoor stages throughout the 3 days of music make the options endless and the choices impossible.
AthFest remains one of the best values on the scene.  All outdoor stages are absolutely FREE!  For admission to the club crawl and other affiliated events, an AthFest wristband is a must. At a price of $15 when purchased in advance or $20 when purchased at the festival, the wristbands will get you more than complete musical access with other perks including discounted tickets to lots of great events- so go ahead and
grab your wristband now
! 
The Athens Convention & Visitors Bureau is also running a text-to-win promotion  for a chance to win an overnight AthFest package. Just  text DAWG to 95495. For more contest information, see
VisitAthensGA.com
.  For complete AthFest details, visit our
event page
.
Laughfest
comedy show, June 22 at the 40 Watt, the 2nd annual comedy showcase featuring nationally touring acts such as Dan Telfer and TJ Young with many other hilarious Athenians;
WIRED 2011
: Athens Dance Music Festival, June 25 at New Earth Music Hall, a showcase of the most talented regional electronic artists playing fresh variations of dubstep, experimental hip-hop, electro-house, and more;
AthFest FilmFest 2011
, June 22-26 at Cine, daily screenings of Athens-based rock docs, short films, teen screen, and more;
Flagpole Music Awards
, June 23 at the Morton Theater, the magazine's annual ceremony recognizes local bands across every genre and category who have displayed impressive musical creativity.
Artists Market
which is made up of over 40 booths featuring the original artwork of around 50 local artists. With exhibited work in forms across almost every medium, regional artists and craftspeople compete for cash prizes accompanying the best in show, second place, and 5 merit awards that will be granted to the top works exhibited. The works of art displayed in the Artists Market will be available for viewing and, some, for sale.
KidsFest
area with a multitude of crafts, games, workshops and family-friendly musical performances. A KidsFest parade, art contest, open mic opportunity, and songwriting workshop top a longer list of awesome events and creative opportunities for kids of all ages. Focusing strongly on the bulging schedule of family-friendly activities, AthFest caters to the kids who are, after all, a large part of the motivation behind the entire event. All proceeds from the festival go to AthFest Educates!, a program aiming to integrate educational music and arts programs into local schools. With arts and music education at the center of it's efforts, AthFest, as a component of the non-profit AthFest organization, shares the beauty and necessity of local creativity with the community and beyond.
A regional communion of cultural explosion could take place nowhere other than our prolific, Athens, Ga. AthFest 2011 is going to be, without a doubt, the biggest and best event of the summer, maybe even the year! So don't wait around to start making your AthFest plans! Check out
VisitAthensGA.com/AthFest
for more info on headliners and tickets, then compare awesome
hotel package

 
offers. And don't forget to text DAWG to 95495 to enter for a chance to win a complete AthFest package- see details
here
. 
Look forward to seeing YOU at AthFest 2011!