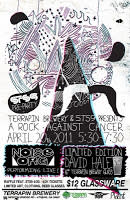 To kick off Sound Tribe Sector 9's two nights of concerts in Athens, Terrapin Brewery is hosting the official STS9 concert pre-party tonight, April 20 from 5:30 - 7:30. The Atlanta-based, instrumental band is performing at The Classic Center in Athens tonight and tomorrow night at 9:00. The pre-party will benefit Rock Against Cancer, a non-profit organization that provides opportunities for children and teens diagnosed with cancer to gain emotional support through music. The organization uses music as a source of healing and comfort during the intense hours of chemotherapy, treatments, and procedures in the hospital and at home.

Here's what Public Relations Director, Paula Bryant has to say about this inspiring event:

Terrapin Brewery will host the official Sound Tribe Sector 9 concert pre-party to benefit Rock
Against Cancer on Wednesday, April 20 from 5:30-7:30 p.m.

STS9 will perform two nights at the Classic Center on April 20 and 21. David Murphy, bassist and member of STS9, was recently diagnosed with cancer. In light of Murphy's recent diagnosis, Terrapin Brewery and STS9 have joined forces to raise money for Rock Against Cancer. The pre-party will feature a performance by Noise[Org], a band from Auburn, Ala., a raffle that will include tickets to STS9's performances at the Classic Center, autographed STS9 merchandise, PLAANT clothing by David Bywater, Conscious Alliance merchandise, iWallyphoto framed photographs, artwork by Jason Garcia, Jeff Wood, Andrew Wagner, Stephen Wells, and Christian Jaxtheimer and commemorative 16oz. Terrapin Brewery glasses. The collectible glasses will feature artwork by local artist David Hale.

The event coordinator, Adam LaHaie noted, "This is an extraordinary opportunity for our community to come together at Terrapin Brewery for a great cause. We all know someone who has been affected by cancer, so please join us to celebrate life and benefit Rock Against Cancer."

You can find more information at the pre-party Facebook page.

NOTE: Tickets for Wednesday night's concert are sold out but there are still some available for Thursday. You can purchase tickets here.