Athens, GA is a foodie's paradise and now The Foundry, formerly The Melting Point, is ready to join the ranks of Athens' top rated food scene. The Foundry is not alone in this endeavour. Its neighbor Graduate Athens, formerly The Foundry Park Inn and Spa, is joining The Foundry on this journey. Many locals have already heard of the changes happening at 295 E. Dougherty St., but few have had the opportunity to experience the scrumptious new menu and breathtakingly beautiful redesign that comes with the name changes.
I had the pleasure of seeing firsthand the delectable revitalization of The Foundry's menu at a V.I.P Launch Party hosted by The Foundry on Jan. 28. Starting at check-in you could taste the excitement and high energy of the night to come. Guests were treated to the full red carpet experience - complete with a red carpet walk to the main doors and a celebrity-style photo-shoot before entering. 
Upon stepping into the venue my senses were overwhelmed with the fresh aroma of assorted flavors and the lively sound of an upbeat tempo. Through the new sensations I shrugged in relief at the accompanying feeling of comfort and familiarity. This was still the venue that I came to know and love through my frequent attendance at Rabbit Box Storytelling.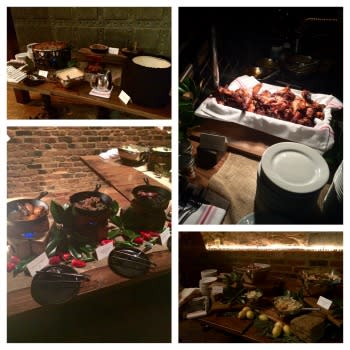 I looked to my left and quickly noticed the herd that had gathered around the first line of buffet items. I could not help but also notice many people continue to linger around the buffet line, eager to dive back in for more. In addition to this table of temptations there were several more delicious displays: an appetizer table with a divine butternut squash hummus, a carving station, a flavor-your-own Georgia Coleman Happy Free Range wing station and (my favorite) a dessert station complete with bourbon pecan pie and homemade ice cream. The selection did not stop there. Foundry servers circled about enthusiastically urging guests to taste the treat on their tray. Both the servers and guests expressed great fervor for the new menu.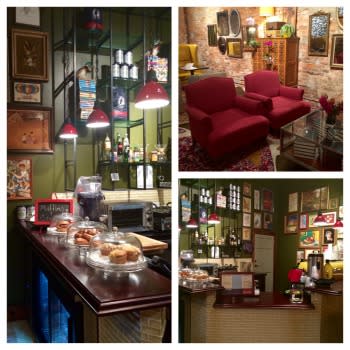 After taking in the good company, smooth sounds and tasty entrees, I made sure to stop by Graduate Athens' newly refurbished check-in space and coffee lounge. The beautiful modern decor adds an air of excellency and sophistication to a much beloved Athens space.
Whether you are looking for a place to study, read, eat, laugh, lounge, enjoy a show or just hang out with family and friends, Graduate Athens and The Foundry is the spot for you.