With a proud history and culture of fabulous and unique dining options, Athens, GA is the kind of place where choosing a restaurant for dinner might make the most challenging and rewarding part of a person's day. And there is no greater culinary history and no greater challenge of choice than amongst the Soul Food restaurants of Athens, GA. 
When I approach the delightful task of eating out in this town, I usually break the decision-making process up into a few steps. The initial task in the quest for a tasty meal out must begin by narrowing the options through personal preference by first choosing between food categories- Thai, Italian, Vegetarian, American and so on. The next step then includes a collaboration with dining partners on general price and seating preferences for the coming outing. Once all preferences have been discussed and accounted for, the perfect option should be relatively clear or at least reduced to a less daunting choice between 2 restaurants. My formula for efficient dining decision-making had worked flawlessly for me, that is until I was asked to choose between Athens Soul Food restaurants. 
Each holding a similar yet completely distinct quality of character, two very special soul food restaurants left me unable to move past my final step. Unable to quantify what made each so unique yet connected, I set out to discover what was so special about these two Athens soul food favorites: Weaver D's and Wilson's Soul Food.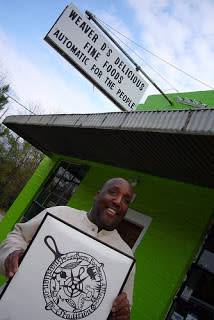 For all its fame and acclaim, Athens landmark and soul food restaurant,
Weaver D's Delicious Fine Foods
still sits somewhat unassumingly at the end of E. Broad Street despite the vibrance of the new lime green paint covering its aging cinder block facade. Customers rush from around the block and across the world to order a paper plate bending with the weight of fried chicken and whatever else is on that day's menu before the kitchen runs out and closes up shop. Since inspiring the name of R.E.M.'s Grammy-nominated album "Automatic For The People," Weaver D's has of course experienced a greatly increased wealth of recognition, business, and culinary celebrity, but you wouldn't know that by walking through the front door, chatting with kitchen staff, and sitting down next to someone on their lunch break. Serving up the same rich, starchy flavors of all the best soul foods since 1986, Weaver D's hasn't changed much over the years, even after gaining national attention and praise as a beloved character of Athens music and food culture. Awarded the title of "American Classic" by the James Beard Foundation in 2007 (see video below!), the history of this soul food restaurant continues to be written. The awards and articles of praise aren't what make Weaver D's so special though, what really solidifies the little soul food shack's reputation is its unaffected commitment to the simple, but meaningful task of providing warm, delicious food to the people of a community. Find them on
Facebook
.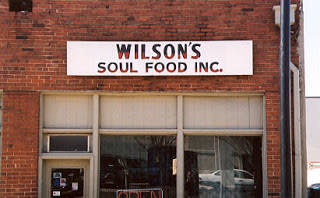 After over 30 years of change and progress taking place in the world outside its front doors,
Wilson's Soul Food
managed to stay frozen in time, serving up the same food to an ever-evolving, yet consistently loyal crowd of customers. Though it didn't have a hugely successful rock album named for it, Wilson's Soul Food still has an interesting history all its own. Centered smack in the middle of Athens' famous Hot Corner, an area of downtown known historically as an early conglomerate of many African-American owned businesses, Wilson's Soul Food opened second to Wilson's Styling Shop located directly next door and run by the same family. The Wilson family has been providing friendly services from their own little stretch of Hull St. since 1954. At the heart of the Wilson family business is just that, family, a warm greeting and a huge plate of comfort food for anyone who walks through the front door. The cafeteria-style buffet of steamy, heavy food may hard to choose from, but no one will rush you and as soon as you have a seat, all your worries in the world might just melt away with the perfect bite of mashed potatoes.
The rich food, history and sense of community encapsulated within Athens favorite soul food restaurants enrich the already diverse culture of this small Southern town. Without places like Weaver D's or Wilson's, Athens GA wouldn't be quite as magical as it is today. It's the long-standing commitment to place and community exemplified by these two great soul food restaurants that inspire and warm the creative soul of Athens, GA.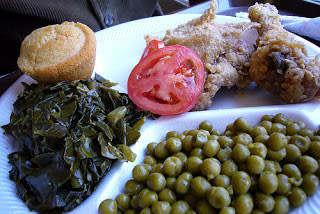 Though Weaver D's and Wilson's are the most famous soul food spots in Athens, GA, they are not the only and maybe not even the best- decide for yourself... visit the less talked about soul food restaurants in Athens, then tell us about it! Which one is the best and why? Other very worthy establishments include: