Local Bands featured at the Caledonia Lounge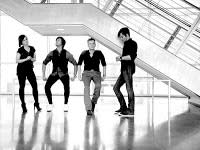 I'm not a music aficionado. I listen to a mix of whatever is on the radio (R.I.P. 95.5), mos def cd's, and a shuffled iTunes library that I have neither the time nor inclination to organize. Most of the songs are listed by track number. This is why I was surprised to be invited to the Caledonia Lounge tonight to catch a show featuring some rising stars from Athens. Caledonia brings together Nashville's indie-pop group Heypenny and local bands Misfortune 500 and The Orkids tonight at 10:00 p.m. I had a chance to catch up with Chisolm Thompson, singer for Misfortune 500, to pick his brain on the inner workings of the group and on "making" it in the wildly diverse music scene of Athens, Georgia.

Thompson and lead guitarist Pascal Cureton met in highschool and played in several different projects together before meeting bassist Natalie Gazaway. They were acquainted in The University of Georgia's Lamar Dodd School of Art. The band found a fourth member, drummer Lemuel Hayes, through Myspace.

Check out our full interview below:

CCU: Misfortune 500 is a cool name. What's the story behind it?
CT: The name is also the title of a book by Bruce Nash about financial catastrophes in major companies that have ruined the lives of thousands of people; employees, stockholders, consumers, you name it. We felt that this was particularly relevant to anyone endeavoring to pursue a career in any creative industry in the current economy. The entertainment industry and particularly the music industry rewards artists whose work lacks critical content.

CCU: Personally, I'm a big fan of that sort of "britney-ized" pop sound. Does music need a message?
CT: As one who has the opportunity to speak in front of others, if an artist or entertainer doesn't use the opportunity for worthwhile discourse, it's sinful. In our opinion, if you are endeavoring to make a living as an artist for altruistic purposes, you have embarked into an enterprise seemingly destined to meet constant resistance.

CCU: Okay, I'll bite. So how do you come up with music that is interesting from a content standpoint as well as a musical one? What is your inspiration?
CT: We draw from our own experiences. Literature, life, cinema, and a feeling of confusion. The concept of a longing that matures into action is a big component of that.

CCU: What advice would you give to other local artists who are trying to make it in the music industry?
CT: Making it is what you make it. Be prepared for the terms "artist" and "making it" to be disconnected for some time. Success is completely different from fame and is always completely subjective. However, being an artist isn't a hobby, get serious about it, or get out of the way.

I think if you are committed to REALLY getting involved in the industry aspect of it. be prepared to work as hard as if you suddenly decided to invent the tire in a market already saturated with tires. You have Goodyears and Firestones to compete with. It's hard convincing people that your product is new and special.

CCU: That's a weird analogy but it works. Let's talk about the show tonight. What songs can fans expect to hear?
CT: You can expect to hear variations on sets of our originals. Be prepared for gravity and grandeur. We'll be playing a few songs from our upcoming album as well as material from

Before This Winter Ends

.

CCU: Where can fans get your music?
CT: Firstly, check with the
local record stores
. If they don't have it, they can get it. Seriously, just ask them. I'm always surprised to see our record in local shops from New York to L.A. Because of those smaller shops, our album landed in the hands of an SNL writer. Local shops are the best.
CCU: Well that's some amazing luck! Is there anything else you would like all of our blog readers to know before the show tonight?
CT: Sleepers, Wake Up. Dawn Approaches Like a Shockwave.
CCU: Okay then.
________
You can check out Chisolm and the rest of Misfortune 500 on their
Myspace page
or on
Facebook
. Come out to the show tonight at The Caledonia Lounge in Athens, Georgia. The show starts at 10:00 p.m. (+21) $7, (18-20) $9
Photo: Michael Lachowski