Part of the East Clayton Street Improvement Project in 2022, the rainbow crosswalk in downtown Athens adds stripes of color across all four roadways at the intersection of College Avenue and Clayton Street. The Athens Rainbow Crosswalk Initiative was started in 2019 by Cameron Harrelson, the previous president of the Athens Pride & Queer Collective, after the success of the Pride Festival that same year. The crosswalk was celebrated with a dedication ceremony on October 11, 2022, which was National Coming Out Day. The ceremony included words from Mayor Kelly Girtz, Commissioner Allison Wright, Harrelson and ACC Human Relations Chairperson Julita Sanders. After the speeches, Harrelson cut a rainbow ribbon to dedicate the crosswalk.
Rainbow Forest
Located on the North Oconee River Greenway, "The Rainbow Forest" was designed and installed by Los Angeles-based artist Andrew Kovacs and was dedicated to Athens-Clarke County on August 19, 2021. Made up of 36 tall, brightly-colored columns, "The Rainbow Forest" is intended to serve as a public example of creative architecture.
"To me, the Greenway is a park, and I didn't want to just drop some object into that setting," Kovacs told the Athens Banner-Herald. "I think this art complements what is already there, kind of a like a forest within a forest."
Rainbow Light Mosaic for Project Ginko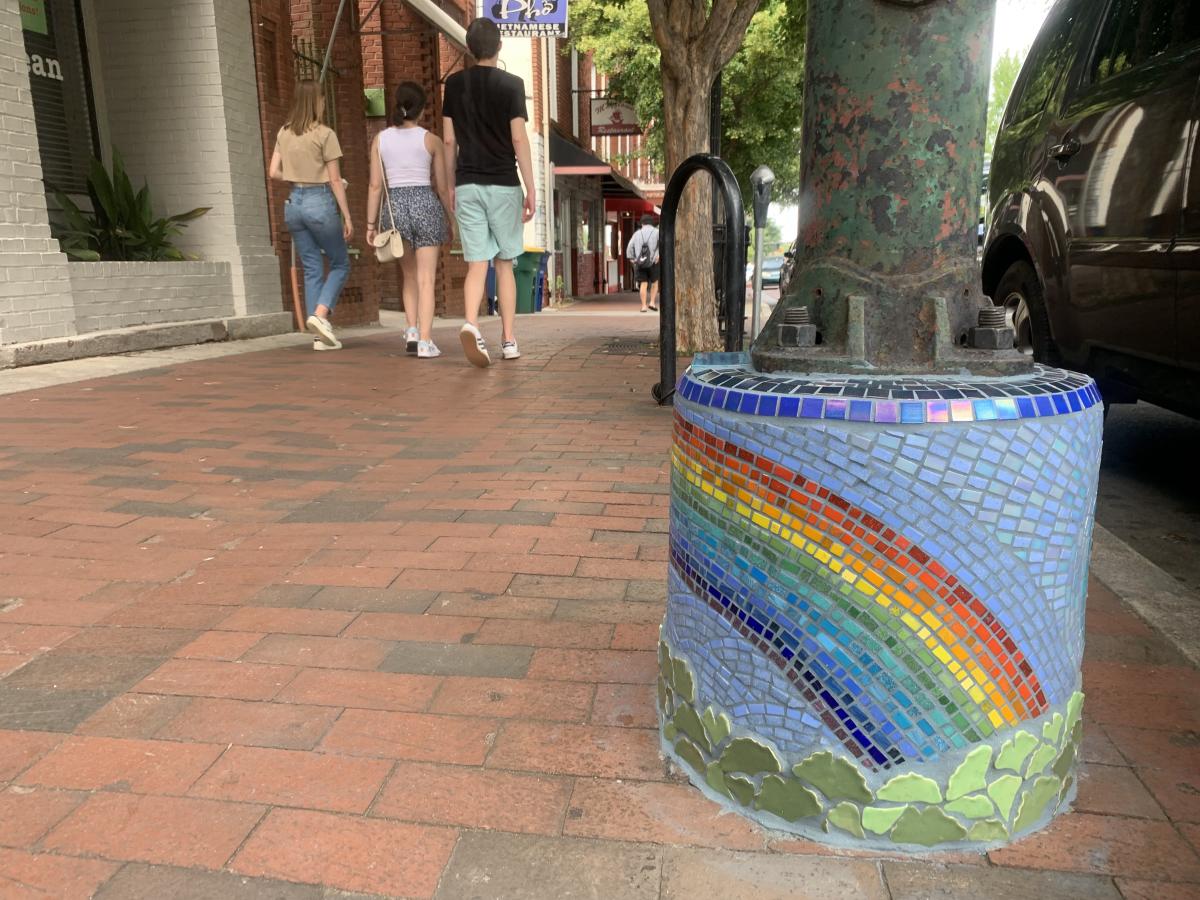 "Ginkgo Rainbow" is one of 17 light pole base mosaics by Krysia Ara in downtown Athens for Project Ginko, a public art project funded by Athens Downtown Development Authority. Before installing this mosaic in front of Bel-Jean Copy/Print Center, Ara installed "Ginkgo Rain" a block down in front of Target. The art peices are fabricated off-site in Ara's studio on mesh, which she then cuts into large pieces to install on-site. Ara installed "Ginko Rainbow" late May of 2022, the month before Athens' first Pride Parade. 
"I am glad so many of us in Athens have chosen to embrace and celebrate the differences that make us special," said Ara. 
Give Love. Together mural in Athens Mural Alley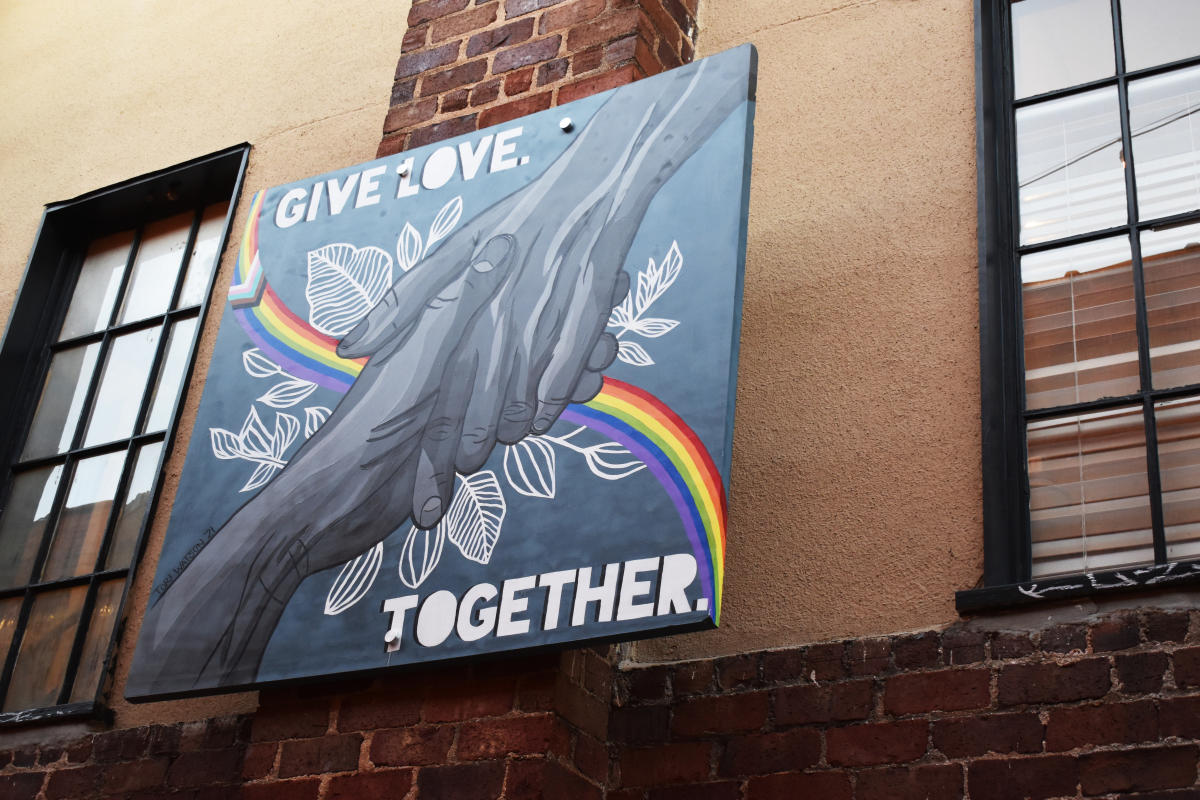 Photo by Jessica Rao

Athens Mural Alley, installed in 2020, is a collaboration between Athens Area Arts Council, Athens Downtown Development Authority and Lyndon House Arts Center. This is a walk-by/ bike-by art installation in downtown Athens featuring 7 artists. Give Love. Together, is a mural project by Tori Watson that was inspired by strength and resistance against racial injustice and highlights the pride flag which was updated by Daniel Quasar to include Black, Brown, and Trans colors.
Rainbow Walkway at Rabbit Hole Studios
Rabbit Hole Studios has a rainbow walkway outside their building on Winterville Road. The concrete is painted to symbolize that RHS is a place where people of all colors, classes, creeds, races, sexual orientations, religions, and political persuasions can feel safe and accepted. As an artist collective, the group appreciated adding color to their landscaping and displaying the whole color spectrum.