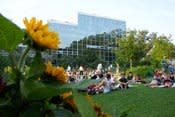 We have another great contest lined up for our Twitter followers tomorrow(July 9)!

The 9th annual Sunflower Music Series at The State Botanical Garden of Georgia will feature local band Five Eight on Tuesday, July 14. The three-piece rock band has been a warm-up band for R.E.M. and were featured on NPR's All Songs Considered. Weather permitting, Five Eight will play outside in the new flower garden from 7 p.m.-9 p.m. Tickets include beverages and light snacks.

The State Botanical Garden of Georgia has given us 4 tickets to give away. We are giving them all away to the same lucky person tomorrow, so keep in mind if you win you will get to attend the concert with 3 guests you choose.

How To Participate

The same format that we used for our first 2 contests still applies. Simply re-tweet my post tomorrow about the Sunflower Music Series until 8 p.m. After 8, a random number generator will pick the winner!

New to our Twitter contests? Not sure how to retweet? For examples click here or here.

The tickets will be available at will call at the botanical gardens.

Remember the contest is 1-day only, tomorrow July 9, and you can retweet until 8. Good luck!