Athens, GA Named Among the South's Most Underrated Food Cities
With recent recognition from USA Today, Athens is in the spotlight as an underrated food city.  If you've been here before, you're probably not surprised.  If you haven't, this is all the more reason to make the visit!  With Athens now being considered an "underrated food city", we thought we'd let you in on a few of the most underrated restaurants.  Whether you're familiar with the area or not, you might not usually hear about these restaurants at first, but now you will be glad you know about a few of Athens' best-kept secrets.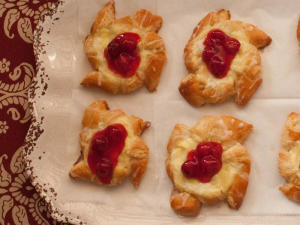 Who would've thought that a bakery founded in Bangkok, Thailand would wind up in Athens, GA? Well, we couldn't be more glad it did. Savie, a self-taught baker, relocated her bakery to Athens in 2011 and has since racked up a list of awards and accolades. Having received the East Side Eats Kids Choice Award in 2016, features in several local wedding magazines, and stories in Flagpole, The Red & Black, and The Athens Banner-Herald.....Savie has managed to steal Athens' heart, and satisfy its sweet tooth!  Savie handcrafts most of her delectable treats with Asian ingredients and spices, making her baked goods known for their perfect level of sweetness and uniqueness. Sweetie Pie offers extravagant specialty cakes for anything from weddings to baby showers to themed parties.  Stop by Savie's for a freshly baked good in the morning and some Thai tea, a favorite.  You can get a glass of tea, or take home a half gallon!  With seasonal drink items and the best sweets in town, do yourself a favor and choose Savie's!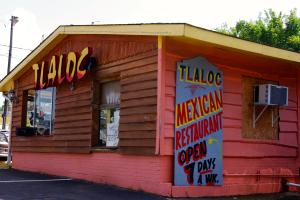 If there's one thing Georgians love, it is some good Mexican food; and the jury is always out on who has the best. Some may say this is the most authentic Latin food here in Athens, and possibly anywhere.  We can't disagree; the folks behind the scenes are from Teotihuacan and are committed to providing Athens with the most fresh and genuine Mexican and Salvadorian cuisine.  If homemade corn tortillas, fresh fruit waters, pupusas, and Tacos Dorados sound good to you, go to Tlaloc, pronto!  There is no way to describe the pure authenticity of their food until you try it for yourself.
Over in the heart of the Boulevard/Warehouse District sits a 100+-year-old building on Hiawassee Avenue that is now home to one of Athens' favorite BBQ spots.  Serving up some seriously good BBQ dishes on classic red-and-white checkered baskets in a colorful and happy atmosphere, White Tiger is not only a neighborhood favorite but a Travel + Leisure Magazine favorite for America's best BYO restaurants.  White Tiger uses local and organic products to craft their wonderfully delicious meals and is very vegetarian and vegan-friendly. From savory BBQ, juicy burgers, specialty BBQ sandwiches, and even BBQ tacos, to creamy mac n' cheese and cole slaw....White Tiger's menu alone is enough to make your mouth water.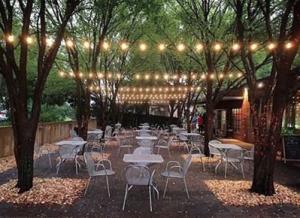 With an inviting and charming courtyard patio as well as options for breakfast, lunch, or dinner, you simply cannot go wrong by dining at Big City Bread.  Providing the feel of a little cafe but offering gourmet dishes such as applewood-smoked bacon, blue cheese, & arugula omelettes, quiche plates, and massive burgers - Big City Bread is a perfect blend of ambiance and flavor.  Brunch is offered on Sundays and their bakery window is always stocked with items such as peanut butter chocolate bars, lemon bars, cookies, and cakes.  There is nothing you can't find at Big City Bread, and we can assure you it is a must-try when in Athens.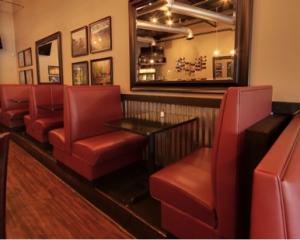 Located in a normal shopping center storefront off of Atlanta Highway, Brett's is sure to be much more than just a normal meal. Brett's is a comfortable and casual restaurant with high-quality dishes that is perfect for families or anyone looking for a "fast-casual" meal that is also exceedingly delicious.  All spices, marinades, dressings, sauces, and soups are made from scratch in-house for the most unique tastes that you can't get anywhere else. Asian-cuisine trained Texas natives Brett and Leslie McCullough collaborated with chef partner James Ellis to combine Tex-Mex and Asian flavors to create a unique menu.  If you love spicy food, be sure to order off the "buffalo" menu, and don't skip dessert.  Brett's is more than worth the short drive off the Downtown Athens beaten path if you are looking to try something new with a guarantee to be delicious.
Mama Jewel's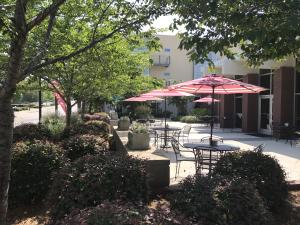 When it comes to Mama Jewel's, think Southern hospitality with a twist.  Mama Jewel's is the place to go for brunch and lunch, as well as take and bake casseroles on those busy weeknights.  Made-from-scratch biscuits, chicken and waffles, and shrimp and grits are among some of the favorites at Mama Jewel's, but you just can't go wrong with anything.  Be sure to stop by Mama Jewel's for a delicious Southern meal on their cute outdoor patio.
Craft Public House
A relatively recent addition to Athens' food scene in July of 2016 is Craft Public House, a gastropub offering international upscale comfort food.  Offering responsibly sourced and locally selected meat and seafood, Craft Public House provides a variety of quality options with a goal to serve familiar dishes in a more unique format. Menu items include seafood paella, truffle fries, and lamb meatballs, to name a few. In addition, Craft Public House has an excellent beer selection, serving numerous craft beers and featuring local breweries on tap, as well as an extensive wine list, and dynamic hand-crafted cocktails.  Craft Public House is more than just a dining experience, but rather an atmosphere and destination for an enjoyable night out.
So there you have it, now that Athens is considered one of the South's Most Underrated Food Cities, it's time to check some of our underrated restaurants out for yourself.  Hurry to Athens soon; you are sure to be pleased with the plethora of options we have when it comes to food, and it will take you no time at all to see just why Athens has been recognized for its food scene!