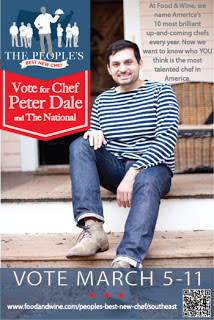 Chef Peter Dale has been nominated for Food & Wine magazine's The People's Best New Chef award 2012. As one of the great innovators of the southeast culinary field, Dale has crafted a unique meeting of Mediterranean tradition and local flavor that is drawing crowds in downtown Athens, Ga. 
Vote for Chef Peter Dale from March 5 through 11, 2012 at

 
"
I admire and respect so many of the nominees for Food & Wine's The People's Best New Chef. It's truly an honor to be in their company.  It's really exciting for the Athens culinary scene to get this national attention, so much is happening here," says Dale.
More about Peter Dale and The National:
Why He's Amazing:

Because his take on beautiful, Spanish-inspired Southern food is drawing crowds in a small college town.

Background:

Five and Ten (Athens, GA). 

Internship at La Broche (Madrid, Spain)

Must-Try Dish:

Chickpeas with crunchy okra, topped with yogurt and harissa

Former Career:

A suit-and-tie job in politics on Capitol Hill. "I realized that I didn't want that kind of life. I felt a need to do something creative, something with my hands."

Favorite Knife

: Dale prefers the Japanese brand Masahiro, for their super-sharp blades.
Peter Dale graduated from the University of Georgia in 1999 with an A.B.J. degree in public relations, and soon after decided to pursue his interest in cooking. His mother is from Ecuador and his father is a former New Yorker of Greek descent; their backgrounds provided him with the opportunity to try many types of foods and his childhood was filled with travel.
He began as an apprentice at

Five & Ten

, also in Athens, Ga., with plans to eventually attend culinary school.  While enjoying his experiences at Five & Ten, Dale was able to travel and eventually, culinary school fell by the wayside. "Travel has always been important to me. That's where I get my inspiration. While working at Five & Ten I left several times to spend time in Europe, mostly Spain." Dale said. "What I learned over there, combined with the fundamentals I learned at Five & Ten, was better than school in my opinion."
In 2007, Dale and Hugh Acheson, chef of Five& Ten, opened The

National

. When explaining the idea and cuisine of the restaurant, Dale said, "TheNational really is a combination of my interests in cooking, travel and food politics.  We serve food inspired by my favorite cuisines: Spanish, French, North African, Greek, eastern Mediterranean, and Middle Eastern."
Peter has also been active in the opening of Empire State South, Hugh Acheson's new Southern farm-to-table restaurant in Atlanta.