For only a short time this fall you will have the opportunity to take home your own little piece of Athens pop culture. The Athens-Oconee Junior Women's Club will be auctioning off 12 of the four-foot bulldog statues that adorn many of the streets and businesses around Athens. All of the proceeds will be donated to AIDS Athens to provide services, education, and care to Athens residents affected by HIV and AIDS. Be sure to check out the auction on ebay.com starting September 18 and ending September 28. Let's make this football season a winning one by donating to a great cause!

Here is a list of the statues that will be auctioned off:

1. Show Dawg by Stan Mullins- The Classic Center Lobby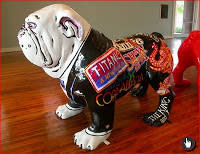 2. Dawgwood Bark by James Carroll- 311 E. Broad Street

3. Athens Music Scene by Jamie Calkin- 1200 Mitchell Bridge Road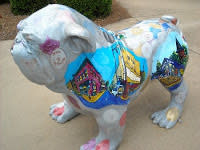 4. "Dawg Fan" by Martha Johnson- ACC Courthouse, Washington Street

5. "Theana" by Arwen Blane- 1022 Prince Avenue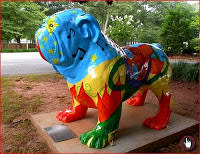 6. "Covered Bridge- Trestle Dawg" by Martha Johnson- 2009 Prince Avenue

7. "Classic City Bulldawg" by Deanna Anglin- Georgia Square Mall

8. "Argo Dawg" by Jack Davis- Hilltop Grille

9. "Dawg Days" by Missy Burgess- Five Points

10. "Carmen Mirandawg" by Cathe and Ron Stein- Five Points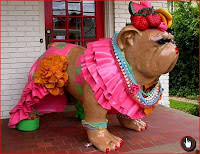 11. "I Thought You Said BullFrawg" by Peter Loose- Five Points

12. "Reflections of a Classic City" by Charlotte House- State Botanical Garden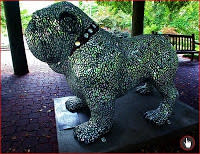 13. 17" "A-pooch-ecary" by Jennifer Flourney- UGA School of Pharmacy

A majority of the bulldog statues will be staying in their original locations thanks to the generous patronage of a few area residents and businesses.

The program, We Let The DAWGS Out!, was started in 2003 by the Women's Club to raise money for local non-profits and promote local artists. Since the exhibits' installation, the dawgs have been a major tourist draw to the city through publicity projects featuring the statues. Local artists have had the chance to promote themselves on the streets of Athens and bring a sense of civic pride to our city by allowing the public to interact with the statues.

You can pick up your free brochure at The Classic Center and start your tour of the Dawgs today! Hurry and see them all before September 18th, then place your bid!