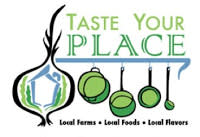 The final event in the 2-week Taste your PLACE event will be this Saturday at the Athens Farmers' Market.

Local Food Award recipients will be announced so come out and see who represented the Classic City best!

In addition to awards and the chance to check out the local products of Athens, the event will also feature music performances by Michael Eudy, Sean Arington, & Mad Whisky Gin.

The awards begin at 10 a.m.

After you experience the Athens Farmers' Market, don't forget to vote for it in the Care2 contest! For more information on that, click here.