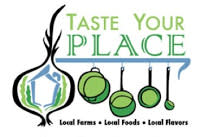 One of the many advantages of living in Athens, GA is the importance placed on local products. Whether it's Five and Ten serving up food straight from their garden or a boutique selling Athens-based art, the Classic City likes to keep it local.

In accordance with that local promise,

P.L.A.C.E.

(

Promoting Local Agriculture and Cultural Experiences

) is launching a 2-week event throughout Athens this Saturday, July 11. The free kickoff will be at the Athens Farmers' Market from 8 a.m.-12 p.m.

In addition, many

P.L.A.C.E.

events during the next 2 weeks will be free and open to the public:

July 14th: Tour of Home Kitchen Gardens.

July 16th: Book Club with Barbara Kingsolver's "Animal, Vegetable, Miracle." The event will be held at the Jittery Joe's Roaster on Broad Street at 6:30pm. Light refreshment will be provided.

July 25th: 2009 Athens Local Food Awards at the Athens Farmers' Market.

Other events, including a slow food pie contest, will only set you back $5 or $10. Check the full calendar listing here for complete details.

Several restaurants will be adding local food specials to their menu during the next 2 weeks. Casa Mia, DePalma's (Downtown), Doc Chey's, East/West Bistro, Farm 255, Five and Ten, Five Star Day (Downtown and Eastside), Ike and Jane, Last Resort, Lindsey's Culinary Market, Lumpkin Cafe, Mama's Boy, The National , and White Tiger Gourmet are all slated to serve up Athens fare.

So get out and enjoy the free upcoming

P.L.A.C.E

. events and consider using the money you are save to support the restaurants committed to keeping Athens homegrown!