Athens is full of unique, individual, and quirky citizens. These characteristics are evident through locals' love for thrift and consignment stores where they can find vintage, one-of-a-kind, and name brand items like COACH and Louis Vuitton. Athens' most fashionable can be seen shopping for used and recycled items at the various thrift stores around town!
Starting in your grandparents' closet, let's go on a journey to discover what all the "thrifting" commotion is about. For those of you looking to get some direction when it comes to second hand swag, add some personality to your closet, or to save money without jeopardizing your sense of style, here are some quick tips to get you started.
1. You don't have to know what you are looking for
One of the best parts of going to the thrift store is that you never know what you're going to find. Browse every section! You might find a retro painting that would complete your room or a great pair of designer jeans that fit you perfectly; a deal's a deal and you can save a lot of money.
2. Be patient 
Thrifting can be difficult if you're new to it. Just take a deep breath and have fun with it. Also remember that the staff is there to help. If you are completely lost, ask! Employees like Leah Goodwin at Emmanuel Thrift House or Lindsey Simunec from Suska are passionate about what they do and are happy to help.
3. Recognize DIY potential
If you're more on the creative side, consider do-it-yourself projects when shopping at thrift stores. A pair of jeans may be too hot for the summer. Or maybe they fit everything perfectly, but aren't long enough to cover your ankles (#tallpeopleprobs). Get crafty with a pair of scissors and you've got yourself a killer pair of shorts! There are a ton of DIY channels on YouTube that tell you exactly what to do with thrift store finds.
4. Think of others while you shop
As my mother would say, it's not all about you! Some of the best gifts come from thrift and consignment stores. If you come across something that isn't quite for you, but is good quality or a good deal, buy it for a loved one. These gifts can be unique and really show that you care.
5. Donate!
Donating to locally-owned thrift stores is a great way to give back to our Athens community. If you have any quality items that you don't need or never even took the tag off of, sell it or give it away! In the wise words of Macklemore "one man's trash, that's another man's come-up".
Now that you have a bit of a starting point, here are a few great places to get "previously loved" clothes. Grab some friends and check out these locally owned spots around town.
Emmanuel Thrift House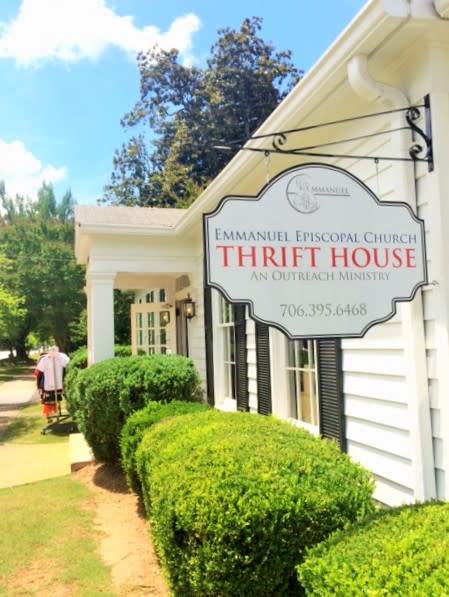 Emmanuel Thrift House, the oldest thrift store in Athens, reopened in a new location March 2015. They have spring and summer clothes, accessories, jewelry and shoes, small furniture items, books, CDs, vintage collectibles, and more. The inventory is constantly changing as people buy and bring in new items. Emmanuel Thrift House operates with the help of volunteers and just one full-time staff member, Leah Goodwin. Goodwin loves thrifting herself and says she finds something new from Emmanuel Thrift House to buy almost every day! Her favorite section is the jewelry section. "I love to assemble different pieces of jewelry together." said Goodwin.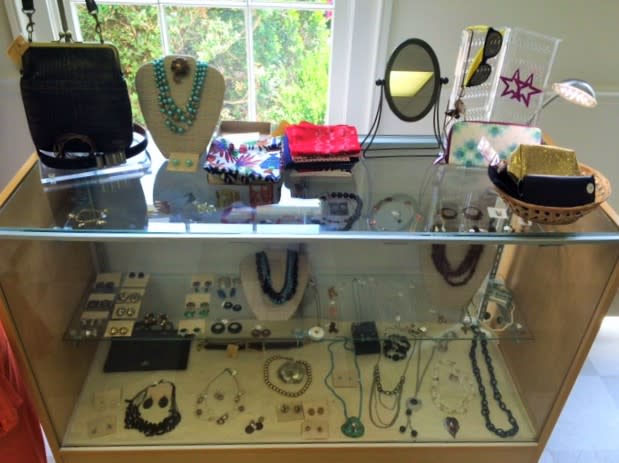 Emmanuel Thrift House gives out grants to Athens Nursing Center, donates items to the Sparrow's Nest, and helps many other organizations that strengthen and develop our community. The outreach committee at the church makes the decision on who receives the grants. 
Dynamite Vintage Clothing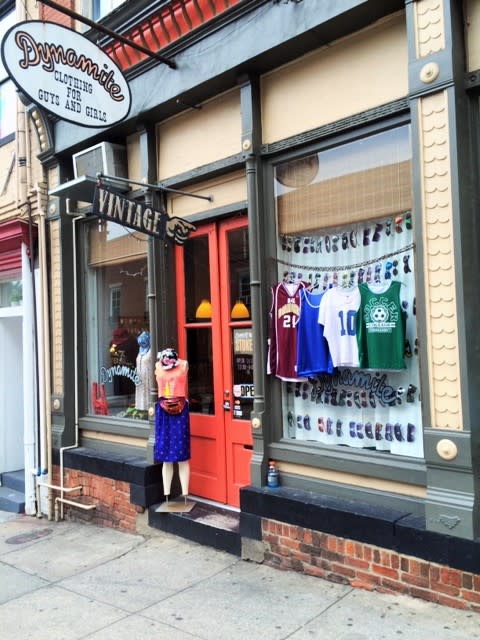 Located in downtown Athens. Dynamite Vintage Clothing offers a unique selection of new, recycled and vintage clothing and accessories for women and men. Dynamite has a large variety of items whether you're looking for something new, designer, or something vintage. One UGA student and frequent Dynamite shopper, Kiersten Mills, said "Every time I'm in Dynamite I know I will find something great. They have such a diverse selection."
Dynamite has been featured in Lucky magazine many times and is called a "vintage goldmine." While cruising through downtown Athens, make sure you stop by Dynamite Vintage Clothing for your own little piece of gold!
Suska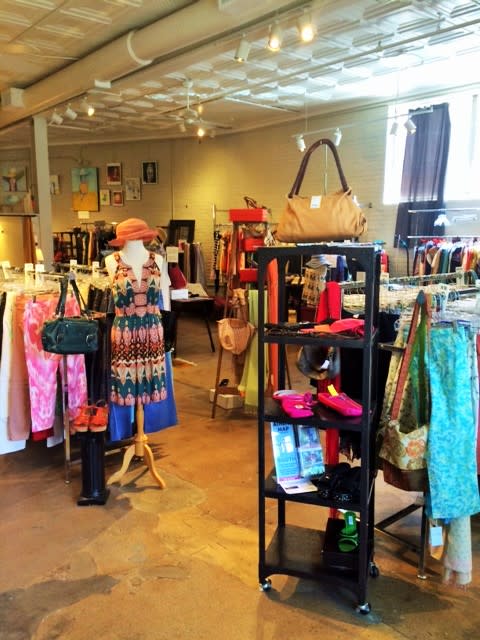 Suska (pronounced "Zoo-ska") is a boutique style consignment store located on Prince Avenue in the Bottleworks. They sell great quality and designer clothes at super affordable prices. Staff member Lindsey Simunec says that knowing that Suska is locally owned and that you're recycling clothes from fellow Athens citizens "takes the guilt out of shopping." Suska takes pride in their inventory. The best part is if you can't find what you're looking for one day, they may have it the next or maybe just a few minutes later! Simunec recalls occasions where a customer will bring in an item that is exactly what another customer is shopping for, "it was meant to be," Simunec says.
Suska gives back to the community by donating unsold items to Project Safe. Owner Susanna Drennen was a contestant for Project Safe's 2015 Dancing with the Athens Stars and won the Judges Choice Award.
As Simunec said, "Sustainable fashion is becoming more popular and people are becoming more aware of it." This is one bandwagon you definitely need to jump on!
Other favorite thrift, consignment, and vintage stores include:
Pope on Prince
Atomic Athens
Habitat for Humanity ReStore
Project Safe Thrift Store
St. Mary's Thrift Store 
 Find out more about Athens thrift store finds on our website.