Black History Month provides us with a great time to reflect on the history and legacy of African Americans from Athens. From museums to walking tours, Athens is proud to equip locals and visitors with opportunities to reflect on and pay tribute to the struggles of African Americans during this annual observance. 
Resilient Civic and Musical Life, Ware-Lyndon House Enslaved and Descendant Stories
The Ware-Lyndon House Museum hosts an insightful exhibit that aims to better represent the full story of the site and promote an equitable approach to sharing tales of the people behind it. "Resilient Civic and Musical Life, Ware-Lyndon House Enslaved and Descendant Stories" provides a collection of resources and experiences including, a film, podcast and interpretive exhibition. Visitors will learn about the rich musical history of Athens that originated with enslaved African-Americans and their descendants as they view art, read books and consume media that tell the tale of this legacy. 
The Ware-Lyndon House is a self-guided experience that is open with extended hours for a limited time, Tuesday through Saturday from 10 a.m – 5 p.m.  All of the exhibitions and programs are free of charge and open to the public.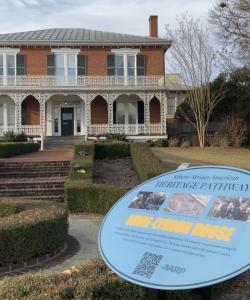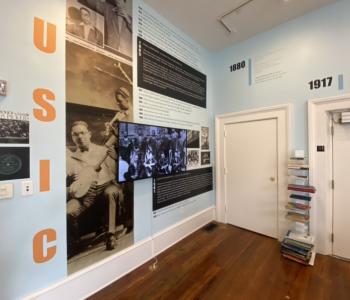 The Athens African-American Heritage Pathway
After visiting the museum we urge you to take a journey through The Athens African American Heritage Pathway. This guide provides notable landmarks that represent authentic stories that will spark conversations about inequality from the past and our societal hopes for the future here in Athens. New signage through downtown Athens will allow you to learn more about historically Black sites and iconic biographies.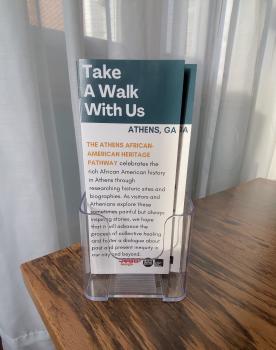 First African Methodist Episcopal Church
Visit the First African Methodist Episcopal Church that was founded in 1844. Pierce Chapel can be found at Foundry Street and East Hancock Avenue. The First African Methodist Episcopal Church was formed over the question of slavery in the mid-19th century. On the pathway, you will learn more about this historic church and its leadership throughout the ages that bring us into present day! Rev. B.A. Hart is the current spiritual leader of the church. The First AME is active in the Athens community as they work to support local children, families and students.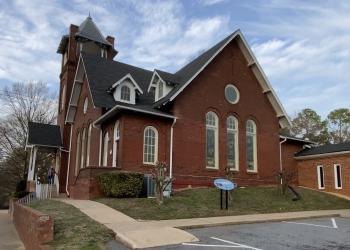 Historically Black Lost Neighborhoods
Stop by the Historically Black Lost Neighborhoods of Athens including The Bottoms, Linnentown and The Waterfront. This experience aims to shine light on the effects of urban renewal that led to struggles for many African-Americans in Athens in the mid-20th century. Research conducted by Athens-Clarke Country Mayor, Kelly Girtz's office shows that "urban renewal in The Bottoms area displaced 139 families of color and 94 white."
Hot Corner and Hot Corner Mural
Hot Corner was a thriving historically African American business district in the early 1900's. It can be found at the intersection of Washington Street and Hull Street. At the end of the Civil War, Athens had a majority-minority population that created a need for Black business presence and it gave African Americans of the time, legislative say. Through the 20th century, Hot Corner was a place of celebration and retreat for Black Athenians amidst moments of success and struggle. This nearby mural pays homage to this music culture. The Hot Corner Mural can be found in the heart of downtown Athens.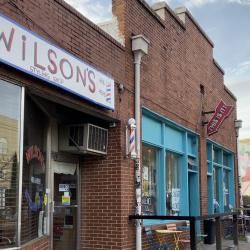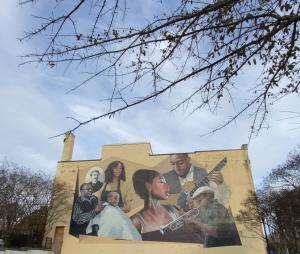 Morton Theatre
Nearby, see Morton Theatre! This theatre was built in 1910 and was owned and operated by Monroe Bowers "Pink" Morton. It was one of the first and oldest surviving vaudeville theatres in the U.S. African Americans from Athens used the space to celebrate the rich musical history of the town and hosted many notable artists, including Cab Calloway. Later, the Morton Building housed many Black-owned businesses and served as a thriving spot for diverse economic activity. Ellington D. Harris Drug Company, the first African American owned drugstore in Athens, and the dental practice of Georgia's first African American female dentist, Dr. Ida Mae Hiram, were located in this area of downtown Athens.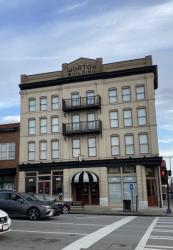 Athens is an insightful spot to delve into the rich local history of notable African Americans and historically Black locations. This Black History Month, we urge you to learn, reflect and dialogue on the past and future of our diverse Athens community. Use this map to guide you through these experiences and keep browsing below for more sites and events regarding Black History Month in Athens! 
More Black History in Athens
Don't Miss These Attractions