Just down the hill from downtown Athens is Rebecca Wood's secret garden: one of America's largest pottery studios, creating ceramics with delicate painted patterns and colors that are her unique creations. The story of how this painter and naturalist came to transform ceramics into everyday beauty for the table and home is one that could happen "only in Athens." 
In honor of the 30th Anniversary of R. Wood Studio Ceramics we are republishing this profile, which was originally published in 2018. We are thrilled to republish it now, with timely updates.
When the coronavirus pandemic hit Athens in March 2020, the R. Wood Studio decided the safest thing to do would be to temporarily close its brick and mortar retail space and pivot to online-only sales. Since then, the studio has expanded its offerings beyond pottery to include locally-sourced home goods, curated gift boxes and digital workshops. 
R. Wood Retail Space Reopening September 1, 2021
On September 1, 2021 R. Wood Studio retail space will reopen to the public for in-person shopping and a celebration of 30 years of beautiful ceramics. Face masks will be required, but otherwise the studio will be back to its usual peaceful bustle. 
30th Anniversary Party on September 10, 2021
On September 10 from 10-7 the studio will host a 30th anniversary party featuring new fall pottery from R.Wood Studio, locally-grown produce from Lazy Summer Farms, locally-grown flowers from 3 Porch Farm, family portraits by Kristin Karch and "Beauty Everyday" book signings. Update as of September 4: Unfortunately, the marketplace event that had been planned has been scaled back due to concerns over a crowded indoor event during Covid. The farmer's market, family portraits, and book signing have been canceled. There will be fresh flowers from 3 Porch Farm and some new pottery and vases to share! There will be no extra discounts or "super sale" pottery that day - so no need to crowd into the Seconds room :) Extended shopping hours on September 10th will remain 10 a.m. - 7 p.m. And in the event the studio does get overcrowded, the studio may limit the number of people allowed inside at one time. As always, masks are required with no exceptions.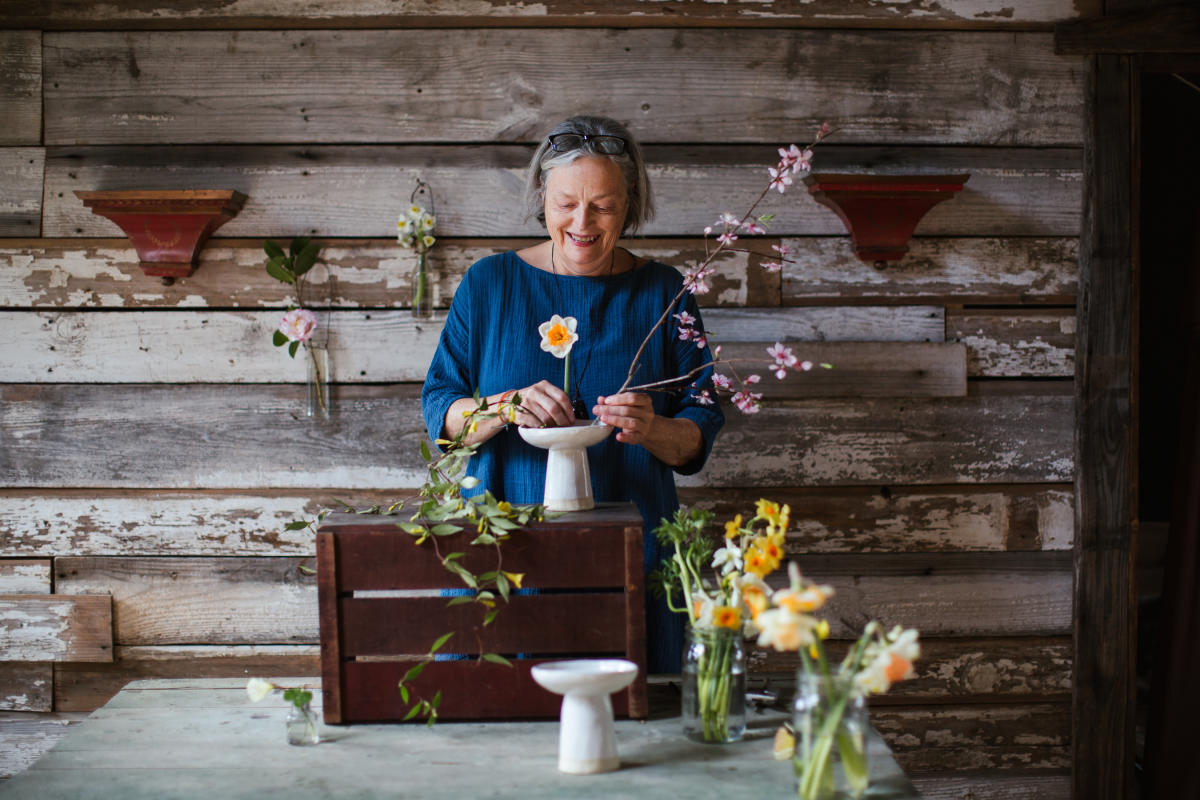 "We could be New York good, just being here."
Rebecca Wood did not set out to be a potter. She was, however, born to be an artist. Raised in Atlanta, she was just 60 miles but a world away from the Athens scene she found when she arrived at the University of Georgia's art school in 1975. Rebecca was in Athens at a seminal moment. "We had no money, no car, no phone. All we had was free time to hang around and be creative," Rebecca recalls. She, and other art students, witnessed the B-52s skyrocket to fame. Though that band departed for New York City, Rebecca was among a generation of young Athens creatives who experienced the B-52s success reflecting back upon Athens. The prevailing spirit, Rebecca says, was "we could be New York good, just being here."
That can-do attitude had a giant ripple effect on the music and arts community that has lasted well into a new century and can be seen throughout Athens in local art studios and as a continued hotbed for live music. 
From painter to potter
After graduating from the University of Georgia, Rebecca became a working artist, with a focus on painting still lifes in oil. Her inspiration, then and today, was found in nature, and she had many successful solo exhibitions. Creative and financial considerations led her to expand into new forms of art, including designing and painting furniture, textiles,  jewelry, and other household items. She then ventured into china painting, but soon realized that the traditional process of glaze on china was not achieving her desired effect.
Not one to back down from a challenge, Rebecca proceeded to create her own technique for producing ceramics that were both beautiful and durable. R.Wood Studio and Beauty Everyday were born. Rebecca's creations have translated her painting techniques and themes of color and nature into her pottery.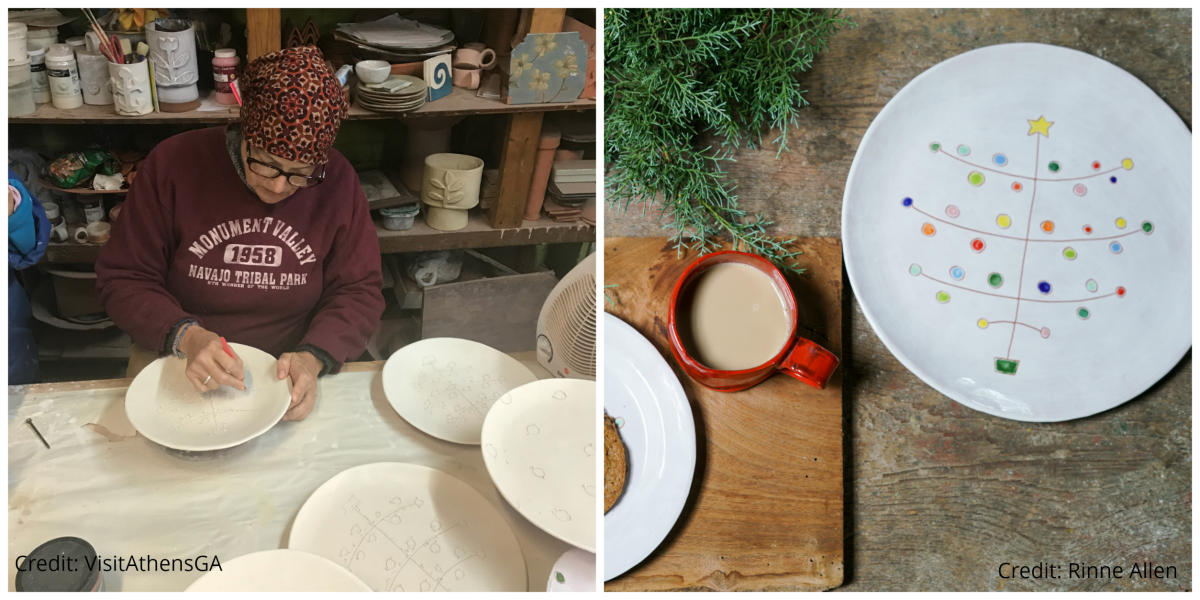 Rebecca Wood uses a low-fire technique, which allows her to draw patterns, then develop colors through a series of paints and glazes. The resulting pieces are both beautiful and sturdy enough for everyday use. Above, left, Rebecca draws her 2018 holiday pattern on plates, which when painted, glazed and fired become youthful and fun (right).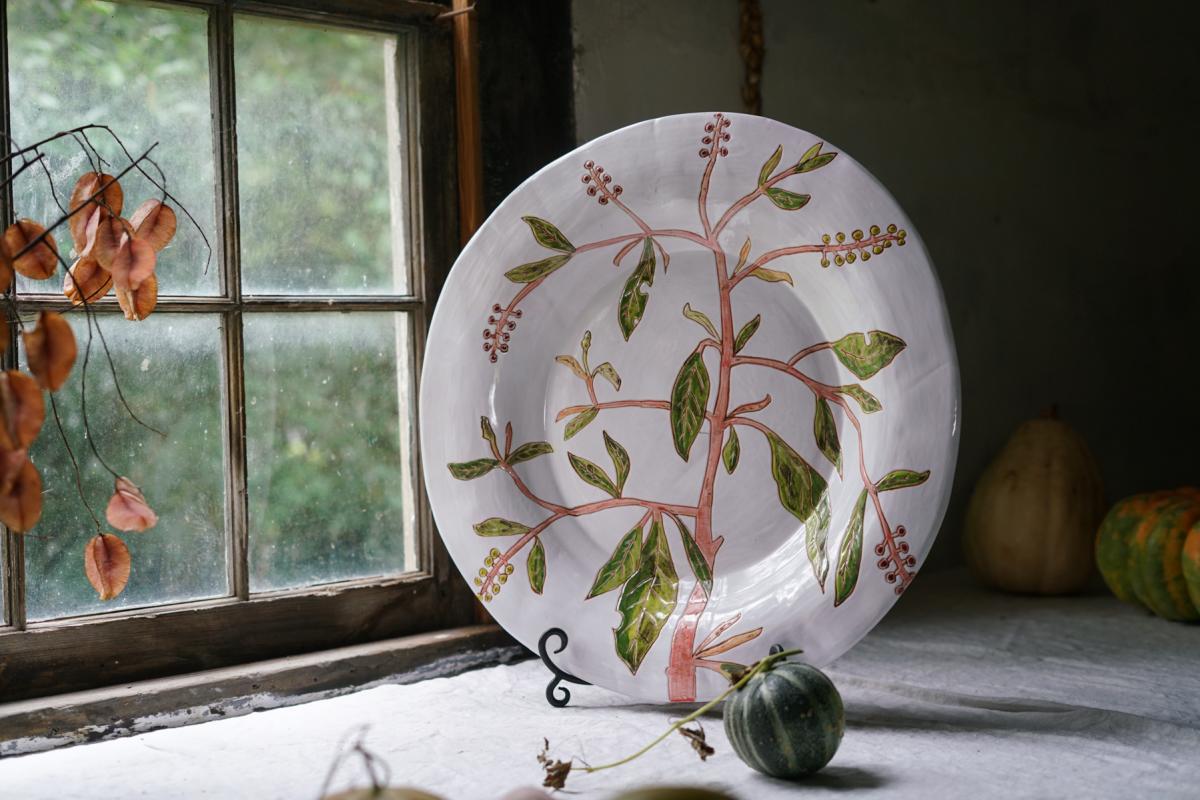 Beauty, color, and nature are on full display on this platter. R. Wood enthusiasts often will purchase platters for various seasons, and switch out on their mantle, china cabinet, or table. Photo Credit: Rinne Allen
"Ever tempted to leave Athens? Never."
When asked whether she was ever tempted to leave Athens, Rebecca replies: "Never. I can drive five minutes and be on a dirt road. I am closer to nature here." Nature and color continue to inspire her. She heads to the State Botanical Garden of Georgia, the Georgia Museum of Art, and other local museums and galleries, all right here in Athens.
She's not just close to nature in Athens, but also to a strong and still-growing community of artists and makers. "There are so many good potters around here it's not even funny," Rebecca says. She recommends checking out Maria Dondero at Southern Star Studio and Juana Grecco's usable tabletop ceramics, as well as Nancy Green.
Today, Rebecca says she has the "best job on Earth." She employs many potters and has assistants to manage the store, which she says "leaves me to do the creative work." She travels a few times a year to New York City to exhibit to buyers at gift shows, but is happily centered in Athens the rest of the year.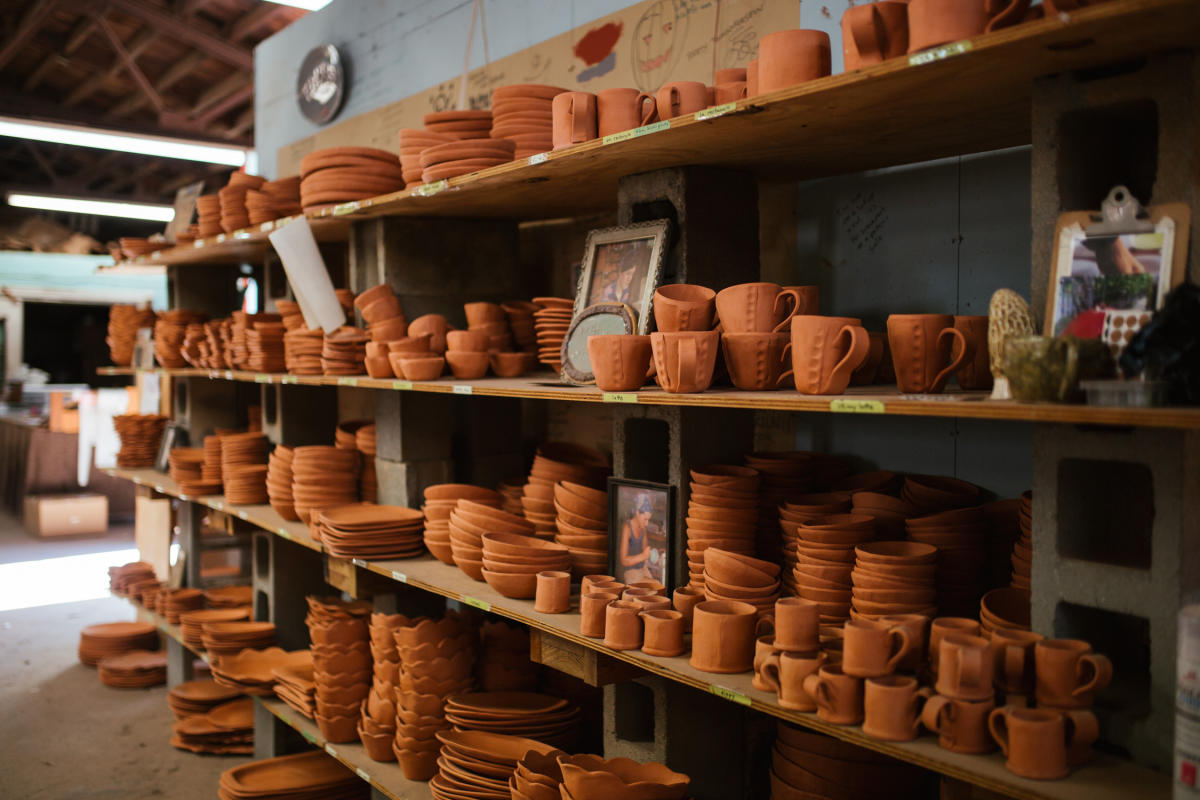 Studio shelves show where the magic all begins. Visitors to the studio can watch potters in action and learn more about the process. Photo Credit: Kristin Karch
When you go:
Inspired by Rebecca Wood? Visitors to Athens can visit R.Wood Studio and watch the potters at work, who are happy to answer questions and explain more about their process. Groups of 10 or more need only to call ahead to ask for a guided tour from Rebecca.
The studio is open Monday-Friday from 10-5, Saturday and Sunday 10-4.
R.Wood has seasonal open houses, including an In-Studio Holiday Sale every December.
You'll love to shop and see the lovely pieces in progress, then take home your favorites with you. R.Wood provides shipping and plenty of online options and made-to-order as well. 
Header photo, courtesy of Kristin Karch. Other photos credited to VisitAthensGA.com unless otherwise indicated.