Having a blast in
Athens, Georgia
this weekend is easy, and hopefully all of the excitement will make you forget how quickly summer is passing! Dawg fans near, far, young, and old will not want to miss out on spending the day with UGA Football stars during the Countdown to Kickoff activities, performance-lovers will be thrilled to see the musical "Into the Woods," and adventure-seekers will love the Athens Dawg Derby Flyball Tournament and the Totally 80's Party with The Highballs! Grab the whole family and prepare your weekend getaway, because it's a great weekend to be in the Classic City!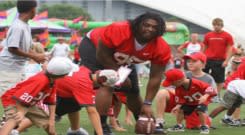 With less than 50 days until SEC Football season begins, UGA's 

Countdown to Kickoff

 weekend is upon us! The festivities begin on Friday morning at the 

Celebrity Dawg Classic

, when attendees will be organized in groups of four and paired with a former or current UGA football player or a member of the coaching staff. Registration begins at 9:30 a.m. and golfing starts at 11 a.m. Golfers are invited to attend the awards reception, immediately following the tournament,  plus dinner, drinks and raffle prizes. Saturday is Kids Fan-Day, which is sure to get the whole family pumped up for UGA's upcoming season with opportunities to take pictures, get autographs, catch passes, run drills, and play games with some beloved former UGA football players now in the NFL, legends from the past, and the current UGA football team. This year, the guests of honor are members of UGA's 2002 football team. Don't be shocked if you see Hairy Dawg and a few other surprise guests there as well! Individual tickets are $25, and family packages are $75, including 4 tickets and a Countdown to Kickoff pennant for autographs. All proceeds benefit

Children's Healthcare of Atlanta

and the Georgia Transplant Foundation.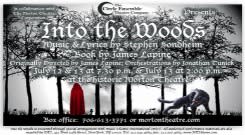 Get in touch with your imagination this weekend at the
Morton Theatre
, where the Circle Ensemble Theatre will perform the musical 
"Into the Woods!"
 Based on James Lapine's book and featuring music and lyrics by composer Stephen Sondheim, this musical "wow-ed" Broadway 25 years ago and won numerous awards, including "Most Outstanding Musical." The Circle Ensemble Theatre is a captivating Athens professional theatre company offering their version of the show at 7:30 p.m. on both Friday and Saturday nights plus a 2:00 p.m. Saturday matinee. Tickets are $15/$10 with a valid student ID and may be purchased via phone at 706-613-3771,
online
, or at the box office on weekdays 10 a.m.-1 p.m. and 3 p.m.-6 p.m. or during the hour before the show begins. 
The Melting Point has been keeping the music going this summer in Athens, and this weekend is no exception!  Rock out on Saturday night at the 
Totally 80's Party with The Highballs
, which is exactly what it sounds like- a contagious, energetic 80's dance party! The Highballs are an Athens, GA-based dance band known to play the all of the best hits from the vibrant decade. Tickets are just $10 in advance/$13 at the door/$8 at the door with UGA student ID and can be purchased 
online
! Feel free to arrive a couple of hours early for dinner and/or drinks to kick off your fun night ahead!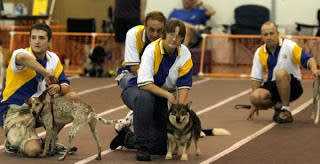 Dawgs of all ages will enjoy cheering on
real
 dogs on Saturday and Sunday at Double Dog Dare's 
Athens Dawg Derby Flyball Tournament
!
 
 More than 230 canines will fill Ballroom 8 in the newly-renovated Classic Center to participate in relay races in teams of four on Saturday from 8 a.m.-5 p.m. and Sunday from 8 a.m.-2:30 p.m. During the races, each competitor must run the lane, jump the four hurdles, retrieve the pitched ball and return over the hurdles carrying the ball, and the first team to finish four dogs without error wins the heat. All classes of racing are offered, and entries are unlimited! The Flyball Tournament is unique, exciting entertainment for all and travels around the South, so you don't want to miss their Athens, Georgia stop!
With these choices and more, the family will have no problem staying entertained in Athens, Georgia this weekend! To plan a weekend getaway in the Classic City, check out the Convention and Visitors Bureau's
website

 
or call (706) 357-4430.