The Alice H. Richards Children's Garden is one of the newest, and largest, family attractions in Athens. Looking for something fun to do with the kids? Look no further!
This immersive and interactive outdoor experience opened in March 2019 at the State Botanical Garden of Georgia to the delight of children and adults alike! Children can water plants, dig for dinosaur bones, see underneath the soil for how plants grow, and frolic in a forest treehouse. There are gigantic ladybugs to crawl over, water features, fun sculptures, and much, much more.
Even better? The Children's Garden is a free attraction!
After closing temporarily during the coronavirus pandemic, the Children's Garden opened again in late August, 2020, with new safety protocols. Families again have this great spot to take their kids-- they just need to plan ahead just a bit and make a free, online reservation time. Make your reservation 24 hours in advance, and show your receipt at the Children's Garden gate (with the larger-than-life shovel) when you arrive, and you'll have 90 minutes of exploration and play time.
Keep reading below for more details about the garden, and tips for safely experiencing it this fall.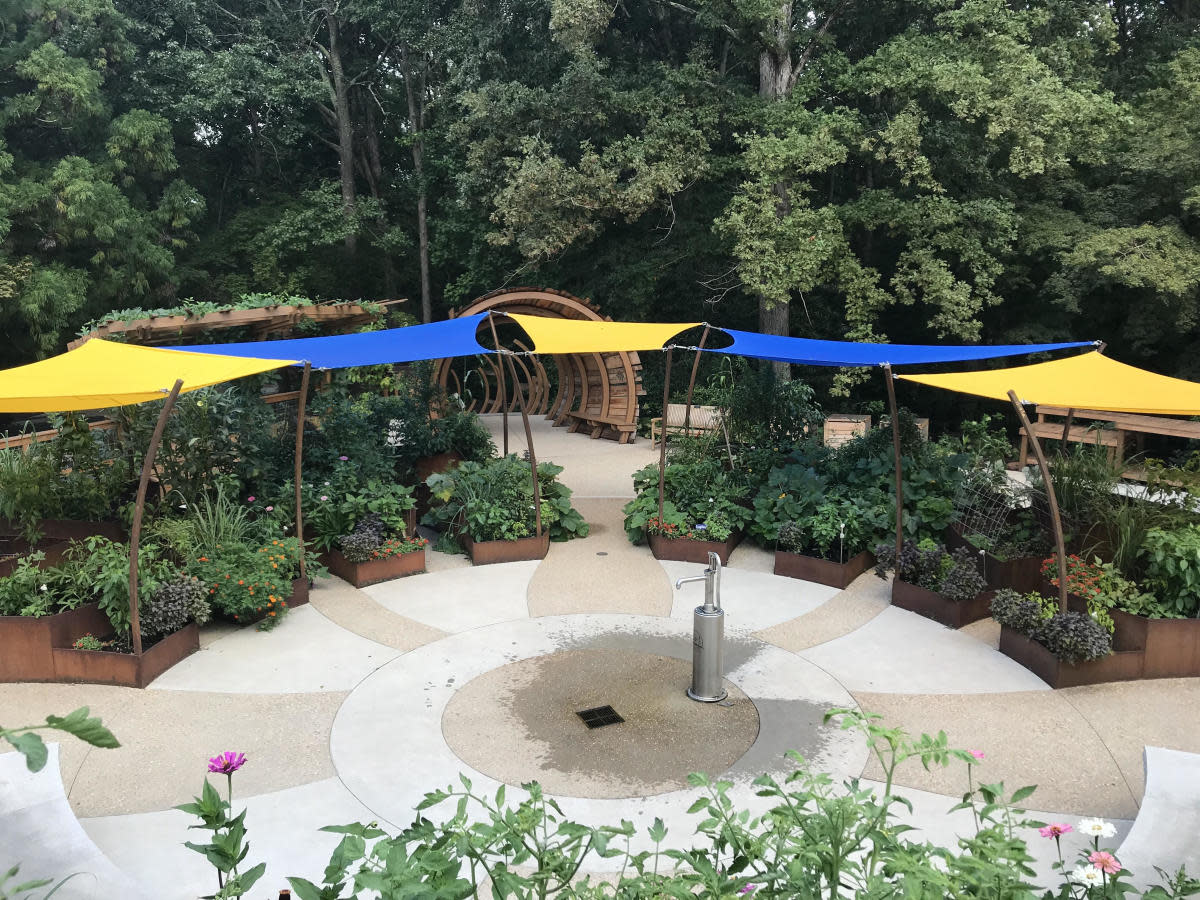 The Children's Garden is a wonderland of interactive and educational elements that will engage the imagination. Garden plots with edible plants provide the opportunity for children to dig in the dirt and learn how food grows. A water pump in the center of the garden is a popular attraction as kids of all ages fill small watering cans and pour the water onto vegetable and herb plants. Children can venture underground and see the hidden world of plant root systems and soil organisms. The garden produces hundreds of pounds of fruits and vegetables which are donated to Campus Kitchen, a student-powered organization that provides pre-made meals and grocery bags to families in need in the Athens area.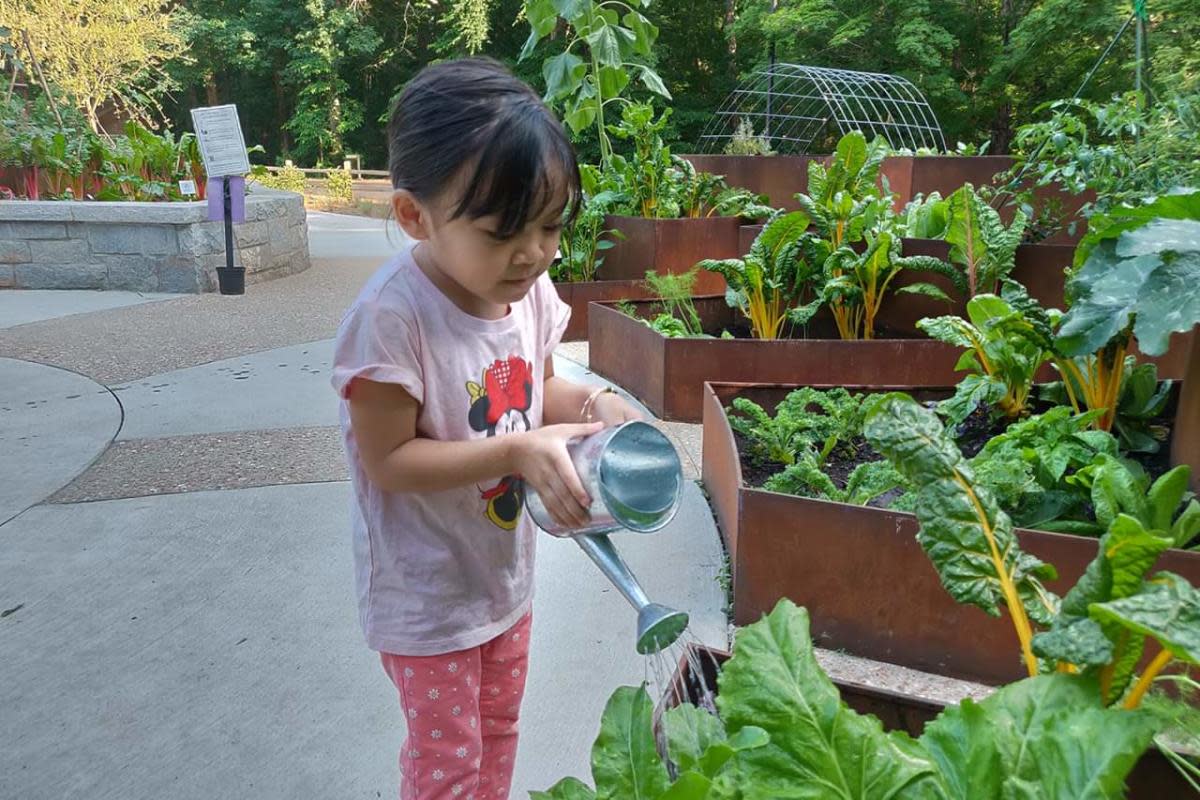 The incorporation of native plants and Georgia landscapes is meant to create a "sense of place" for garden visitors as they learn about soil composition, pollination, water, plants, insects and more. A granite map of Georgia leads visitors on a journey across the state highlighting rivers, rocks, and plants that make Georgia's ecology unique. Children can also discover fossils as they climb, touch, and explore caves underneath the one-of-a-kind playground.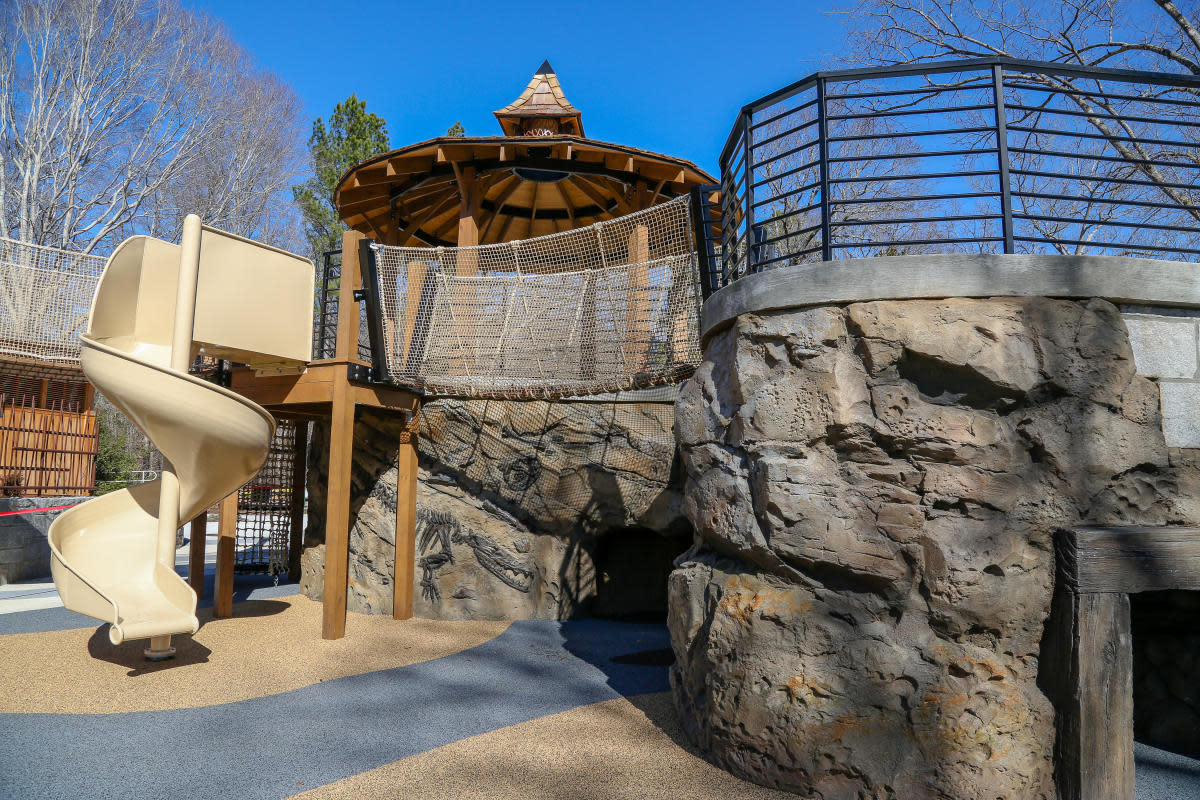 Safe Play in the Garden this Fall
The Children's Garden will be open Wednesday through Sunday. Time slots available are 9:30 – 11:00 a.m. (except Sunday), 1:30 – 3:00 p.m., and 5:00 – 6:30 pm. Please check your receipt for your reserved time slot.

Each time slot is for 1.5 hours. Please respect your allotted time so that staff and volunteers can disinfect the space before the next group begins their exploration.

In case of rain, the scheduled time slot will be cancelled and visitors will need to sign up for a different time slot. 

Out of an abundance of caution for the health and safety of visitors, some features of the Children's Garden will not be available for use at this time. Forest Play will remain closed until further notice.

The Visitor Center and Gift Shop will be open regular hours.

Please remember to maintain a minimum 6-foot distance between your group and other visitors.

Wash your hands regularly.

Face coverings are required in all Garden facilities/buildings where six feet social distancing may not always be possible. It is recommended that face coverings also be used in the Children's Garden.

Outdoor water fountains will be covered so please be sure to bring your own water bottle

Forest Play
(Not currently open during the pandemic.) Adventure awaits in the forest where an accessible canopy walk leads to a treehouse overlooking the woodland play area below. The flying squirrel hammock is a perfect place to sit and take in the tree canopy and creatures above. Below the treehouse, children can investigate the forest floor, climb through rope tunnels, and explore many other interactive elements.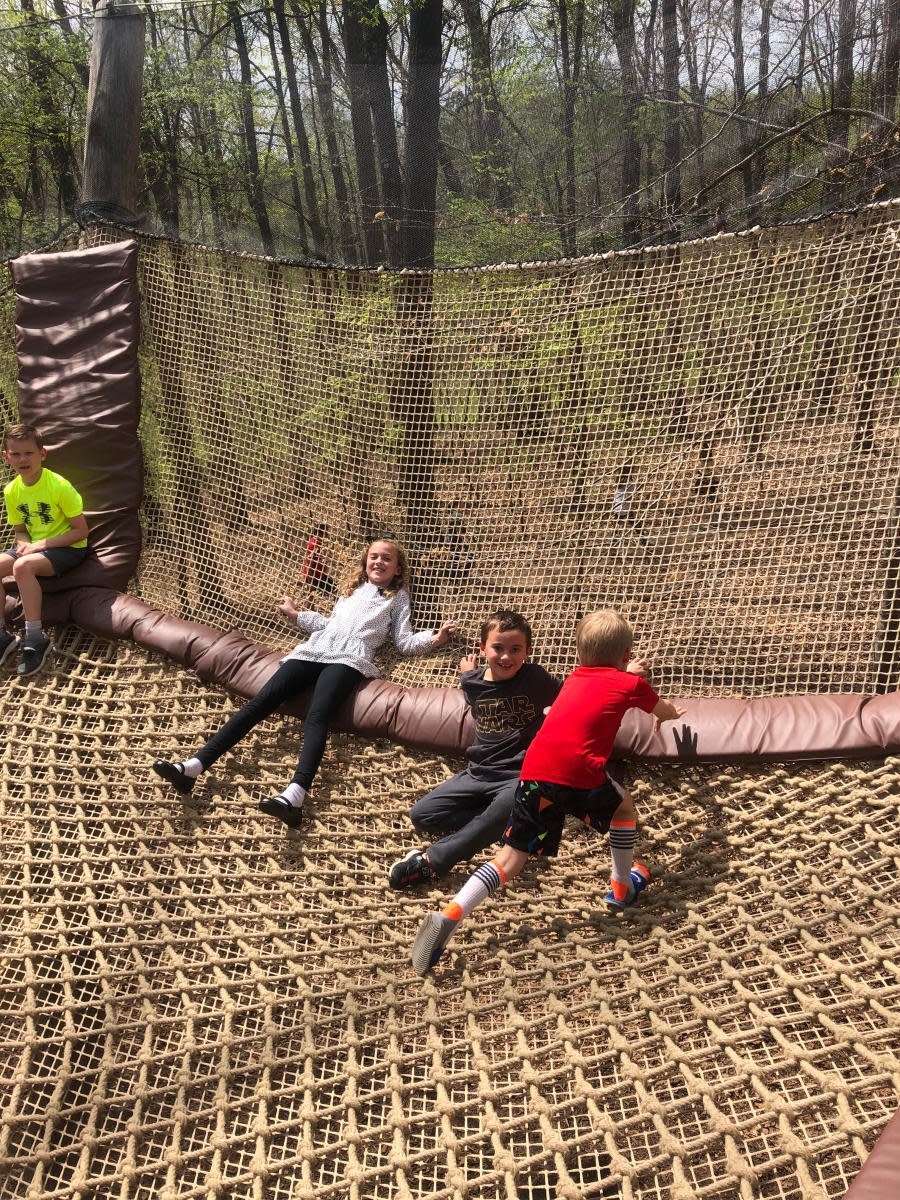 The goal of the garden environment is to emphasize the importance of nature, healthy food, and healthy bodies - a goal which it is already achieving. The garden is bursting with exciting activities that will capture and engage the imagination! 
Plan a visit to the State Botanical Garden to enjoy the Children's Garden, plant conservatory, formal gardens, and beautiful trails through the woods and along the Middle Oconee River! Check the State Botanical Garden of Georgia's listing on our website to find out what events are occurring at the Garden. 
This blog post was originally authored by Beth Quillian in April, 2019 and has been updated by Hannah Smith.