No one does brunch like Athens, GA. With brunch staples like warm, fluffy biscuits to Southern favorites like shrimp and grits, Athens puts its own rendition on brunch, just like it does everything else. Check out these Athens brunch spots to start your Saturday or Sunday in Athens. 
1. The Place
Looking for a cozy yet inviting spot to enjoy brunch with your friends or family? We've got the place for you. The Place serves up Southern specialties for Sunday brunch. Their brunch menu is full of flavorful pairings like steak and eggs, chicken and waffles, and shrimp and grits. These food match-ups also go great with one of their brunch cocktails: The Place Mary or a Mymosa. You'll feel right at home and leave happy, with a full stomach.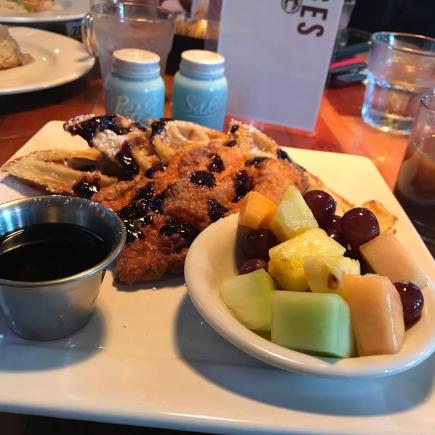 2. Donderos'
Donderos' is located in the historic Cobbham District and is a family owned bakery and cafe that serves brunch until 2 p.m. all weekend long. Try one of their grit bowls, grits dressed up with different paired toppings like fried green tomatoes with goat cheese and roasted red pepper sauce or French spinach, roasted veggies and mozzarella. They also offer more traditional breakfast options such as a breakfast sandwich, a skillet, and a burrito, all of which pair perfectly with their housemade salsa. So, sit back by a big window and grab a cup of coffee; you're going to want to stay awhile at this quaint brunch place.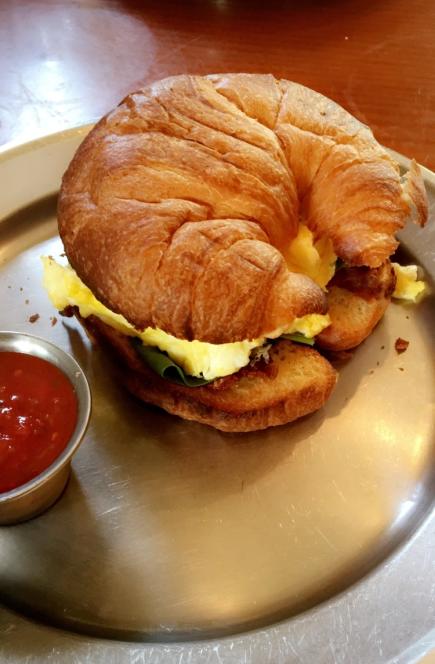 3. Five and Ten 
[2021 update: Open for dinner only due to pandemic-shortened hours] 
Five and Ten is definitely the spot to check out for an elegant brunch. Their brunch menu changes with the seasons, so spring into action and head over to the restaurant before it changes. Choose from these selections of appetizers from pimento cheese with crackers to shrimp ceviche. Consider trying their Monte Cristo sandwich which includes, a scrambled egg, strawberry preserves, sourdough French toast, and shaved ham. Once you've finished with your appetizer and meal feast your eyes on the dessert menu and get a taste of their apple bread pudding.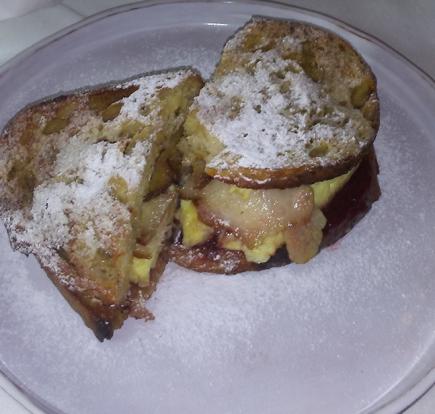 4. Big City Bread
Big City Bread is a comfortable spot just outside downtown. The expansive, shaded patio is lovely even on warm summer days. Even better: you can get brunch any day of the week! Try the Red Mule grits, ground locally. Of course, with a name like Big City Bread you can count on the biscuits and french toast to be on point, too. Menu items come with your choice of cheese: cheddar, Swiss, provolone, or Gruyere. There's a nice beer and wine menu to accompany your entree.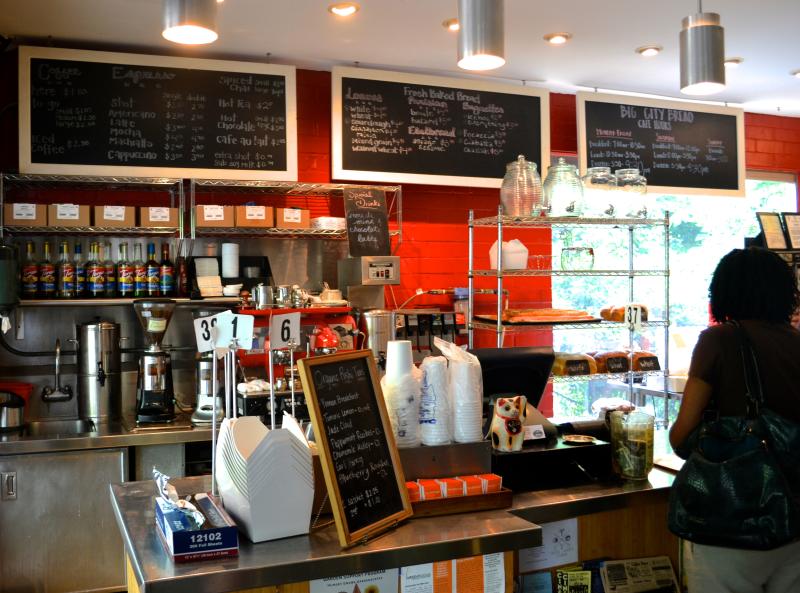 5. Trappeze Pub
In Athens, brunch and beer go together like chicken and waffles or, in the case of Trappeze Pub, chicken and french toast. Grab a brew from their bar and select this brunch option or one of their many others including avocado toast or a veggie omelet. Stray from the norm with the stone ground grit bowl or a bacon, egg, and cheeseburger. Of course, their famous fries are on the brunch menu as well and come served alongside their sandwiches. What's a trip to Trappeze without a few Belgian fries?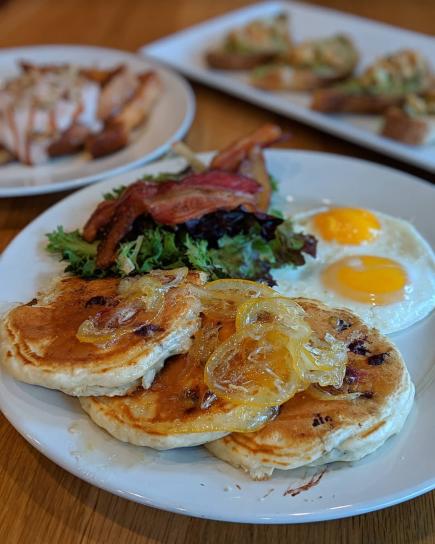 6. Mama's Boy
There's a reason the line is always wrapped around the outside and a reason people are willing to wait in them. Mama's Boy is a must-try place on your visit to Athens. Stop by their original downtown location or their newer spot at the falls of Oconee. Whether you order the bacon, egg, and cheese scrambler; pulled pork and potato hash; or the Georgia peach french toast, you can't go wrong at Mama's Boy. Most of their brunch selections are served with one of the giant biscuits that will leave you full for hours and talking about them even longer. After all, how can you pass up a place that considers chocolate cake a breakfast food?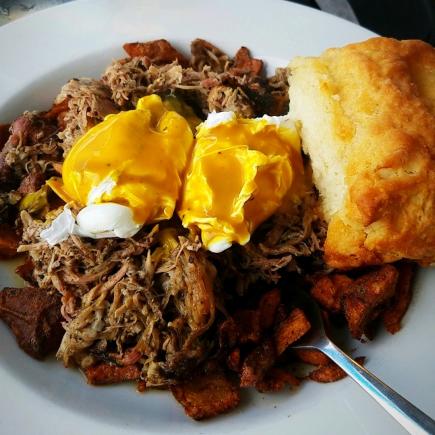 7. South Kitchen + Bar
Enjoy brunch in the beautiful South Kitchen + Bar, where you'll find a spin on Southern comfort food. Feast on the classic comfort foods like biscuits and gravy, pimento cheese, or fried green tomatoes, served either as an appetizer or as an entree on a grilled cheese or with eggs benedict. Their duck fat tater tots are widely talked about, and any of their brunch skillets are sure to be a meal to remember. If you are seeking Southern comfort with a unique flavor, South Kitchen is the place to be.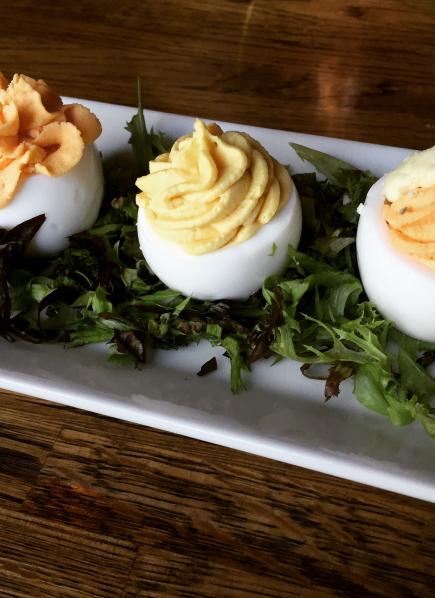 8. Heirloom Cafe
If you're in the mood for something sweet, Heirloom Cafe is the place to be. The sweet treats section of their brunch menu is an extensive one with options including buttermilk or wheat free pancakes, french toast, a cinnamon roll, and doscuit holes, donut holes made of biscuits and donuts coated in cinnamon sugar and bourbon salted caramel. Order a sweet treat as your main meal, or opt for an after-brunch dessert to follow up one of their more traditional brunch options like an omelet, burger, or a biscuit and eggs.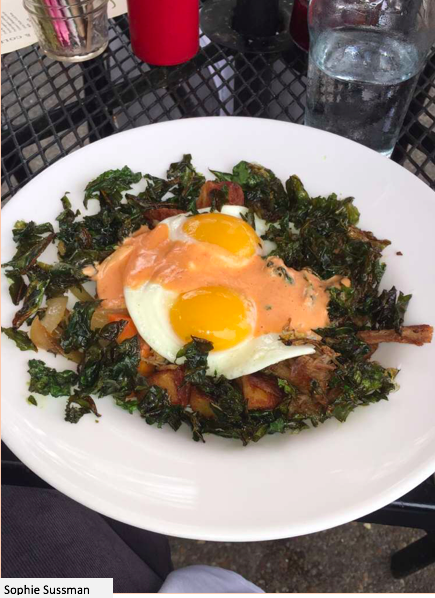 9. Last Resort Grill
Agreeing on a place to eat can be a challenge for everyone. Luckily, Last Resort Grill makes it easy; their menu boasts the perfect brunch balance between breakfast and lunch items. Those desiring breakfast food can select from one of their four omelette options, or choose an entree like french toast or pork hash. For a meal more along the lines of a typical lunch outing, try their kale salad, deconstructed BLT, or rancheros. The shrimp and grits or crab benedict will get you in the mood for seafood, even if you didn't think it was what you wanted. Last Resort Grill's variety of options will please the palettes of everyone in your party, no matter the type of meal they are craving.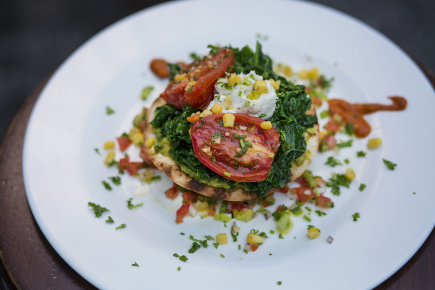 You're sure to find your next favorite weekend brunch spot in Athens. Be sure to tag your brunch photos with #VisitAthensGA or #AthensGA for a chance to be featured on our social media.
This blog post was originally authored by intern Kaleigh Wright in 2019 and has been updated for 2021 by Hannah Smith.