4th of July is on a Friday this year, which makes it perfect for a weekend getaway to Athens, Ga.! For residents of Athens, it means you have a three day weekend to spend with your family and friends in Athens, celebrating our nation's independence day!
1. Begin With Music at the Georgia Theatre
Start this holiday weekend off right with live entertainment, drinks, complimentary hors d'oeuvres, and much more Thursday night at the Georgia Theatre! Local Hawaiian band, Kinky Waikiki, will begin the evening at 7 p.m. with some tropical music, and then enjoy the rest of the evening with smooth jazz, R&B, and Reggae in this feel-good holiday atmosphere. This Blue and White Affair means that guests should dress casually and show off their American pride by dressing in Blue and White. >>learn more
2. Eat great food!
July 4th is a national holiday which means most people do not have to work! With this fabulous Friday off, take the time to socialize and eat great food! Have a BBQ with friends and family at your place or go out to one of Athens fun and eclectic restaurants to heighten the 4th of July spirit even more. Forget any summer diet you may be on, because this is a day for celebration. Eat that hot dog with mac and cheese and the strawberry cake that looks so delicious on the table. The more the merrier, and it's so true! 
3. Refresh with some cool cocktails
If you want to go out and enjoy the Athens scene, sip some refreshing beverages by checking out my past blog, 10 Cold Treats to Refresh in the Summer Sun. Highwire, The National, and Blue Sky are some of my favorite Downtown spots to go to when I am wanting a cold, refreshing cocktail to cool down with before enjoying the rest of an evening!

4. Ice Cream and Popsicles
We have plenty of frozen yogurt, ice cream, and popsicles in Athens including King of Pops, Hip Pops, Lil' Ice Cream Dude and Kat Kat Icee. Give your kids a chance to cool down as well while enjoying the summer sun with these sweet treats.

5. Swim
Enjoy the afternoon swimming in your local neighborhood or community pool. The Athens City Pool is open and has free admission this holiday weekend. Cool off and enjoy the summer sun, but don't let the sun drain your energy because the 4th is not over yet!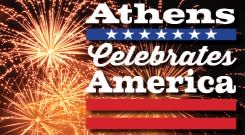 6. Athens Celebrates America, at Georgia Square Mall
You have tons of awesome fireworks to watch 4th of July evening at the Georgia Square Mall! The Independence Day celebration and fireworks event normally hosted by the Leisure Services Department and held at Bishop Park will be organized by and take place at Georgia Square Mall on July 4th.  Bring your chairs and blankets, chill out on some great drinks, and enjoy the taste of summer with some activities, food and drink from some of Athens favorites. Festivities begin at 2 p.m. and fireworks start at 9:30 p.m. >>learn more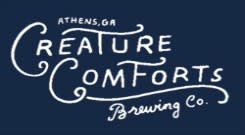 7. Creature Comforts Tours & Tastings
The 4th of July celebration doesn't end 4th of July evening. It continues throughout the weekend. Creature Comforts has Saturday afternoon tours and tastings which are perfect to attend before the Classic City American Music Festival. Creature Comforts' tour hours are 1:30 p.m. - 3:30 p.m. Tours are free, but if you would like to taste, you can purchase a souvenir glass for tasting. Some great summer brews are the Tropicalia IPA and the Bibo Pilsner. Be sure to check out this cool new spot in Athens. >>learn more
8. Classic City American Music Festival
Saturday evening The Melting Point is hosting the 6th annual Classic City American Music Festival. This yearly event, sponsored by the Athens Folk Music and Dance Society, brings the best of bluegrass, Americana and folk music together in Athens and features some of America's most established as well as rising talents in today's music scene. This event is a hit for this 4th of July weekend with your friends and families because it is perfect for all ages. Bring your family, eat some great food, grab a drink, and dance the night away at this fun, family-friendly Classic City American Music Festival. >>learn more
The 4th of July has always been one of my favorite holidays to celebrate with friends and family. The memories are overwhelming, and each year seems to be even better than the last. My family enjoys preserving some traditions while always making new ones. My family's tradition for the 4th has always been to either make breakfast at home or treat ourselves and go out for a fun holiday breakfast. We have to eat a breakfast that is red, white and blue. This means white (okay tan) pancakes with fresh red strawberries and blueberries (and some white whip cream for this special occasion). We always follow breakfast by wandering into town and watching a 4th of July parade of meandering through a farmers market. Of course we bring our American flags with us to wave wherever we go and dress in red, white, and blue. Celebrating with friends and family is always my favorite part as we gather together in the summer for this special weekend year after year. The nostalgia really kicks in. 4th of July has become a family affair for all these years, and I love making new memories each year while appreciating the old!
What are your 4th of July traditions, and how will you celebrate this year?