Continuing in our series on Athenians that make our city so unique: 
Athens, Georgia has a world renowned music scene known for its vast variety in genres and artists. Voted Rolling Stone's "#1 College Music Scene in America," there's no better way to incorporate the local flavor into a visit to Athens than by sampling some of our live music. Troy Aubrey, President of Foundry Entertainment and long time band manager began his work at The Foundry in 2006 when he was hired as an independent contractor. Since starting his career at The Foundry, he has worked to bring some of the best music in the South to Athens. We spoke with him in an interview to talk about music and life in Athens.
Tell me some about the history of the Foundry.
"There's been live music going on in this space since the 70s, over different owners and different businesses that were in there, and it's had different names." The current setup, first called The Melting Point, was finished in 2005 and includes a balcony, floor section and mezzanine. Aubrey continued saying "We have a nice stage, sound system, all of that." Now called, The Foundry, recent changes have included enlarging the stage and updating the sound gear to accommodate for groups that need more space to perform.
What was the inspiration behind turning an old iron factory into a music venue and hotel?
"I think the original owners wanted to maintain a lot of the brick and wood beams and as much as they could salvage and keep the former building from 100 years ago. And I think the whole name, The Foundry, it all kind of gave props to what this building was originally used for. They kept the main structure…they are still the original. They just updated it to make it more modern, and livable."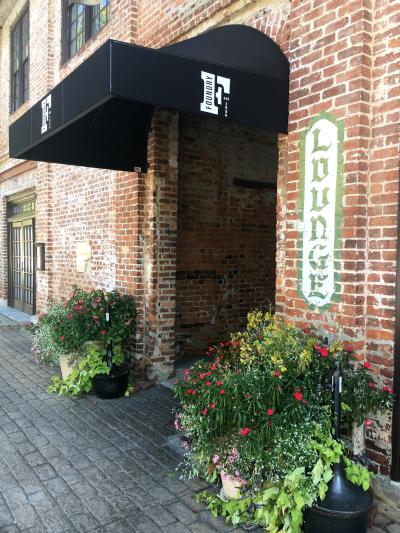 Who is your favorite Athens band?
"Obviously in my mind, R.E.M. is one of the main reasons I came to Athens. My brother was at UGA and he would bring home albums, which I still have and love. But I have a soft spot for a lot of the bands that were around in the late 80s, early 90s like Dreams So Real and Five Eight because that's when I was in school here. Five Eight actually played one of their first gigs at my 21st birthday party!"
Tell me some about what it was like to be a band manager.
"It's challenging, fulfilling, frustrating; it's definitely a lot of work to try to convince people to see, listen to, appreciate, buy shirts and tickets. It's a lot of work. It was fun, and I definitely enjoyed it. It was never a big financial thing. I never had a band that was an R.E.M., but I got do to some awesome stuff with the bands I managed like Modern Skirts, got to go to Europe 4 or 5 times, and the UK."
What's the best show you've ever been to?  
"I've literally been to thousands of concerts and shows, so it's hard for me to pick one. One of the most memorable shows was The Replacements at the Georgia Theatre when they broke up the first time. That was pretty amazing. Nine Inch Nails at the Georgia Theatre, meeting Trent Reznor, Aimee Mann here at the Melting Point. Richard Thompson, that was mind blowing. Joe Bonnamassa before people really knew who he was. Now he's selling out the Fox Theatre in Atlanta."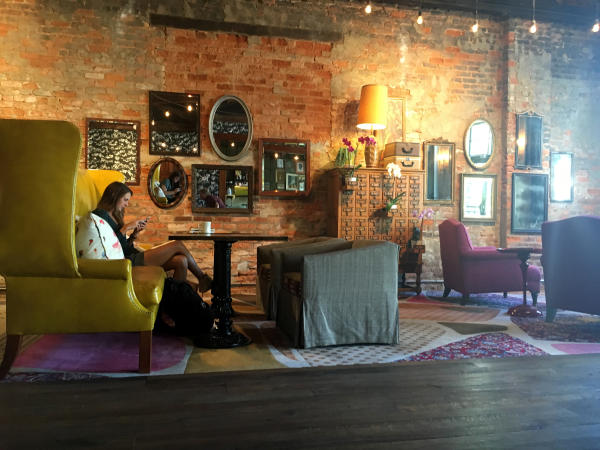 When you're home relaxing, who are you most likely listening to? 
"You know right now I do a lot of thrift store shopping. I try to pick up a couple of albums a week. I'm actually liking exploring a lot of stuff from the 1950s and early 1960s. Sort of pre-rock stuff. There's a lot of great singers and songwriters that were major recording artists then. It's all over the map. You'll find a lot of musicals like the Sound of Music. I actually have 2 copies! That's a great record, and my kids like it. So stuff that I just kind of missed – I grew up in the 70s, so I got a lot of the classic rock like The Beatles, so I didn't get a lot from the 50s like Sinatra, Perry Como, that kind of stuff. I listen to a lot of stuff and enjoy a bunch of different kinds of music."
How would you describe the Athens music scene to someone who has never been to Athens? 
"It's pretty diverse. I think you can find whatever you're interested in here. Back in the 80s it was very guitar centric, indie stuff. There wasn't a huge amount of variety. But now, you've got great hip-hop, and great Americana scene here with bands like Packway Handle Band, and you're always going to have your indie-rock here. You've got your classic Athens bands; of Montreal is still gigging, doing well. Drive-By Truckers, shoot, they're leading the Americana, roots and rock scene right now, in my opinion nationally and internationally. They've stuck with it and really built a fantastic career and their new album is doing amazing; it was one of the top 20 albums this year." Athens is a birthing place for bands, which you can see reflected in the amount of shows that happen every day. "You can see a band play just about any night of the week even in nontraditional venues, like upstairs at the Globe, bars in Normaltown. Then of course there's the traditional venues like 40 Watt, Georgia Theatre, Classic Center, Caledonia Lounge. It's cool to see other bands and musicians playing at other places like Hendershots, that's probably one of my favorite places in town to see bands."
What Athens Itinerary would you suggest for someone that has never been to Athens? 
"Get into town, Mama's Boy for breakfast, there's great breakfast there. Then go out to the State Botanical Garden of Georgia which are beautiful and relaxing. Have lunch downtown, World Famous has a very unique lunch. Then check out all the businesses and stores downtown. Head to the record stores, like Wuxtry, or at least that's what I would do. Come have dinner and see a show here at The Foundry… Stay here at The Graduate if you're from out of town."
Aubrey also mentioned that some other great opportunities for Athens newcomers would be to see a show at a place like 40 Watt or Georgia Theatre, going to a football game, exploring some of our unique festivals like AthFest, or doing a brewery tour.
What do you love most about Athens? 
"The culture, the art, the music scene, the food scene. There's always something to do and you don't have to drive and hour and a half to get there. Living in a neighborhood that is full of musicians, there are always lots of activities for my family to be involved in. It's just a great place to live."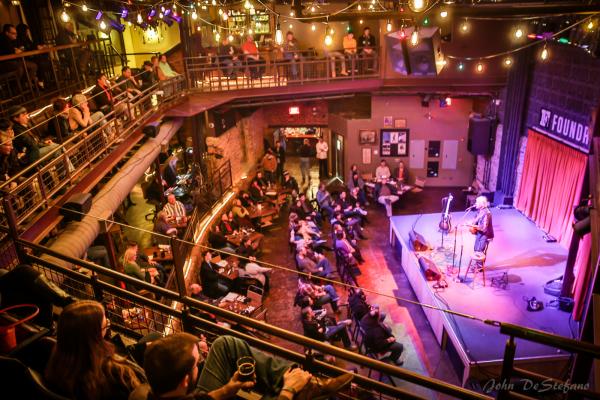 The Foundry has some great food. What's your go to food and drink combo?
"I like the fried pimento cheese balls appetizer. Those are my favorites, but they have a great burger too, The Foundry Burger. As far as drinks go, I'm a beer and wine drinker, so I don't drink too much of the liquor drinks, but we have a great selection of local beers. So you'll find Creature Comforts, Terrapin, and Southern Brewing Company selections, and I really like all of the local beers. That's pretty much all I drink."
What's the biggest lesson you've learned working in the music industry?
"Just be genuine and honest and do what say you're going to do. Be fair. Be honest. Be yourself. Make a difference, and do it with positivity. There is no room for negativity."
What makes you the most excited to get up and come to work every morning?
"Just having a successful show, or having a concert goer or client that is obviously happy with the decision they made to come here. Making memorable moments happen through music and entertainment so that people remember that occasion. I get lots of emails and little thank you cards, and I've started collecting them and that means a lot. It's nice to get those because it means you're doing the right thing."
Aubrey also emphasized that forming meaningful partnerships with the community is a priority of The Foundry. Aubrey believes that giving back to the community is important, so The Foundry hosts many events to thank people in the community through various events like a recent luncheon for first responders, firefighters, and police officers.
Inspired to visit Troy at the Foundry, and check out the Athens music scene? Plans a Bands and Brews getaway with this itinerary for music and craft beer lovers.