Looking for places to satisfy your sweet tooth in Athens, Georgia? Look no further! As a self-proclaimed sweets connoisseur​, I have made my way through many of Athens' treats in the years that I've been here. If you're looking for the best sugary bites in the Classic City, check out this list of spots that are sure to keep you coming back. Make sure to bring your appetite, because these treats are irresistible. 
Cover photo courtesy of @zombiecoffeeanddonuts (instagram)
Zombie Coffee and Donuts
Photo courtesy of @zombiecoffeeanddonuts (instagram) 
Have you ever wanted to build-your-own donut, complete with heaping toppings, glaze, and the ideal cup of coffee? The Zombie Coffee and Donuts is the place for you. 
The first Zombie Coffee and Donuts opened in Washington, D.C., but the owner, Tony Raffa, a UGA alum, decided to bring the store down to Athens, Ga. as well. Zombie Coffee opened in the spring of 2016 and has quickly become an Athens hotspot.  Unlike other donut shops, Zombie Coffee and Donuts is more of a sit-down type of shop, with tables and bars that are perfect for meeting up with an old friend or catching up on work.  
The donuts are made fresh every 15 to 20 minutes and customers choose everything from beginning to end. The customer first begins by choosing the donut, then proceed to choose the glaze and toppings. With over 50 topping options, the possibilities are endless. Go with a simple cinnamon sugar donut or create a donut with a mountain of toppings- the choice is all up to you. Besides the mouth-watering donuts, the coffee here is incredibly rich. Zombie Coffee offers customers the option of either self-served coffee or specialty drinks made by a barista. The self-serve option is perfect for those who know exactly how they like their coffee or like to experiment with different options. Specialty coffees are also a great way to spice up your routine coffee. There are so many different ways to pair donuts and the flavors that it may get a bit overwhelming for first timers. But fear not, everything will taste incredible in the end. Even though I like to experiment with different toppings and flavors, my favorite is a chocolate donut with chocolate icing topped with M&M pieces paired with an iced coffee. So much chocolatey goodness! 
Insomnia Cookies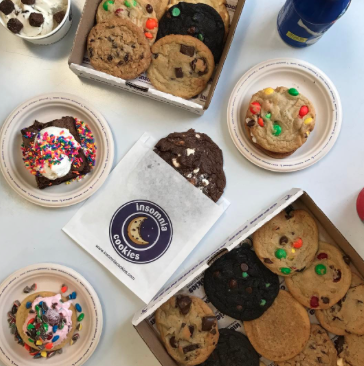 Photo courtesy of @insomniacookies (instagram) 
If you've ever been to Athens, you know Insomnia Cookies is the spot to get a late night treat. Located in the heart of Downtown Athens, Insomnia is the perfect place to get your sugar fix. 
The cookies are served hot and fresh and they taste even better when paired with a cold bottle of milk. Want to spice up your treat? Order an ice cream cookie sandwich or one of the chocolatiest brownies you can imagine. As an avid chocolate chip cookie eater, I can definitely say Insomnia Cookies has the best chocolate chip cookies. They are soft, yet a bit on the chewy side, and unlike many other chocolate chip cookies, Insomnia's chocolate chunks are the perfect size and evenly proportional to the rest of the cookie. 
Pro tip: If you have your order delivered or take it to go, heat up your cookie before consuming, it will completely change your experience. 
Alumni Cookie Dough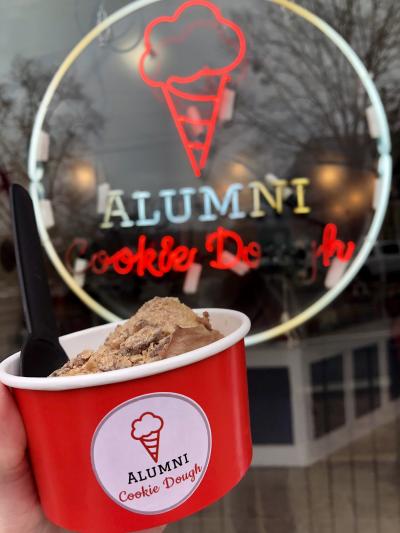 Photo courtesy of Alumni Cookie Dough 
Get ready for the a spoonful of yum at Athens' first cookie dough cafe, Alumni Cookie Dough! The homemade, gourmet cookie dough comes by the scoop, in a sundae, blended with ice cream into a milkshake, or have the gourmet cookie dough infused into ice cream for my personal favorite, their famous Dream Creme!  It's available in flavors including chocolate chip, mint chocolate, red velvet, peanut butter cup, gluten free oatmeal and chocolate chip, vegan chocolate chip, birthday cake, s'mores and more, so there's a flavor for every palette. They also serve Jittery Joe's coffee so you can have a hot java with your Dream Creme (or whatever treat you choose!). Prefer your dough baked? You can take it home and do just that!
Condor Chocolates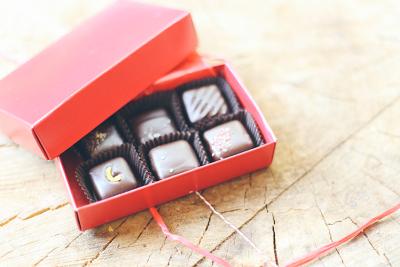 The first specialty chocolate shop opened in Athens, Condor Chocolates produces bean-to-bar Ecuadorian chocolates right in historic Five Points, just down Lumpkin St. from downtown, and as of 2021 at their downtown cafe! The shop was opened by brother duo, Nick and Peter Dale who wanted to pay tribute to their parents' love story, which began in their mother's home country of Ecuador. This country is famous for their cacao and just one bite of a Condor chocolate will prove just why. Along with the rich Ecuadorian cacao, ingredients made from local products are used in these tasty treats, like Georgia pecans and locally made chili pepper. Condor Chocolates serves everything from chocolaty drink to pastry items to savory chocolate pieces. Ever since I tried their sipping chocolate with marshmallows, my life has not been the same. If you're looking for something even sweeter, I recommend pairing the sipping chocolate with a brownie...it's chocolate heaven in your mouth. 
Nedza's Waffles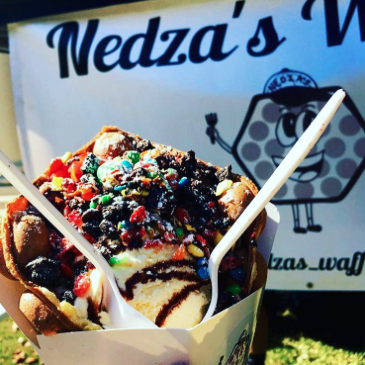 Photo courtesy of nedzas.com 
Another incredibly popular Athens treat is Nedza's Waffles. This company was started by Joe Nedza, an undergraduate Management student at the University of Georgia. 
The waffles are made from scratch from batter that the team makes themselves. You can order a simple waffle with powdered sugar, or one with an ice cream scoop and a wide variety of toppings. Not only are the waffles absolutely delicious, but each waffle comes with a personalized compliment to spread kindness and love. Also, did I mention how instagrammable these waffles are? 
Originating as a food truck in 2016, they are now bringing their signature menu to their brick and mortar location in Five Points!
Vampire Penguin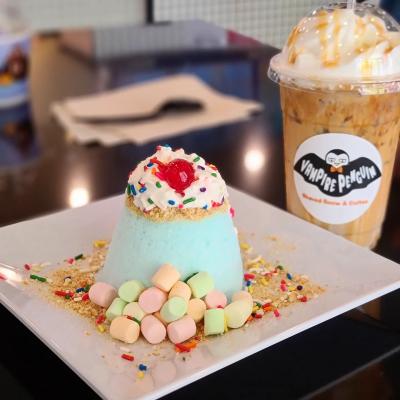 Photo courtesy of @Vamppengathens (Instagram) 
Vampire Penguin opened in Athens in spring of 2022, but it's already generated a ton of hype! With a unique shaved snow dessert as the star of their menu, Vampire Penguin is as fun and intriguing as it is delicious. The shaved snow is delicious, cold and refreshing, coming in flavors ranging from coffee toffee to cotton candy, and they also serve shakes, coffee and cookies. 
Do you have a favorite Athens treat? Let us know in the comments! Plus, check out all the other local treats on our restaurants page.