For When You Want to Keep it Local, Fresh, and Healthy...
With all the mouth-watering good eats in Athens, GA that are constantly being highlighted, it's easy to forget you can eat healthy, too.  For the vegans, vegetarians, or just health nuts out there, don't fret!  Athens has a whole lot of health friendly options to offer.  The best thing is that these options are just as tasty and highly acclaimed as the rest of all your favorite Athens spots; so check out some of these spots for the best of both worlds, health and deliciousness!
Heirloom Cafe and Fresh Market
Awarded the 2016-2017 "100 Plates Local Love", this farm-to-table cafe is a delicious local and homegrown option.  Housed in a former Amoco service station on the corner of N. Chase Street and Boulevard, this neighborhood restaurant is a favorite for dining-in or grabbing something quick to take home.  Vegetarian and gluten-free options are also available.  The menus are seasonal and change quite frequently, but you can always count on unique and fresh  variations of Heirloom's infamous Cheese Plates as a quick snack or appetizer option (think: local, grass-fed cheese with apple slices and blackberry jam, yum!) Heirloom is the place to go for the Daily Quiche, Chicken Salad Sandwich, or Chilled Squash Soup.  Offering brunch, lunch, dinner, and catering, you cannot go wrong with choosing Heirloom; you are surely in for a treat!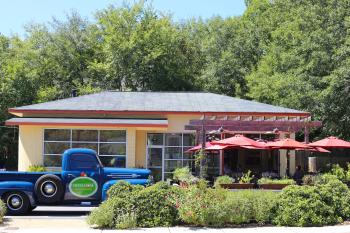 Featured in Georgia Eats, the state's official culinary guide, home.made is committed to producing quality delectables with the highest quality ingredients and sourcing from local farms to produce inventive twists in the kitchen.  The chef/owner of home.made, Mimi Maumus, was born and raised in New Orleans and learned to be creative in her family kitchen; she has since brought that seasonal and local creativity to her very own restaurant.  With a Taste of Athens award, as well as "Best Caterer" in both Flagpole Magazine and the Athens Banner Herald under its belt, home.made has become a sought-after lunch, dinner, and event space destination right outside of downtown Athens.  The eatery offers take-away dinners that you can order in advance, but if you dine-in, be sure to try the Avocado Sub or Quinoa Bowl - you won't regret it!  If you insist...finish off the meal with a to-die-for Mississippi Mud Brownie and cup of local micro-roaster 1000 Faces Coffee.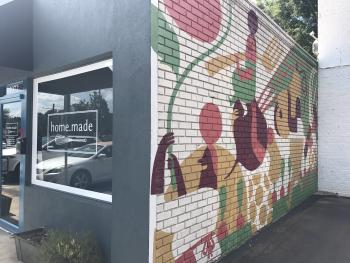 Located right in Normaltown is Athens' favorite gourmet eatery.  With Southern staples as cheery and bright as the atmosphere and sunroom, there are few better places to enjoy a truly savory Southern meal.  Don't be surprised if Chef Marti Schimmel herself greets you upon arrival; after all, what's hospitality without a warm Southern welcome, right?  With catering available and even favorite recipes available online if you'd like to recreate something yourself, Marti's at Midday is truly local and fresh, made with its customers in mind.  Offering a plethora of sammies and salads, you might have a hard time choosing.  A scoop of the Spiced-Up Pimento Cheese or Curry Chicken Salad is a good place to start.  Seasonal veggies are always on the menu, and the Bootcamp Approved Salad is sure to please your taste buds as well as your trainer!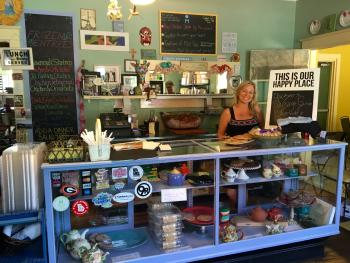 Don't miss your chance to visit one of "The South's Best Farmers Markets", as recognized by Southern Living, every Saturday and Wednesday.  From April through mid-December, you can find the local goods at Bishop Park on Saturday mornings and at Creature Comforts Brewery on Wednesday afternoons.  Local farmers and craftspeople gather together to provide customers with local food and works of art that are unique to Athens.  Vendors include Antonio's Fresh Pasta, Golda Kombucha, Holy Crepe, Journey Juice, Full Moon Farms, and many, many more.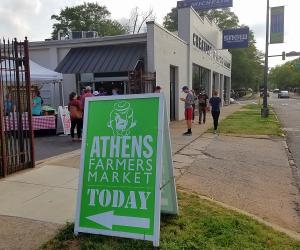 Lindsey's Culinary Market
Preparing to make a big move to Downtown Athens, Lindsey's Culinary Market is the place to go for a delicious breakfast or lunch in the cafe, a quick pick-up for a freshly prepared meal from the market, or the perfect caterer for your next get together.  Daily soup and delectable sandwiches are always available in the cafe, and already prepared meals such as Tomato Grits, Vegetable Lasagna, and Shrimp and Wild Rice can be found in the Market freezer for a delicious meal whenever you need it.  Look out for this amazing and convenient market coming soon to Downtown Athens!
Last but not least is Athens' only food co-op!  Much more than a traditional grocery store, a co-op is a consumer-owned cooperative business that is completely managed and controlled by the people who use it.  But, not to worry, you don't have to be an owner to enjoy the benefits of the local produce and products Daily Groceries has to offer.  Located right along Prince Avenue, Daily Groceries can be your one stop shop for all things local.  Offering a deli menu, current specials each week, local and organic produce, local meat, dairy, and eggs, local artisan bread, and local beverages of all kinds, there is simply nothing you won't be able to find here.  Daily Groceries does offer some of the basic grocery staples such as Clif Bars and certain frozen meals, so it is the perfect place to go for everything local and fresh you could ever want, as well as those healthy staple items you would want to go to a traditional grocery store for.  The store also accommodates several special diets within its array of products, for those who are vegan, vegetarian, gluten free, or low sugar.  Be sure to hurry on over to Daily Grocery to complete your next grocery list!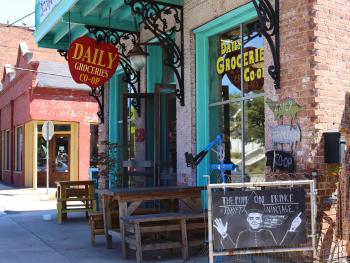 So, now that you're in the know about all things local and healthy Athens has to offer, take advantage of it all.  Athens is so unique in that it has more amazing, local restaurants than we know what to do with, and whether we are feeling something indulgent or healthy, but sure to be delicious, there is absolutely no way you can go wrong.  Enjoy!