It is nearly October, which means Halloween is just a few weeks away! Halloween in Athens, GA is one of the best holidays of the year; from a family-friendly corn maze to super scary Zombie Farms and of course, the only-in-Athens Wild Rumpus Spectacle. With a month full of highly anticipated events and festivities, Athens is geared up for Halloween long before the 31st.
Washington Farms
Located in the Watkinsville-Athens area, Washington Farms is home to the iconic corn maze with the Georgia "G" in the center and "Go Dawgs" written on the outer edge. With the maze as the centerpiece, Washington Farms has a pumpkin patch where you can enjoy picking your own pumpkins with family and friends. Other activities include a flashlight run through the maze after dark, a pig race, petting zoo, and a concession stand with copious amounts of delicious treats including fan favorite, kettle corn. Admission to the farm is $14 for adults and children 5+ and $10 for children between the ages of 2 and 4. So, grab your family and friends and make sure you take advantage of everything Washington Farms has to offer before the season is over!
Zombie Farms is a scary, yet fun Athens Halloween attraction. This farm is a unique alternative to all the kiddie corn mazes and predictable haunted houses because of their out-of-the-box themes. Take a walk through the farm as they shoot 13 new horror movies. See the sets, watch the action, and enjoy the fun of the productions. Other fun activities on the farm include storytelling and a campfire area for roasting marshmallows. Zombie Farms is perfect for big groups and parties, so invite all of your friends and be prepared to be scared! Athens Zombie Tours will be open from 8 to 10:30 p.m. on Fridays and Saturdays beginning Friday, October 13. Admission to the farm is $25 per individual and $20 per person for groups of 10 or more. If you love all things Halloween, this is the perfect activity for you! 
For three Thursdays this fall, the Athens Welcome Center and the UGA Special Collections Library are partnering to host the Athens History & Hauntings Tours. On this tour, you will uncover ghost stories, spooks, specters, and oddities of the Classic City. This popular walking tour is about 90 minutes long and ends at Creature Comforts Brewing Company for a tasting and brewery tour. The 2017 Thursday tour dates are October 12, 19, and 26 at 5:30 p.m.  Don't miss this spooky chance to hear the secret stories of historic landmarks, people, and places around Athens.  Tip: wear comfortable walking shoes!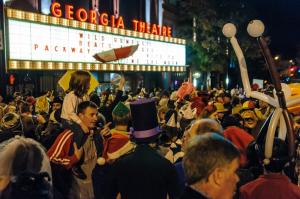 Known as Athens' own Mardi Gras, the highly anticipated Wild Rumpus Parade and Spectacle is anything but ordinary. This October, the annual event will kickoff on Friday, October 27 with the Monster Mash Halloween Party for families and young ones at The Foundry at noon, followed by the Weekend Kickoff Party later that night at 8 p.m. On Saturday, October 28, the brand new Monster Dash 5k Run will take place.  Later that day, head over to Live Wire Athens at 6 p.m. for the Pre-Party/Meetup, with the main event, the Wild Rumpus Spectacle beginning at 8:30 p.m. sharp in Downtown Athens. The night will conclude with an Official After-Party at the Georgia Theatre starting at 10 p.m. The Wild Rumpus gives all attendees the opportunity to join in on the fun by dressing up in their own costumes. Whether you want to dress up and join in on the parade, enjoy from the sidewalks, or attend one of the other weekend events, the Wild Rumpus encompasses a massive display of creativity and promotes self-expression in a safe and inviting environment. What a perfect way to celebrate Halloween! 
Come join the folks at Southern Brewing Company on Tuesday, October 31st starting at 5 p.m. for your own Halloween extravaganza.  Once you finish handing out candy in the neighborhood, be sure to get over to SBC for some festive beers and spooky fun.  Feel free to go dressed in costume, as prizes will be given to the most creative male, female, and couple.  Special beers include a S'mores Stout and a Green Berliner on tap, yard games will be in full swing, Halloween jams will be playing, and Biggum's BBQ food truck will be on site.  Be sure to head out to SBC to escape the Halloween madness and have your own kind of fun.  There will be lots of sweet and spooky surprises!
Boo-le-Bark on Boulevard
Yes, you guessed it; it's a dog costume parade!  This year's Boo-le-Bark will take place on Sunday, October 15 at 3 p.m.  This adorable Halloween costume parade is $20 per dog and benefits Athenspets, Inc., an all-volunteer group dedicated to helping animals at the Athens-Clarke County Animal Control find a new home.  In the past, this puppy parade has been nothing short of festive, with 125 registered pups dressed to the nines with 1,000 of their owners, families, and friends.  The parade festivities will continue at the Jittery Joe's Roaster with food, music, photos, and fun for all participants and spectators. Be sure not to miss this barkin' time!
There is no other place to be this Halloween season than the Classic City! Check out our Fall Festivals and Events page for a complete list of all upcoming Halloween and fall festivities and start planning your October Athens getaway today!
This post, originally published on October 4, 2016, has been updated and re-published by Ellie Harding on September 22, 2017.