There are so many fun things to do for Halloween in Athens, Georgia! The creative energy Athens is known for is on full display for Halloween. Exhibit one is the only-in-Athens Wild Rumpus Spectacle , a costumed parade through downtown that YOU can join! There are also plenty of other Halloween events and happenings, like Zombie Farms, a haunted outdoor trail, haunted tours of Athens, and family-friendly Halloween fun, too. Check out these Halloween ideas and plan a getaway to Athens this October!
Wild Rumpus Halloween Parade & Spectacle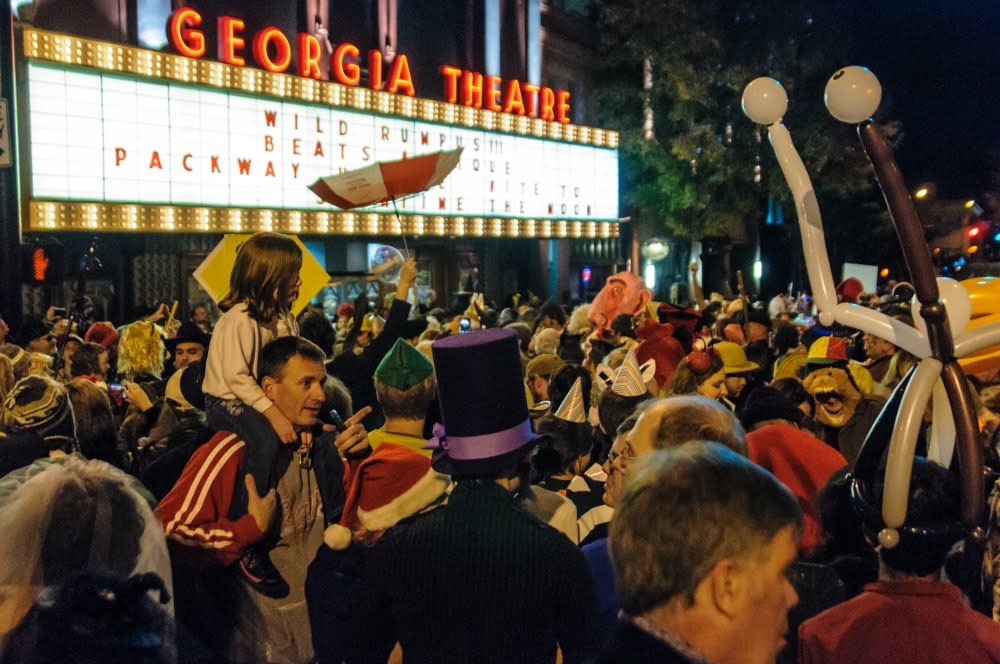 Known as Athens' own Mardi Gras, the highly anticipated Wild Rumpus Parade & Spectacle on Saturday, October 30 is anything but ordinary. The Wild Rumpus is a large-scale crowd-participation Halloween holiday, music and arts celebration in downtown Athens. It is one of the Southeast's premier Halloween celebrations and one of Athens' most-loved festivals. 2021 is the Wild Rumpus' 13th year.  The Wild Rumpus is FREE to attend, and All Are Invited. The public is invited to dress in Halloween costume and march through the streets of "The Classic City". Crowds swell to near 10,000+ and the dazzling display of hand-crafted, wildly imaginative costuming is out of this world, and a highly unique experience. 2021 marks the event's return to the streets after a virtual year due to Covid, and it looks to be even bigger and more fabulous than ever.  
 This massive display of creativity, promoting self-expression in a safe and inviting environment, is the perfect way to celebrate Halloween! 
The fun kicks off from 5 - 8 PM at Creature Comforts Brewery with the Rumpus Rally, featuring live music by MONSOON, LUXURY VEHICLE, and BICHOS VIVOS on the Rabbit Hole Stage. At 8 PM, the Wild Rumpus Parade will start on West Hancock Ave. in downtown Athens adjacent to Creature Comforts Brewing Co. The parade winds through downtown Athens, with parade artists, SHVKTi, El ChupaSKAbra, Kxng Blanco + Caulfield ft. DJ KOUNTRY BOY, Fishbug, Dialectic Flowers, FATHER WEREWOLf, OHMU, Spectre of Surf, DK and White Rabbit Collective providing music and entertainment along the route (supported by Rotary Club of the Classic City of Athens), ending on W. Washington St. at Pulaski St. for a massive DJ dance party in the street* featuring THe Booty Boyz and DJ ChiefRocka, with sound and lights, aerialists on trapeze, and more. But, the fun's just beginning! The dance Party goes until 11 PM. 
New for 2021, Open containers of beer or wine will be allowed inside the barricaded "Festival Zone" which spans four street blocks of downtown, from Creature Comforts on Hancock to Hull St, Hull St. between Hancock and Clayton St., and Washington St. from Hull to Pulaski where the dance party happens. Wristbands are necessary for outdoor drinking and may be purchased at Creature Comforts, Paloma Park, Ted's Most Best, Rook & Pawn, and Trappeze Pub inside the festival zone.   (21+ only.  Drinking alcohol in the street or outdoors while outside the festival zone is illegal.)
So, what are you waiting for? Get your costume ready, grab some friends, and join in the Wild Rumpus Parade & Spectacle!
Zombie Farms

Zombie Farms, North Georgia's number 1 haunted trail, is anything but your ordinary kiddie corn maze and predictable haunted house. Zombie Farms is an immersive Hollywood style story theme that progresses through out the 3/4 mile haunted trail. You'll walk through dark and spooky woods filled with scary monsters and creepy characters who will scare you, entertain you, and sometimes even make you laugh. You'll view many elaborate sets and scenes on your journey. The newest addition to Zombie Farms is a rope maze. This maze through the woods is separate from the regular trail.  Can you find your way out?
Gates open at 8:00 p.m. every Friday and Saturday in October.  Admission is $20-$25 depending on the night and group size. 
Athens Haunted History Walking Tour

Hear the tales of love and loss that haunt Athens on the Athens Haunted History Walking Tour with local historian, Jeff Clarke. Clarke has appeared on several programs for The Travel Channel, GPB, PBS and the Discovery Network, including the Emmy nominated series "The American Revolution." The walking tour is 45 minutes long and gives an exclusive look inside some of Athens' most haunted buildings. Participants will learn about the history of the town, see historical sites and some ghost stories along the way. Reserve your spot today!
Boo-le-Bark on Boulevard

Even pets can get in on the Halloween fun in Athens! Come out to Boo-le-Bark, a canine costume contest and parade benefitting Athenspets, an all-volunteer group dedicated to helping animals at the Athens-Clarke County Animal Control. This year's parade will be part of the day-long Oct. 10 Athens PorchFest event schedule. This dog parade typically draws up to 1,000 participants and spectators to the Boulevard neighborhood. 
Cruise Down Spooky Street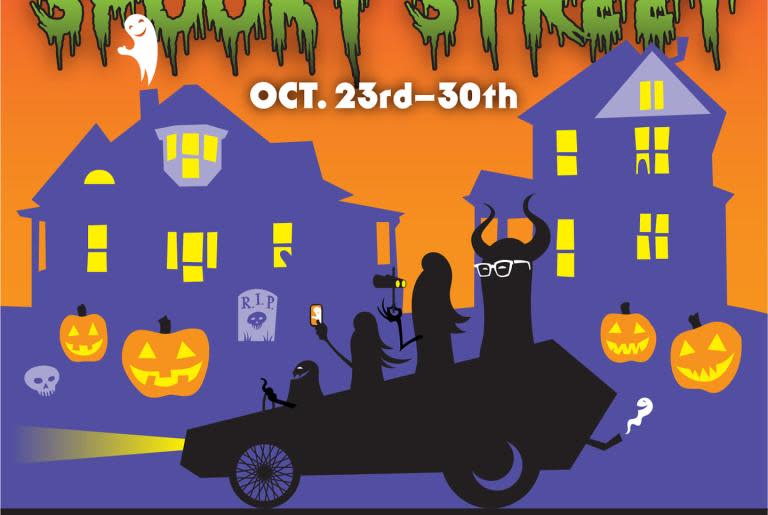 Boulevard, or should we say Boolevard, is our favorite Halloween neighborhood, hands down. Pack up your family and drive through Boolevard for some of Athens' scariest, spookiest, and most creative Halloween decorations! Flagpole Magazine and the uber-cool Boolevard residents present Cruise Down Spooky Street  annually. Check out Flagpole for a handy map, and you'll be able to vote for your favorite displays in multiple categories. 
Death & Mourning: Candlelight Tour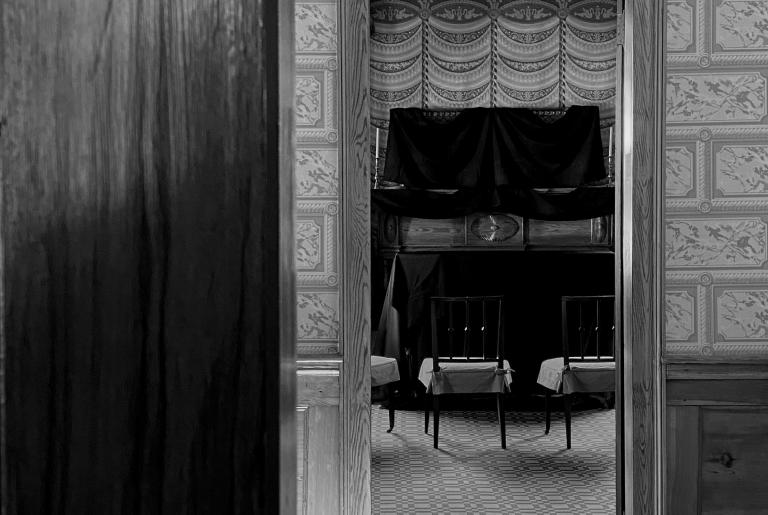 For the month of October, the parlor and dining room inside the Church-Waddel-Brumby House will be adorned in Regency Era mourning decor to show how families mourned the loss of their loved ones during that time period. Visitors will be able to learn more about Regency death and mourning customs through a specially offered guided Candlelight Tour -- and may experience a fright or two along the way!
Tours offered Oct 15, Oct 22, and Oct 29. Masks are required indoors regardless of vaccination status.
Space is limited. Tickets must be purchased in advance.
Boobutante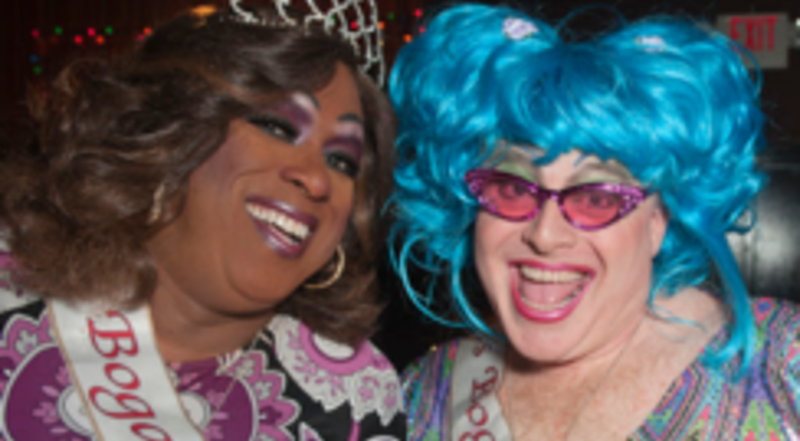 Partying for a cause since 1989! Boybutante, and this October 23 BooButante edition is a fundraiser for Boybutante AIDS Foundation, Inc., which raises funds for HIV/AIDS support, education, and prevention efforts throughout the greater Northeast Georgia Community.
All of Athens is excited for the return of Miss Thing and her friends on the 40 Watt Stage! Masks and proof of vaccine or negative Covid test are required at this venue.
Check out our Fall Festivals and Events page for a complete list of all upcoming Halloween and fall festivities and start planning your October Athens getaway today!