The spirit of giving is alive and well in Athens this holiday season. Check out some of our holiday markets to find the perfect gifts for your loved ones. Be sure to keep reading to view the map publisher below showing the location of all the Athens holiday markets. 
Boulevard

ATHICA: Holiday Market
Stop by the Athens Institute for Contemporary Art: ATHICA on Saturday, December 14 for their Holiday Market. Vendors will showcase their products made right here in Athens, Georgia. 
Marmalade Pottery: Holiday Sale
Marmalade Pottery will hold their 11th annual pottery sale with new work featuring pottery by Maria Dondero, an Athens potter who creates pieces intended for daily use. There will be food made by Tim Dondero, sweets by Jane Yates and live music. 
Southern Star Studio: Holiday Pottery Sale
Southern Star Studio is hosting its fourth annual joint sale featuring new work from all the Southern Star potters: Maria Dondero, Regina Mandell, Allya Maerz, Brandon Bishop, Kerry Steinberg, Chona Leathers, and Alex Wilkins. 
Boulevard Pottery Sale
Boulevard Pottery Sale will have pieces from your local wood-firing crew including a  variety of high-fired stoneware and porcelain functional pieces. Participating potters include: Lori Demosthenes, Kyle Jones, Ester Lee Mech, Alex Newman, Geoff Pickett, and Zuzka Vaclavik. 
Tiny ATH Gallery: Holi-LADDER-day Market 
Tiny ATH Gallery will feature multiple artists who will display their arts, crafts and wares for sale on old wooden ladders during their Holi-LADDER-day Market. The gallery will provide holiday refreshments and cider.
Cobbham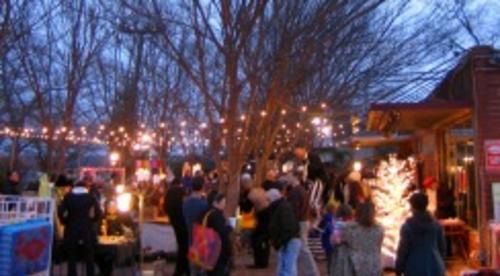 Big City Bread: Athens Holiday Market 
The Athens Holiday Market in the courtyard at the Big City Bread Cafe is a two-night event featuring local artists and craftspeople from around the region. Enjoy great food, live music under the stars and tons of handmade local and regional treasures to fill all your holiday shopping lists.
TREEHOUSE Kid & Craft: Athens Hollyday Artist Market
TREEHOUSE Kid & Craft will hold their 10th annual Handmade Hollyday Artist Market in the Starlite Showroom. The market features a few dozen artists and their handmade goods including soap makers, jewelers, potters, food vendors, clothing makers and more. They even have a kid's section where children art makers can bring and sell their handmade goods. 
West Broad Farmers Market: Holiday Market & Craft Fair
The vendors of West Broad Farmers Market will offer a Holiday Market and Craft Fair featuring fresh produce, baked goods, local artisans and live music. 
Downtown Athens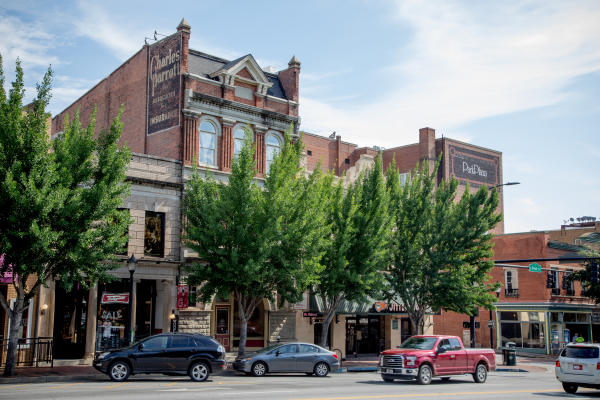 Creature Comforts: Get Artistic Holiday Market 
Head to the Creature Comforts tasting room on Dec. 11 for their second Get Artistic Holiday Market. There will be local art and artisanal goods from 20 Athens area vendors at the indoor market.
Lyndon House Arts Center: Deck the Walls Holiday Shop 
Deck the Walls is a seasonal artist shop at Lyndon House Arts Center with a  variety of local artwork is available for purchase. Works include pottery, painting, jewelry and seasonal crafts from more than 70 artists. 
Indie South Fair: Holiday Hooray!
Indie South Fair's 13th Annual Holiday Hooray will feature more than 100 vendors selling handmade products at the 440 Foundry Pavilion. There will be jewelry, paper goods, silk screened fabrics and tees, ceramics, hand printed cards, bath and body products, unique housewares, edgy fashions, locally made food stuffs, and quirky items for pets and children. Besides the handmade market, enjoy a free maker activity, food trucks, DJs, live music, and all sorts of fun! 
Normaltown

Normaltown Holiday Pottery Sale 
Normaltown Holiday Pottery Sale will feature work by Juana Gnecco and Nancy Green. Gnecco's work uses a contrast of a dark clay body and white slips to show off the vibrant surface decorations on her pottery. Green's work features earthy tones with a minimalist aesthetic. 
Old Pal: Sip & Shop Holiday Pop-Up
Sip & Shop Holiday Pop-Up is sure to be an afternoon filled with ceramics and cheer. The works of Regina Mandell of Forged & Found Pottery and Michele Dross will be showcased at the Old Pal. 
State Botanical Garden of Georgia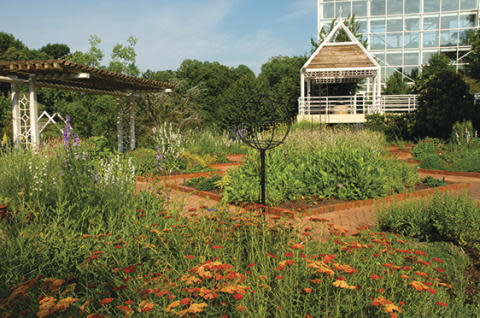 UGArden Holiday Market
For goods crafted with herbs grown with organic practices at the UGArden, visit the UGArden third Annual Holiday Market. Items include medicinal teas, soaps, salve, lip balms, elderberries, and new seasoning blends. 
Holiday Decor
Bring the colors of the season to your home with a live wreath or table centerpiece that you make in this workshop. Wreaths will be constructed on wire frames with greenery collected from the garden. Materials will be harvested just prior to the class to ensure they will last throughout the holiday season. Bring your own container for making a centerpiece, ribbon for bows, and pruning shears. Register online here.
Other Holiday Markets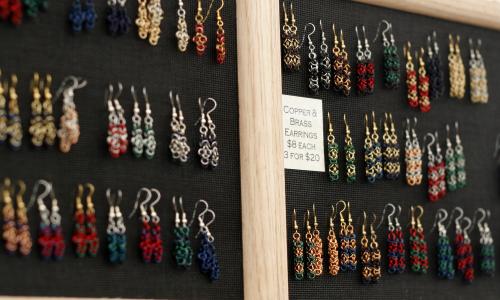 Good Dirt: Holiday Pottery Sale
Good Dirt Holiday Pottery Sale will offer a wide variety of pottery styles created by students, instructors, and owners. Pieces range from functional to sculptural and include ceramic jewelry and luminary houses. Fresh-baked goods will be provided. 
Hip Vintage & Handmade: Hip Holiday Market
Hip Vintage & Handmade will have their fourth annual Hip Holiday Market. Dozens of vendors will set up shop under the trees in the forest garden behind the store to sell their handmade and vintage art, crafts, and soaps. 

Lexington Vintage
Lexington Vintage will host an evening of giveaways, desserts, and holiday specials at their Holiday Open House.
Mbare: Africa in Athens Holiday Warehouse Sale
Mbare's Africa in Athens Holiday Warehouse Sale will have gorgeous handmade and fairly traded goods from Africa at below wholesale prices. All items are handcrafted by artisans and made with love in Zimbabwe, Swaziland, South Africa, Tanzania, Mali, and Ghana. The market will feature a variety of baskets, wall decor, textiles, global gifts, and handmade glassware.
Lamar Dodd School of Art: Student Jewelry & Ceramics Sale
The Lamar Dodd School of Art will host a Student Jewelry & Ceramics Sale in the atrium of the Lamar Dodd School of Art. You'll find wearable designs created by students including earrings, pendants and rings. 
J&J Flea Market: Holiday Shopping Extravaganza
Every weekend in December J&J's Flea Market will be open for all of your holiday shopping and selling needs! 
For more information on holiday shopping in Athens, visit our Shopping page.