As a new year approaches, Athens is getting some fresh new color! Check out these revitalizations, anniversaries, new shops and more of what's new in Athens that will enhance local life and the visitor experience in 2023 and beyond.
COMMUNITY ENHANCEMENTS, ATTRACTIONS & ANNIVERSARIES:
Downtown Revitalization – The renovation of Downtown Athens is now complete. New cosmetic enhancements include benches and seating areas, planted trees, widened sidewalks, and cheerful rainbow crosswalks. Safety updates include improved parking space angles, added overhead corridor lights and an upgraded drainage system. Additionally, a new art installation created by Annapolis-based artist Eric Leshinsky was installed in Downtown this month. The piece, titled Frequency, is a three-dimensional, 14-piece installation running from Thomas Street to Lumpkin Street. The official dedication of Frequency will take place on February 8, 2023, at 11 a.m. at the College Square Plaza.
​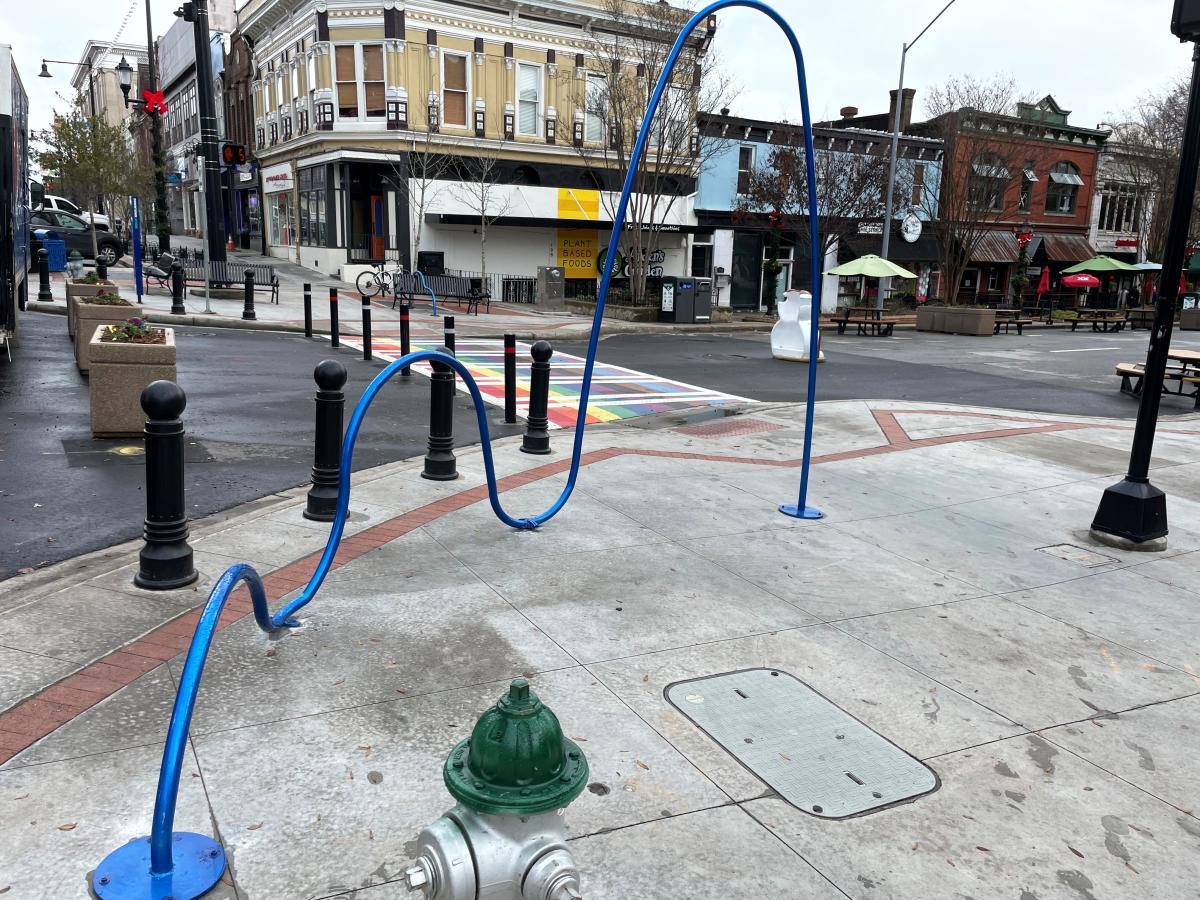 Georgia Museum of Art Anniversary – The Georgia Museum of Art, serving the campus and community with impressive exhibitions, visual arts and more, is celebrating its 75th anniversary in 2023. In honor, museum goers and art aficionados will enjoy captivating blog stories on the museum website, a special vinyl timeline in the lobby, interactive visitor response wall, "March Madness" social media voting for favorite works of art, and much more.
NEW SHOPS AND RESTAURANTS:
Athens Cooks – This new business now open on Prince Avenue sells curated and high-quality kitchen tools, sustainable and local products, gifts, supplies and more. In 2023, Athens Cooks will also introduce cooking classes for the public and expand with a café portion offering beer, wine, charcuterie, and other bites. See more at @athens_cooks.
Slater's Steakhouse – Jerry and Krista Slater behind The Expat neighborhood bistro have debuted a brand-new upscale steakhouse in Athens' Five Points neighborhood. The cozy spot serves diverse American classics and crafted cocktails, including a make-your-own martini service. See more at @slaterssteakhouse. Later into 2023, the Slaters plan to open The Nighthawks Lounge cocktail bar on Tracy Street and a Vietnamese restaurant titled Pretty Boy on Barber Street.
Maepole – Maepole will be opening a location on the Oconee Connector in the new year. This will be the concept's second location in Athens and third location overall. The healthy comfort food restaurant will replace the Simply Mac Apple sales and repair shop at 1850 Epps Bridge Parkway.
Bar Bruno – Restaurateurs Shae and Ryan Sims are reopening Dinner Party under a new name and location, Bar Bruno. The reimagined wine and apertivo-focused bar located in Five Points will offer something for everyone, from wine and cocktails to espresso and non-alcoholic drinks, plus a variety of small plates and snacks. Wine and food expert Greg Smolik will oversee the kitchen and bar.
Choco Pronto – Now open on Baxter Street, Choco Pronto comes to us from Nick and Peter Dale of Condor Chocolates, brewing Ecuadorian coffee that's directly sourced and freshly roasted in-house. See more at @chococoffeeroasters.