Featured in the New York Times food blog and Georgia Organic's Chef Spotlight, Mimi Maumus calls Athens, GA home. She is the chef and owner of home.made, a southern style restaurant known to locals as one of the best restaurants in Athens. Home.made is well-known for its southern style cuisine, including pepper jelly pecans and Swanee Bites—cheese straws sandwiched with pimento cheese rolled in pecans. Mimi has her roots in New Orleans, which she expertly weaves into her style of southern food offered at home.made. 
Meet Mimi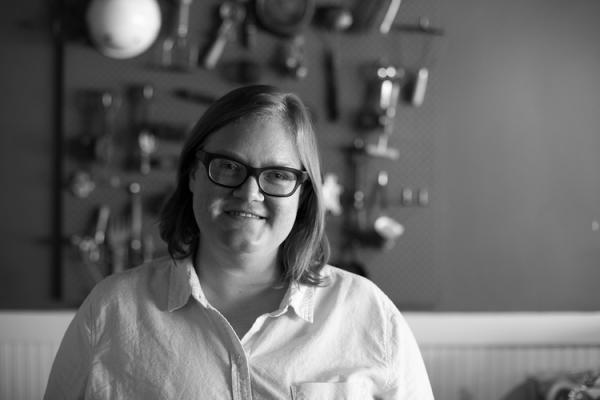 It's undeniable that Mimi has an eye for food—her creations are unique spins on classic southern-style foods. Growing up in New Orleans, she spent a lot of time in the kitchen with her family cooking up classic southern dishes. Her family's extensive garden supplied many of their ingredients, including mirlitons, figs, tomatoes, green beans and pecans. Mimi's grandmother inspired her love of cooking preserves, pickles, and chutneys. Home.made embodies Mimi's experiences with her family's southern cooking and staying true to her roots while keeping things made from scratch, "I also cherish old family recipes and try to recreate my food nostalgia from childhood," she says. 
Before home.made
Mimi was able to experiment and develop the unique flavor of home.made while working at independently owned kitchens. After dreaming of opening a restaurant of her own, Mimi decided to convert her own kitchen and spend part of her time as a personal chef and caterer, and part as executive sous chef at Five & Ten under James Beard award-winning chef Hugh Acheson, before deciding to devote her attention completely on developing home.made. What started out as a personal chef business, home.made has expanded to double its size, "The business has really grown organically, literally out of my home, for 10 years so every step has been based on necessity and demand." Of what's next for home.made, Mimi says that everything will be "totally up to demand." 
A Unique Taste 
The brilliance behind the menu of home.made lies in its creative take on traditional dishes. Mimi uses bold flavors to create the taste so unique to her restaurant, notably her famous pepper jelly. She makes sure to use locally sourced ingredients whenever possible. Mimi has found innovative ways to incorporate local Athens ingredients into her menu, "As a chef, ingredients and technique are really the two things that I value the most,". Her Grilled NY Strip, features oil infused with 1000 Faces Coffee. Also notable about home.made's taste is Mimi's devotion to her dishes and to her customers, "My style of cooking is very focused on the person eating the food—trying to consider the entirety of their experience," she says of her approach to cooking.
The New York Times food blog featured one of her especially unique recipes: pickled magnolia petals. When asked about her inspiration for such unusual dishes, Mimi says that she is a curious person, interested in food history and possibilities. As for her magnolia petal inspired dishes specifically, Mimi says "what good southerner doesn't want magnolia vinaigrette on their roasted peach salad?" Her Mayberry sandwich—a creation of fried chicken, pimento cheese, pepper jelly, bacon, lettuce and remoulade all on a hearty buttermilk biscuit—was named one of 100 dishes locals love by Explore Georgia. Home.made is the perfect stop on any trip to Athens for a taste of the South—with a twist!
See what all the hype is about!
Stop into home.made for lunch or dinner Tuesday through Saturday! On Saturday, Mimi offers a special brunch menu where you can try her mouthwatering buttermilk biscuits topped with ambrosia lemon marmalade. If you have a busy schedule, try her "take away" items to have at home! Home.made also offers some of her most popular snacks online. Mimi made her line of southern snacks available nationally because "California friends kept asking for cheese straws!" Love home.made? Have your next event catered with Mimi's delectable creations. 
Check out our restaurant page for foodie itineraries, events and updates to plan amazing dining experiences while visiting Athens!