Athens enjoys great weather, which is key to being able to spend an enjoyable meal al fresco, on a scenic outdoor patio. The ambiance definitely factors into a perfect culinary experience, and Athens has plenty of ambiance at our restaurants with outdoor patios and dining. Particularly in 2020, we know that people are definitely looking for restaurants with patios for fresh air and open spaces while dining.
The atmosphere of a restaurant can make or break it. Add some twinkly lights and idyllic weather, and you've got yourself the perfect location for everything from a family hangout to a romantic first date or anniversary meal. Here are some favorite patios in Athens, GA to dine outdoors. For complete listings, see our outdoor dining page.
Ted's Most Best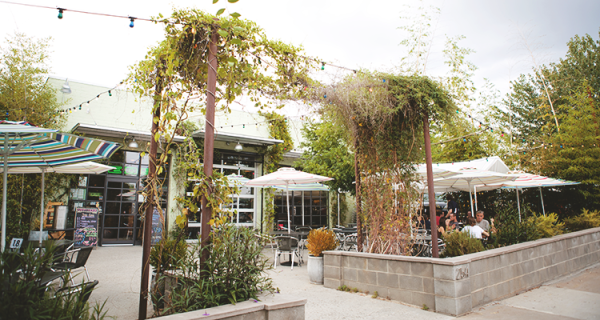 Location: 254 W Washington St., Downtown
Style: Italian/Pizza
Bring the whole family to Ted's Most Best for a delicious meal. This restaurant goes perfectly with its name; it is indeed the "Best." The food is high quality and their atmosphere is fresh and green. It is extremely hard to miss when driving or walking by, as its ambiance radiates to the streets of Downtown Athens.  Depending on the time of day or night, there may be either ball or sand castle building in the sand court. You'll notice the building's origins as a gas station with the large outdoor space and retro pull-up window bays. Ted's may be best known for creative, personal-sized wood fired pizzas, but the regulars will also swear by the salads and sliders, too.
The Café on Lumpkin
Image courtesy @thecafeonlumpkin
Location: 1700 S. Lumpkin St., in Five Points

Style: Light fare, coffee, traditional tea service
You couldn't ask for a more serene spot in the heart of Five Points than the Café on Lumpkin. Housed in an historic 1920's bungalow, the setting is perfect to experience a traditional Afternoon Tea, or other light breakfast and lunch fare.  British scones with housemade clotted cream & jams, and Battenberg Cake, oh my!
Cali N Tito's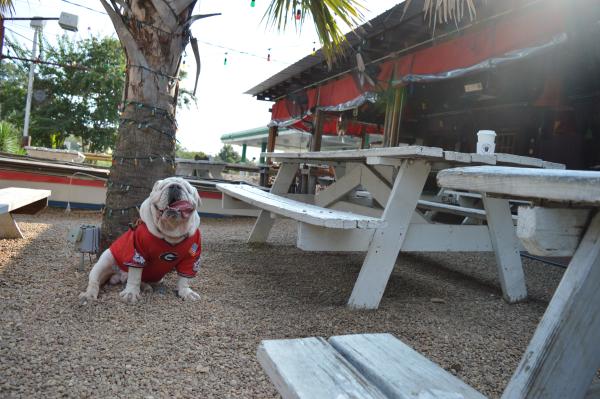 Location: 1427 S Lumpkin St., near Five Points & UGA Track
Style: Latin American
Cali'n Titos is a go-to restaurant for families, UGA students, and locals! We love the quirkiness of the space. The fish tacos and Cubanos are to die for at Cali N' Titos and their pet parrot greets us every time. If you are looking for an ultimate stay-cation weekend, this restaurant should be top on your list. You'll feel as if you made a short trip to Central America. 
Last Resort Grill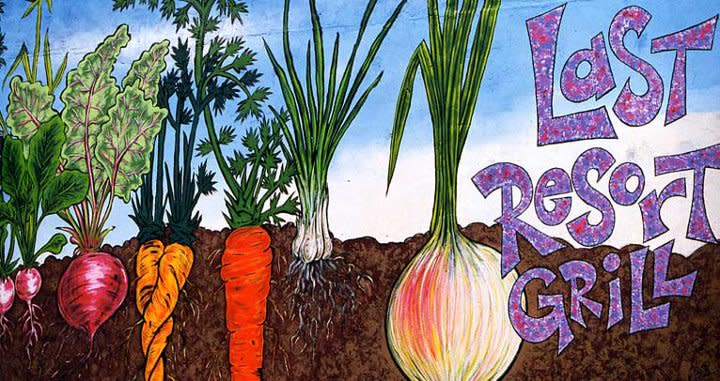 Location: 184 W. Clayton St., Downtown
Style: Southern & Southwestern
Athens' newest patio is at a longtime favorite restaurant, Last Resort Grill. In the summer of 2020, Last Resort repurposed its side parking lot into a spacious and resplendent patio as its outdoor wine and beer garden. You'll find trees, picnic tables, and a full-service bar! The restaurant (inside and out) accepts only cashless payment and adds a 16% service charge to all tabs. To limit interaction, wait staff only visits a table when a numbered flag is put up by the guest. Patio seating starts at 5 p.m. and is available Wednesday through Sunday.
Big City Bread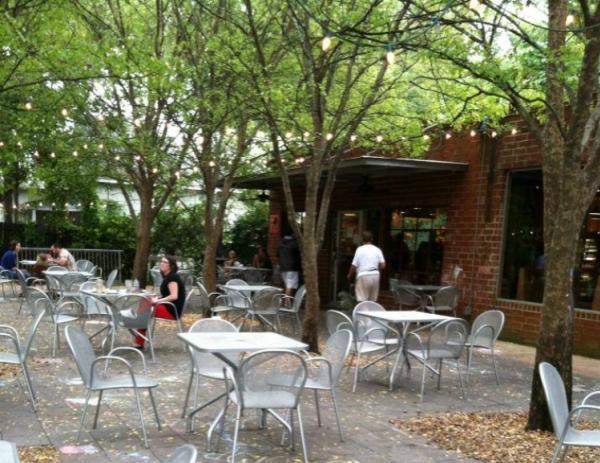 Location: 393 N Finley St., at the edge of downtown
Style: Breakfast, Bakery, Cafe
Trees and twinkly lights - enough said! Big City Bread is the perfect spot for brunch with your girlfriends or your mom. Make sure to try their amazing tomato soup along with their delicious baked goods. The space is also great for a photo moment, so be sure to get your camera and Instagram ready. 
Heirloom Cafe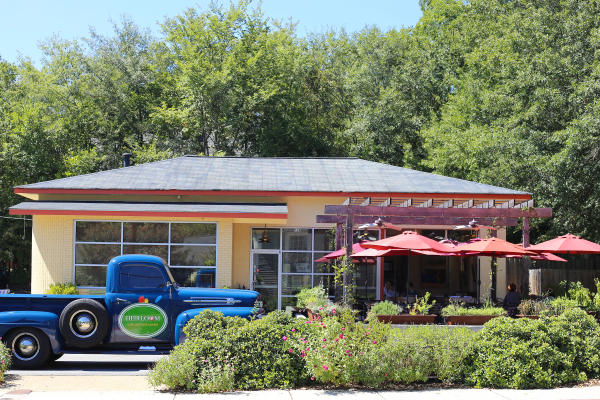 Location: 815 N Chase St., Boulevard neighborhood
Style: Café
The combination of the old-time automobile, the fresh, local cuisine, and the pergola make Heirloom Café a unique and exquisite space. Head there for brunch, lunch, or dinner and enjoy all the feels of nature. Sit outside, enjoy the view, and indulge in ever-changing menu items featuring seasonal fare harvested right in and around Athens, GA.
Marti's at Midday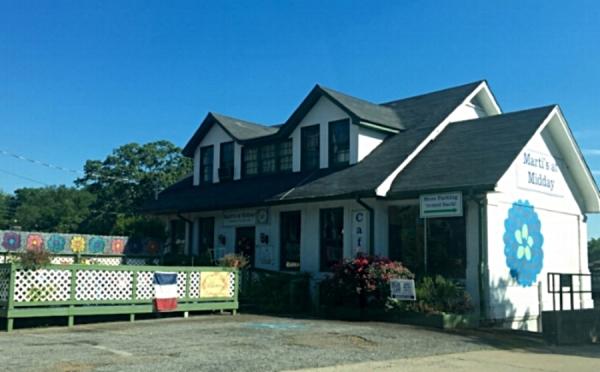 Location: 1280 Prince Avenue
Style: Southern Style Breakfast & Lunch
Nestled in the cutest house in Normaltown lies Marti's at Midday. This gem is a favorite because of the incredible entrees, salads, and Southern classics that fill customer's plates. From pimento cheese to chicken salad and more, Marti's knows how to make a Southerner's mouth water. Be sure to snap a picture with one of the restaurant's murals as well.
Saucehouse BBQ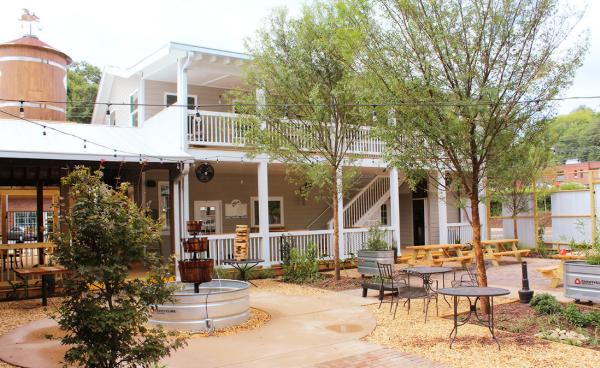 Location: 830 W Broad St., edge of Downtown
Style: BBQ
Saucehouse is a BBQ lovers' dream spot. This restaurant has a large courtyard in the middle perfect for large family gatherings or even a nice quiet dinner for two. Everyone will be happy with the variety of meats, sides, and even sauces. Play a round of corn hole and be on the lookout for music events that happen here at Saucehouse BBQ.
Taqueria del Sol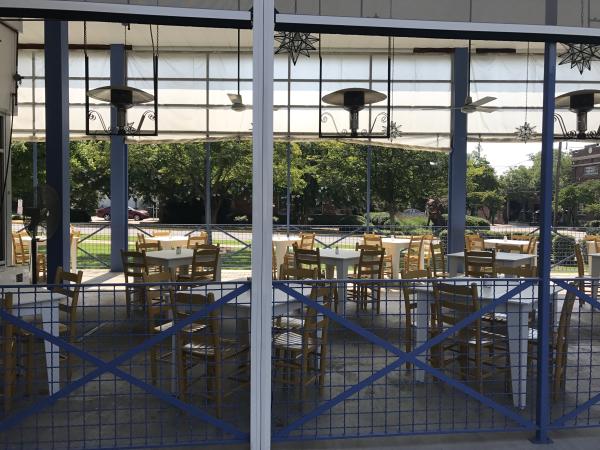 Location: 334 Prince Avenue
Style: Mexican 
Taqueria del Sol does a great job of bringing the indoors, outside. No matter the temperature, your dining experience will be no less than perfect. The space also has a clean, colorful feel. Order some of Taqueria del Sol most famous dishes, including the salsa trio starter, fish tacos, and the shrimp corn chowder. The size and price point of the tacos makes it great fun to sample a range of flavors on one plate.
Marker Seven Coastal Grill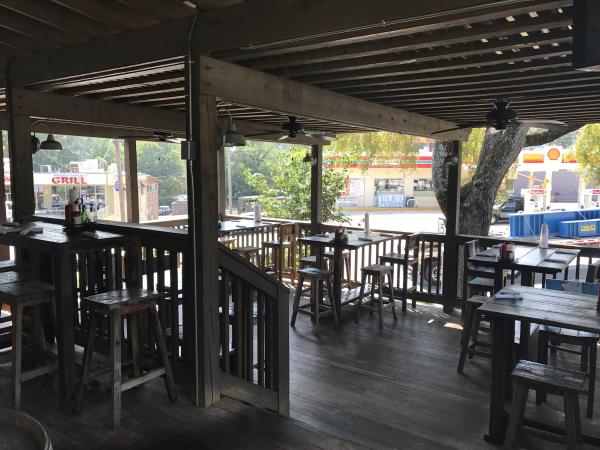 Location: 1195 S. Milledge Avenue
Style: Seafood
Marker Seven Coastal Grill has the authentic look of a beachside cottage, right on the corner of Five Points. The minute you arrive, you will feel as if you made a short trip to the coast. Take a seat on their cozy porch and order one of their great drinks and some of the finest seafood, including oysters from the Gulf of Mexico. Enjoy a game of corn hole as you wait for your food at Marker Seven Coastal Grill. 
Automatic Pizza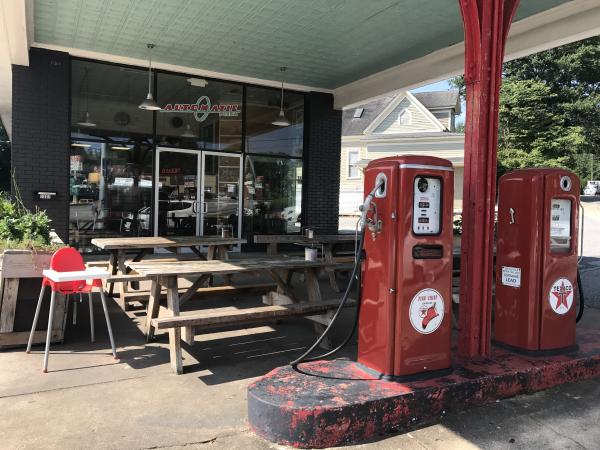 Location: 1397 Prince Avenue, in Normaltown
Style: Casual Pizza Place
Automatic Pizza was originally a gas station, and continues to fuel this cool neighborhood. Though the restaurant went through a total transformation, the pizza place still incorporates a lot of the original, retro gas station look, which makes the place feel very authentic. It fits right in with the aura of the area. Oh yeah, the pizza's good, too!
Grindhouse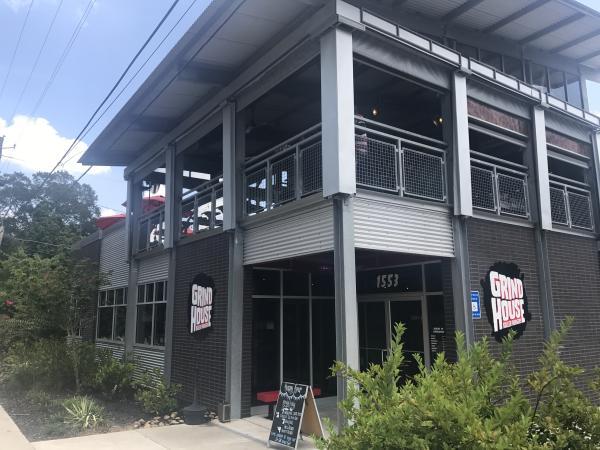 Location: 1553 S. Lumpkin Street, Five Points
Style: Burgers 
Grab a burger and a boozy shake with your buddies at the hippest place in town. Grindhouse has one of the largest patios in the Athens area. Even on a hot day in August, you can cool off under the covered patio and enjoy the blue skies and Five Points which is just a short walk away.
Pulaski Heights BBQ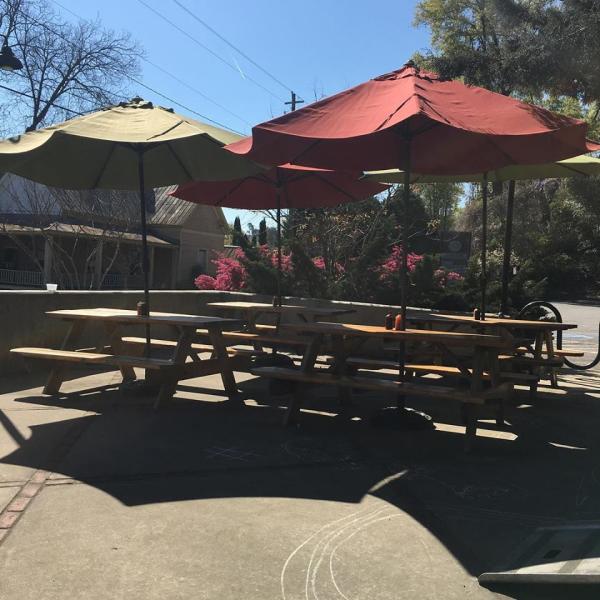 Location: 675 Pulaski Street 
Style: BBQ
Family-friendly dining is what Pulaski Heights BBQ is all about. The restaurant encourages children to draw on their patio with sidewalk chalk. Their artistic designs make all who enter smile. In addition to the endless kid entertainment, the barbecue is out of this world, and the variety of sides is impressive, from smoked cauliflower to kimchi, as well as superior versions of baked beans and cole slaw. Just wait and see, Pulaski Heights will turn into one of your family's new favorites. 
Viva!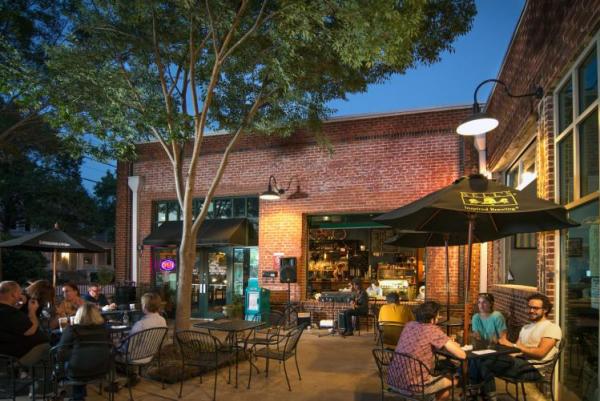 Location: 247 Prince Avenue
Style: Argentinian Cuisine
Located right next to Bottleworks lies the amazing Argentinian restaurant, Viva! The menu offers a variety of choices from meats to vegetarian and even gluten-free options. Grab the family and head out to the large patio surrounded by a beautiful, rustic brick wall and planted trees. 
The Royal Peasant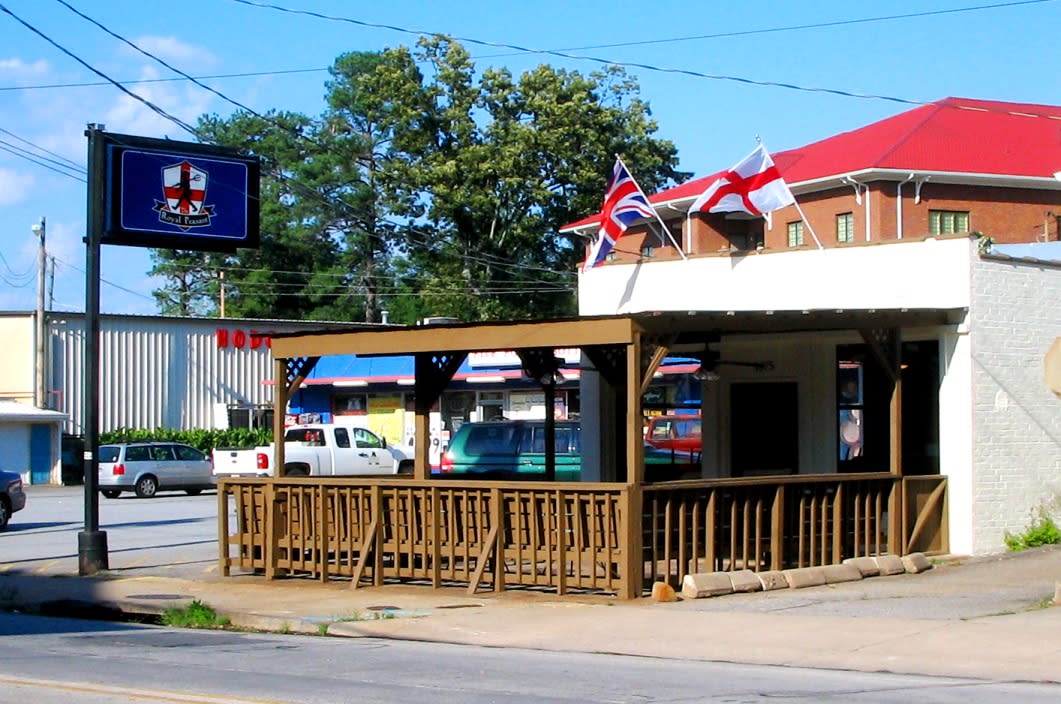 Photo credit: The Royal Peasant  
Nestled snugly in the middle of the Five Points neighborhood, The Royal Peasant is the perfect place to gather with friends, kick back with a pint, and cheer for your favorite 'football' team. This covered patio is perfect for the hot summer months. 

Iron Factory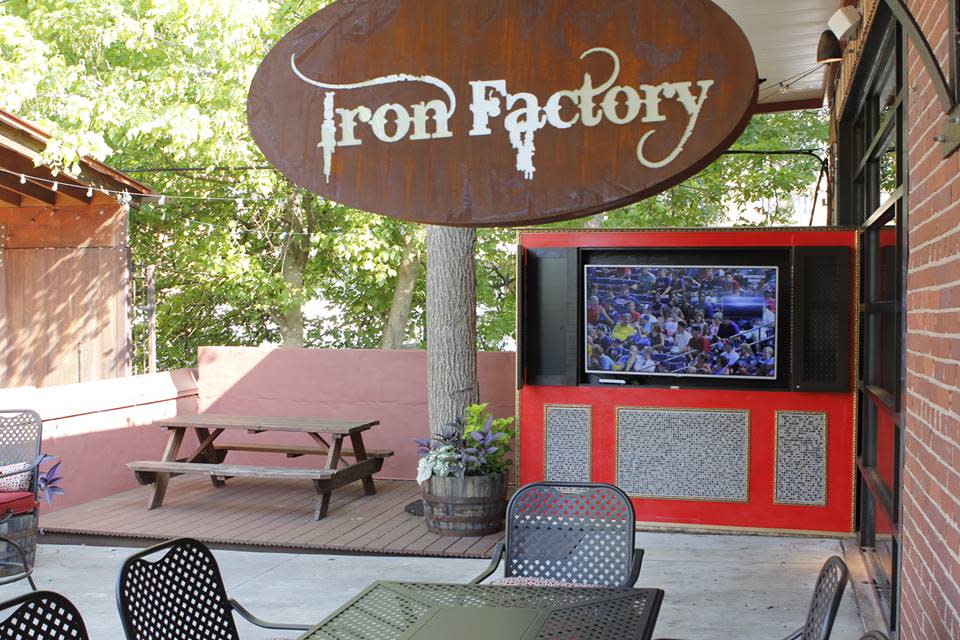 Photo credit: Iron Factory  
Iron Factory is Athens' first Korean BBQ joint, serving up bold, grilled meats in a modern atmosphere. Come for the Wine Pork Belly and stay for the signature mixed drinks and karaoke.

Hilltop Grille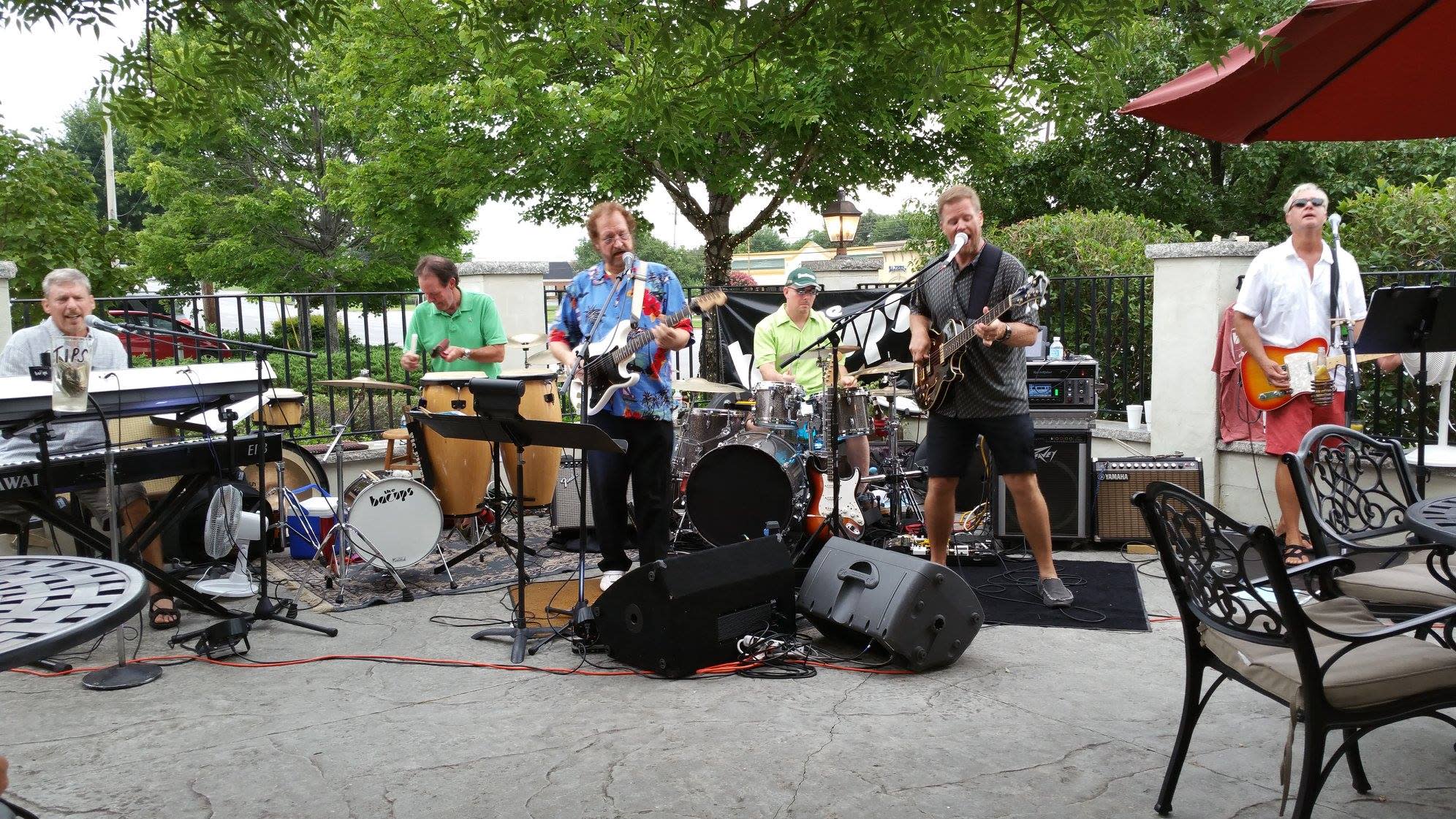 Photo credit: Hilltop Grille  
Hilltop Grille is a locally-owned steak and seafood restaurant, loved by many UGA fans for its nine-foot-long mural of Uga trampling other SEC mascots. A favorite of local residents and visitors alike, the Hilltop patio is a gathering place for those who want to escape the crowds and parking downtown.

Five and Ten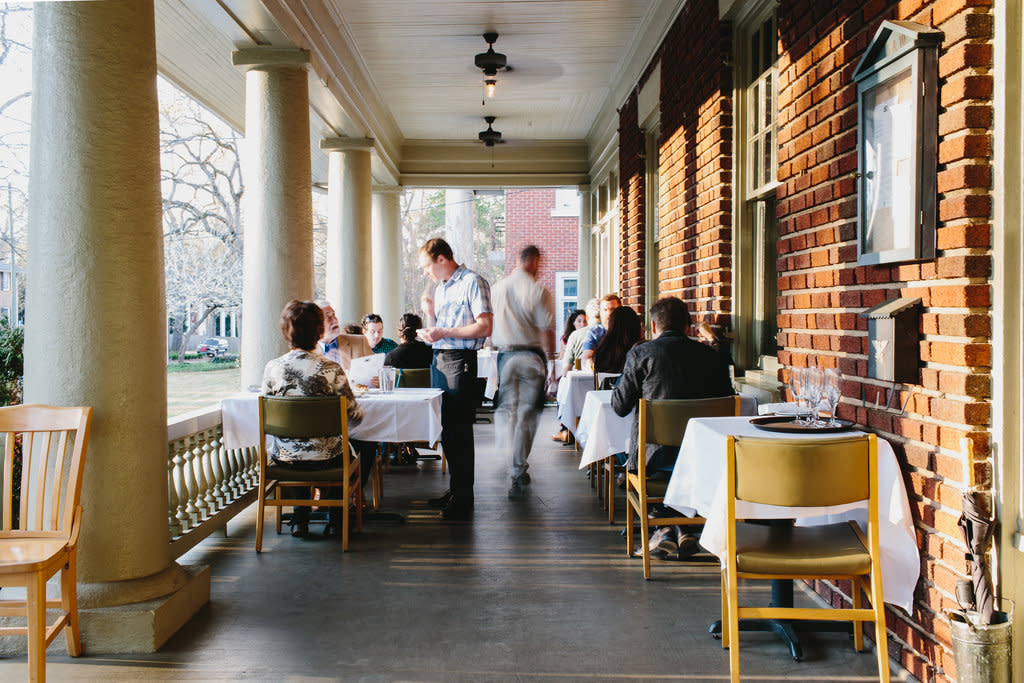 Located in an old house overlooking historic S. Milledge Avenue, it's hard to top a meal on Five and Ten's beautiful outdoor porch. Additional outdoor patio dining was opened up in summer 2020. Owned by award-winning chef Hugh Acheson, Five and Ten will offer an amazing dining experience. Whether you dine for weekend brunch or dinner in the evening, you won't be disappointed by any meal there. 

Seabear Oyster Bar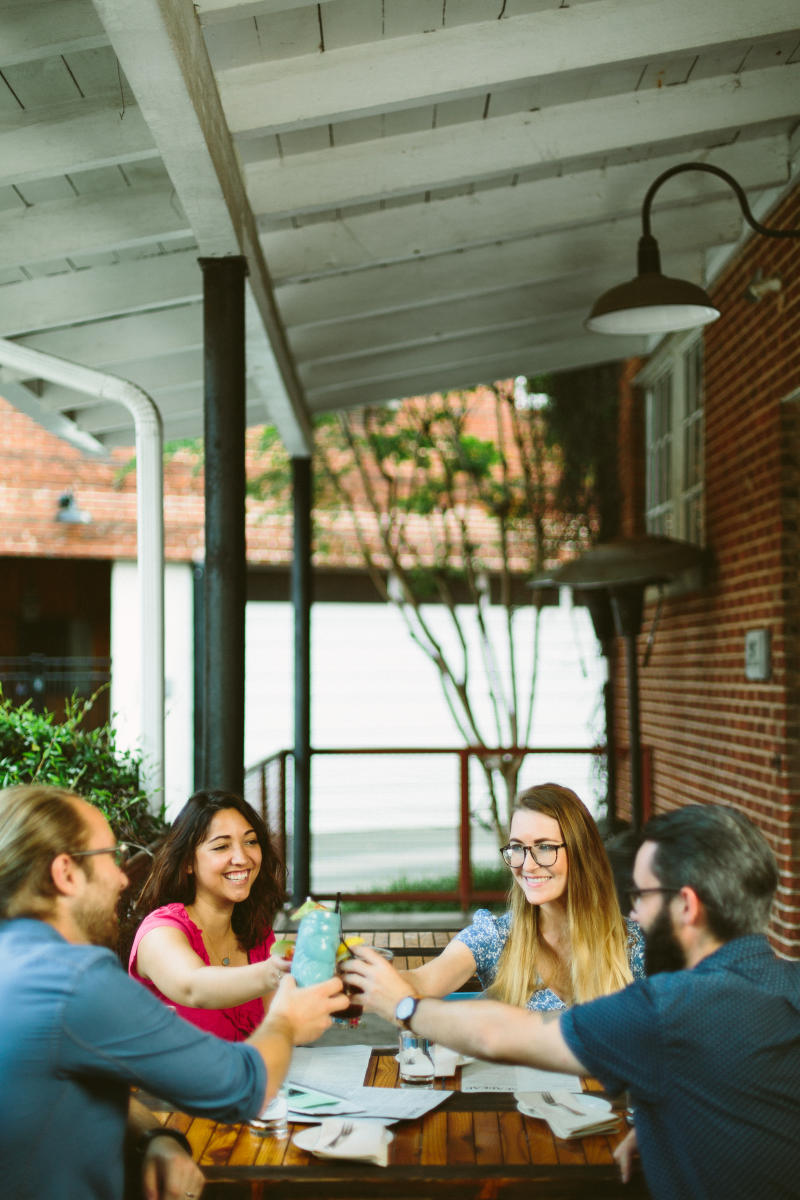 If you are craving fresh oysters, a delicious cocktail, or great outdoor seating vibes then you should definitely try Seabear. They also serve small plates excellent for sharing and entrees that are to die for. If seafood isn't for you, they have many other options including one of the best grilled cheese sandwiches in Athens.  
Here's to all your future date nights, family dinners, and celebrations at all of these fantastic outdoor spots! We hope we were able to add a few more destinations to your Athens bucket list.
Looking for more amazing al fresco dining spots in Athens? Check out all of our outdoor dining listings.
This post was originally authored by Dylan Floyd and published in March 2016, It's been updated by Jenna Beals in 2017, Kacie Fogg in 2018, Alvieann Chandler in 2019, and Hannah Smith in 2020.