As a city that's known for its great music, art and food scenes, Athens is a place where creativity lives on every corner. Artwork can be found at almost every turn, each unique piece adding more flair and originality to the Classic City. Whether it's a beautifully painted fire hydrant, a creative bus stop, sculpture or statue, these unique, not-so-secret masterpieces can often be found in the most unexpected of places! So, the next time you are looking for something to do outdoors in Athens, venture out to discover the many murals splayed throughout Athens, each with its own remarkable story and design. 
Here's your guide to uncovering 29 -- and counting -- of these gorgeous murals in Athens, Georgia! If you're searching for your next Instagram shot or simply just want to see amazing art in the area, make sure to add these destinations to your list. 
Downtown Athens Murals
Your first stop is Downtown Athens, where you'll find plenty of public art, including at least ten murals! Stash your car in one of the parking decks or along the street and begin exploring. Be sure to bring your walking shoes and be on the lookout for other hidden pieces of art along the way!
1. Washington Street Deck
Location: 325 E. Washington Street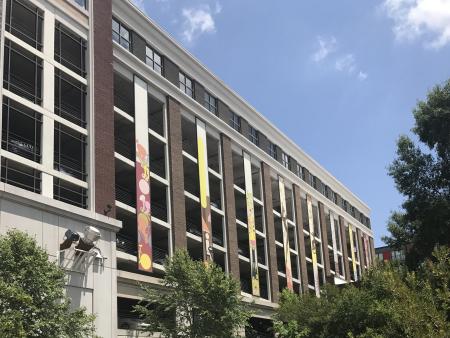 Artists: Heidi Hensley, Robert Clements, Jared Brown, Elizabeth Debban and Chet Thomas
Parking decks are the ultimate in utilitarian architecture, but in Athens even they are not exempt from beautifying the Athens downtown streets. Look up and you can find a group of murals on the E. Washington Street parking deck. Each banner is designed by one of the five artists, who were chosen by the Athens Cultural Affairs Commission. 
2. Max Canada
Location: 243 W. Washington St.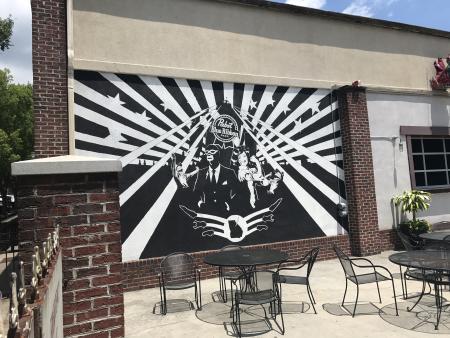 This mural is located on the side of the local favorite Max Canada bar, accessible through one of the largest patios in downtown Athens. The black and white look will add great contrast to your photo, especially if you're wearing brightly colored clothing. Come here to document your next girls night out!
Location: 223 W. Hancock at the corner with Hull St.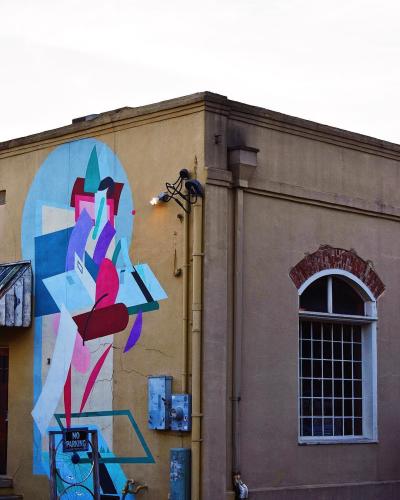 Artist: Trek Matthews
Located on the back of the Little Kings Shuffle Club building, this small but powerful abstract piece is Instagram-worthy for sure! Pose in front or take an artsy picture of the building. Either way, your followers will be very impressed with your art find.
Location: Hull and Clayton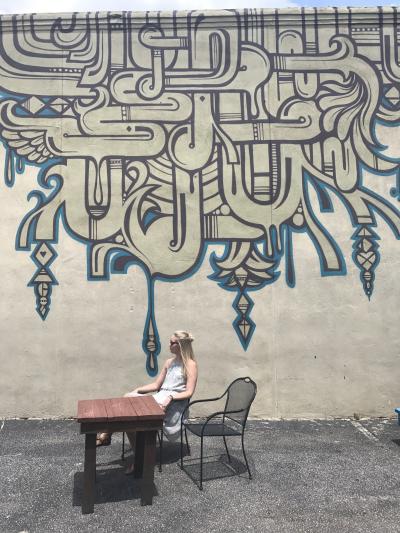 Artist: PLF (Peter Ferrari)
Also found at Little Kings is another mural to check off your list. This mural is in the patio section of the venue and was created in the fall of 2011 as a special project for Young, Foxy & Free, a culture magazine. My favorite thing about it is the unique, intricate geometric design interlaced with pops of blue.
Location:174 W. Clayton St., at the corner of Hull and Clayton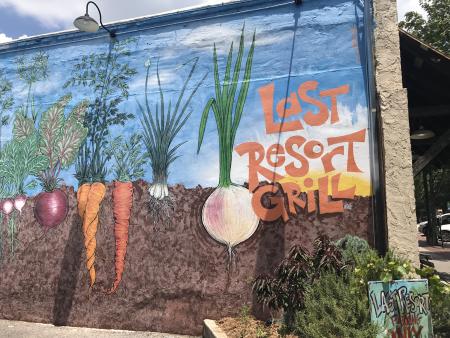 Artist: Dave Jenkins
This mural is always a crowd favorite. Located on the side of the iconic local restaurant, this spot is a fun post-meal photo op that the whole family will treasure! Lettuce show you how amazing it can be to pose with vegetables!
Location: 294 W. Washington St., corner of  Pulaski and W. Washington St.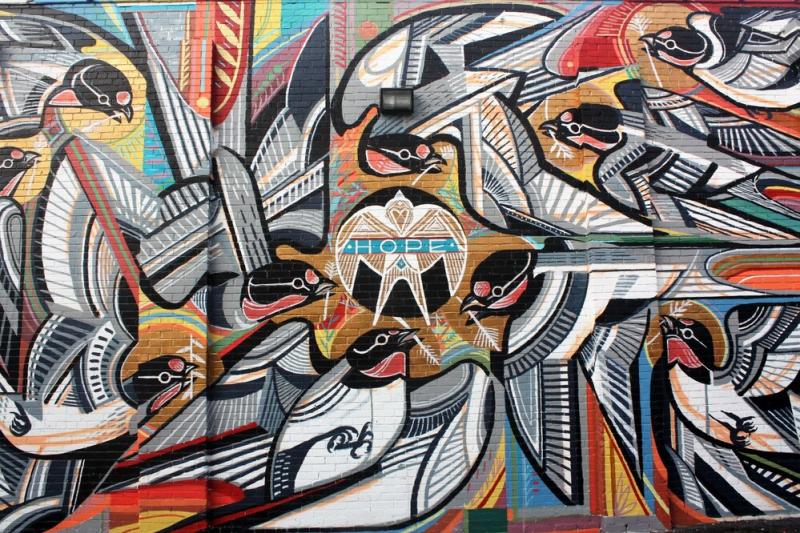 Artist: David Hale
During the Covid pandemic, acclaimed tattoo artist and muralist David Hale replaced his lovely "Birdsong" mural with a new piece, entitled "Hope." The mural was installed in October 2020 and is located on the side of the retail store Epiphany and Rook & Pawn, at the corner of Washington St. and Pulaski.

"Hope" definitely is an artist's statement of the times, and is Hale's message of hope in the midst of so much turmoil and challenges in our world right now. "Hope" portrays 24 swallows carrying branches toward the 25th swallow marked "HOPE" and its golden nest.
Location: 271 W. Hancock Avenue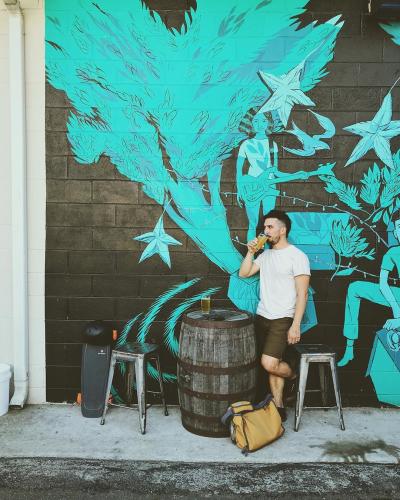 Artist: Anthony Wislar
Another crowd favorite is the mural located at Creature Comforts brewery. Painted in the courtyard, this mural is in an easy location to snap a picture with friends as you enjoy an afternoon or evening beer. Wislar's artwork represents the history of music in Athens and was unveiled back in 2016.
Location: 133 E. Washington Street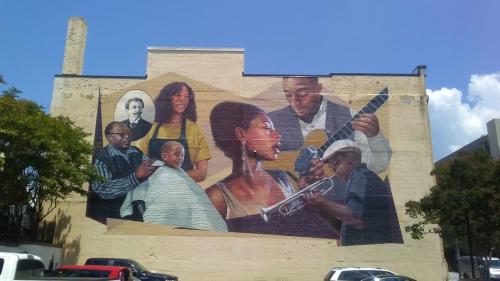 Artist: Elio Mercado & Broderick Flanigan
Funded by the Athens Cultural Affairs Commission in 2019, this mural was created as a tribute to Athens' rich history of African American entrepreneurship on Hot Corner. The mural depicts Monroe "Pink" Morton, the owner of the Morton Theatre, barber Homer Wilson, owner of Wilson's His and Hers styling shop and founder of the Hot Corner festival, along with representations of entrepreneurs, musicians, and performers who were impacted by Hot Corner. 
Location: Left exterior of Chuck's Fish, 220 W. Broad St.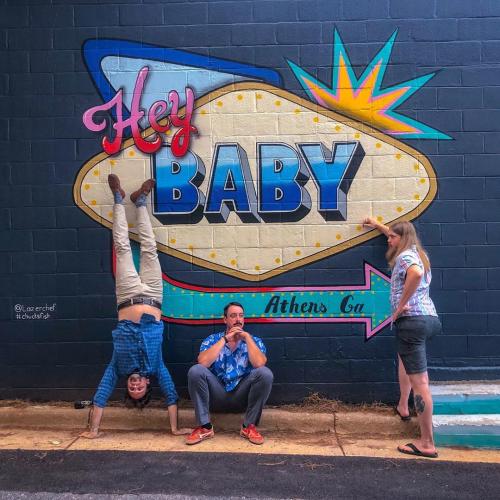 Artist: Taylor Shaw  (Instagram - @lazerchef)
Commissioned with the recent opening of Chuck's Fish, the Hey Baby mural is one of the newest downtown additions to the Athens mural scene. Don't forget to check it out next time you're walking up West Broad Street!
Location: Side of Classic City Cycling, 230 W. Broad Street

Artist: Taylor Shaw  (Instagram - @lazerchef)                            
Located in Downtown Athens, this mural showcases some of the iconic landmarks in the community as well as pays tribute to the many musicians that came out of Athens.
While you're in Downtown Athens, check out some of the amazing Downtown restaurants, and other things to see and do.
Broad Street Murals
Just a short drive away, Broad Street is your next destination. Here you will find six more murals!
 
11. Vic's Vintage
Location: W. Broad and Church St.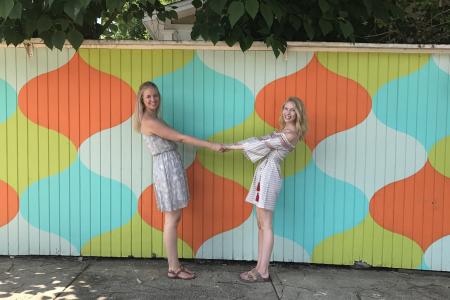 Artist: Lou Kregel
Located in the parking lot of Vic's Vintage is this beautiful, colorful geometric mural. The pattern is used in almost all of the artist's work. It makes a great spot for a group shot or a solo photo moment! Get your cameras ready!
12. Ben's Bikes
Location: 670 W. Broad St., at the corner of W. Broad St. and Pope St.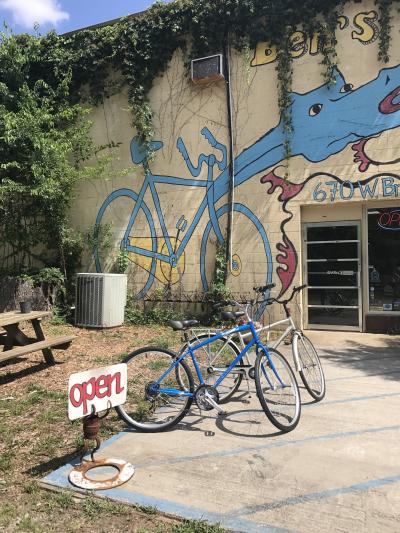 Artist: Ainhoa Bilbao Cebrero
Not visible from W. Broad, this beautiful artwork doesn't get as much attention as it should. The large bike painted on the side along with the greenery surrounding the shop makes for a very artsy photo.
Location: 2045 W. Broad St. at the corner of W. Broad and Magnolia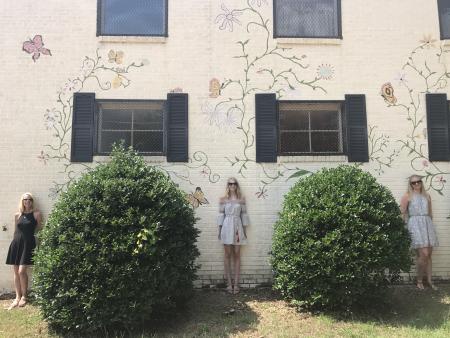 Artist: ???
If you're looking for a more simple design, this is the place. The whimsical flowers and butterflies make a delicate background. The mural also gives off hints of romance with its subtle design—this could be a great spot to take a memorable photo with your significant other!
14. Dollar General
Location: 1125 W. Broad at the corner of W. Broad and S. Chase St.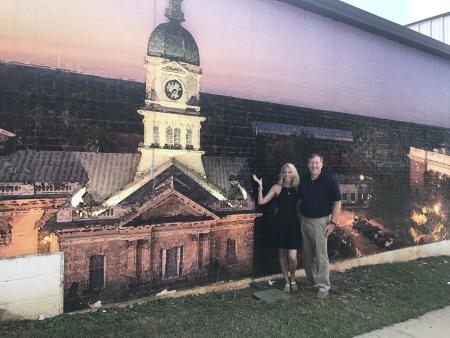 Artist: ???
Be sure to stop by Dollar General to get a chance to take a photo from a different downtown Athens perspective. For all you recent UGA grads, this spot makes for a perfect cap and gown picture!
Location: 1965 W. Broad St.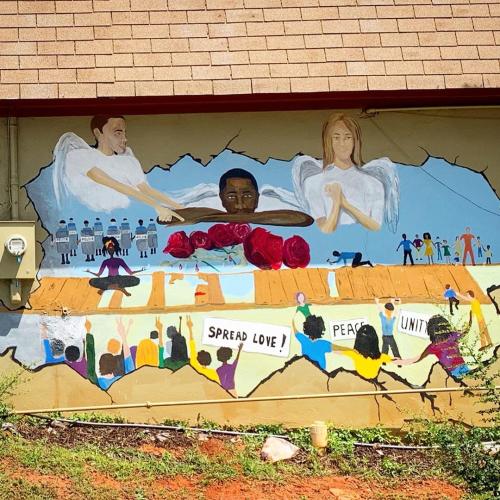 Artists: Brian Williams' students and Broderick Flanagan
On the side of the Food For the Soul restaurant is our last stop on Broad Street -- the 'Building Bridges' mural. This piece represents police-community relations past, present, and future and was dedicated on May 15, 2018 in honor of Peace Officers Memorial Day. The project was led by local artist Broderick Flanagan and students in UGA professor Brian N. Williams' Freshman Odyssey course on building police-community relations. Check out this meaningful mural next time you're in the mood for some soul food!
Normaltown Murals
Our next neighborhood spot is the eccentric Normaltown! Here you will find five murals along with enjoying a whole different side of Athens. Normaltown is very authentic and has many small shops and restaurants that are definitely worth exploring!
Location: 1428 Prince Ave. at the corner of Prince Ave. and Satula Ave.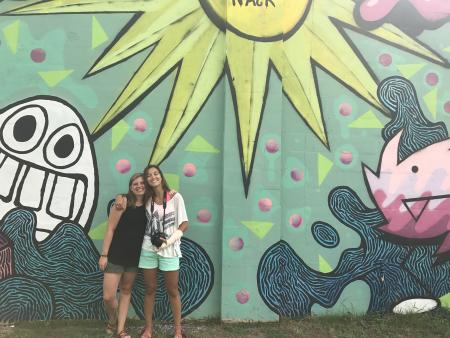 Artist: Nack
At Journey Juice you'll find three murals, all by the artist Nack. You have the choice to take a fun picture with friends in front of the frog, turtle, or monster. Stop inside Journey Juice and use a drink as a prop for your photo! As mentioned before, Nack enjoys including his little monster drawing in a lot of his pieces. His whimsical murals are must-sees in Athens! 
Location: 1280 Prince Ave.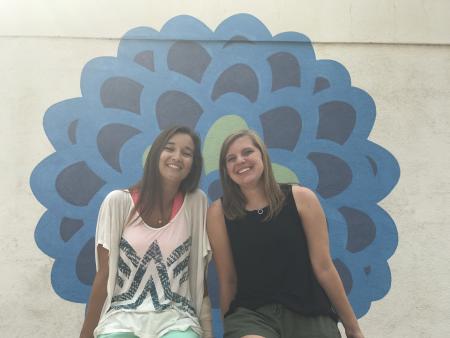 Artist: Lou Kregel, Nack
This flower photo spot will brighten up anyone's day. Right outside Marti's, this mural is in a great location for a post brunch photo! The cool colors on the flower pop out against the white wall.
Location: 1368 Prince Ave. at the corner of Prince Ave. and Satula Ave.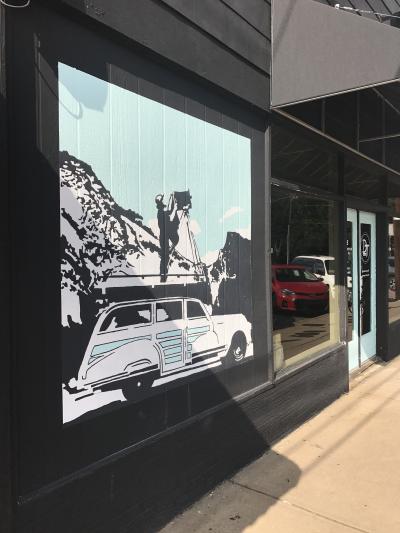 Artist: Michelle Fontaine
Document your fun day in Normaltown by snapping a picture with the memorable mural outside of DT Productions! The mural's design is perfect for the company's exterior -- a homage to their business, which is focused on film making and video production.
19. Normal Books 
Location: 1238 Prince Ave. at the corner of Prince Ave. and Park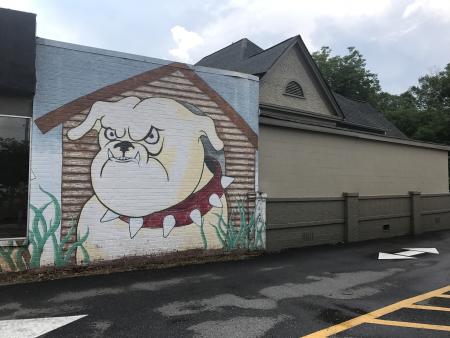 Artist: ???
All you Bulldog fans out there here is the perfect mural for you! Dress in red and black and come here to snag the perfect Gameday picture. Located on the Benjamin Moore Paint building, the mural is very easy to get to and is visible from the road.
Location: 1225 N. Chase St.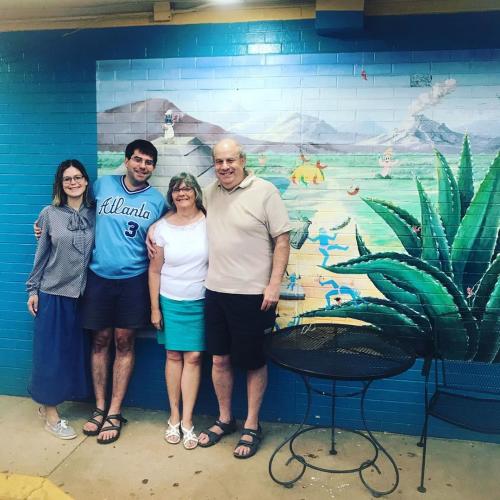 Artist: Malcom F. Alexander and Addison Adams
Your last mural stop in Normaltown is Tlaloc, an amazing, authentic Mexican restaurant that is home to another beautiful Athens mural. Make sure to come with an empty stomach!
Don't leave Normaltown just yet, though-- this is one of the hottest hoods in town, with spots such as The Old Pal to tempt you. Check out our listings of fun things to do in Normaltown.
Baxter Street Murals
You're in the final stretch! Head over to Baxter Street to capture three mural photos.
Location: 1072 Baxter St.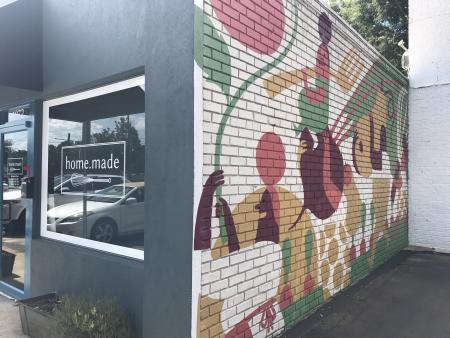 Artist: Eleanor Davis
This building houses home.made, a classic Southern eatery, and the beautiful artwork by local illustrator Eleanor Davis. Her mural features vegetables, utensils, and smiling people. Come here to get a picture with your fellow foodie friends after a delicious meal! 
Location: 2025 Baxter St. at the corner of Baxter St. and Dudley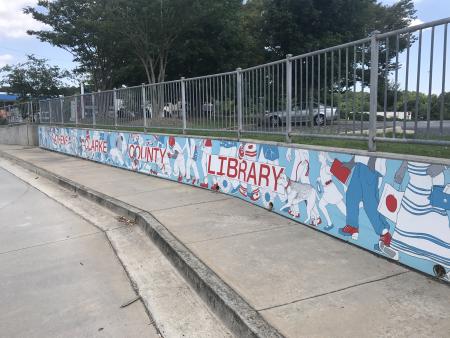 Artist: Nick Napoletano
The Athens Clarke County Library's mural, located in front of the building, beautifully depicts the variety of people within the Athens area and their excitement for reading. Take a picture in front with your newly checked out library books and show your Athens Library some love!
Location: St. Mary's Hospital, 1230 Baxter St.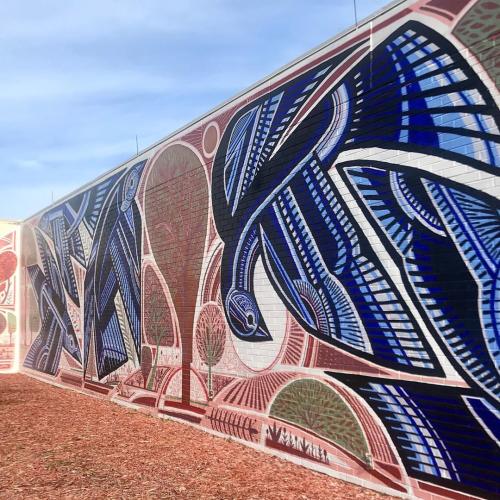 Artist: David Hale
Fans of the downtown Birdsong mural will be happy to know that painter David Hale has blessed Athens, Georgia with a second mural! Located outside the Emergency Department of St. Mary's Hospital, Birds of Heaven is yet another gorgeous piece of Athens artwork in an unexpected spot.
Five Points Murals
You're almost done! Make your way over to the Five Points neighborhood to admire a few more murals. 
24. LRG Provisions
Location: LRG Provisions, 1653 S. Lumpkin St.

Artist: Vivian Liddell
This eye-catching abstract mural can be spotted on the exterior of LRG Provisions in the Five Points neighborhood. Hidden inside the restaurant is a second, smaller mural, also painted by Liddell in 2018.
Location: 1655 S. Lumpkin St.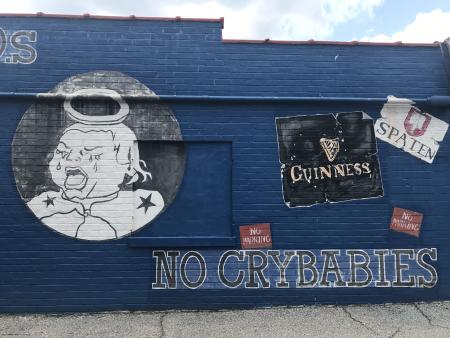 Artist: ???
The Five Points Bottle Shop's "No Fake IDs, No Crybabies" mural is a 21-year-old's dream photo spot. It's an Athens tradition to go to this shop on your 21st birthday and receive a free t-shirt! Everyone then poses outside near the mural with their first alcohol purchase! 
Location: 1331 S Milledge Ave.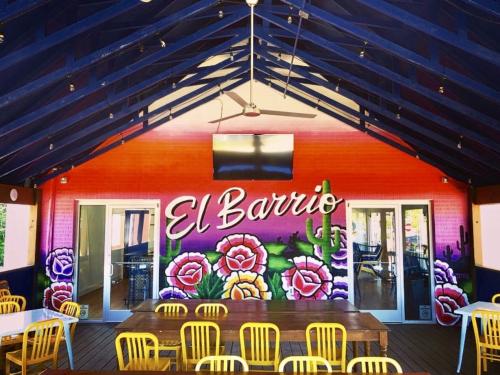 Artist: Marvella Castaneda
This colorful mural is called "Flores De Mi Corazon" and is located inside the restaurant El Barrio.
Five Points has long been a favorite spot for strolling, browsing, and eating. You'll want to be sure to stop by Condor Chocolates, Avid Bookshop, and the other cute shops in the Five Points Neighborhood.

Milledge Avenue Murals
Here's your final stop in Athens! 
Location: 823 Prince Ave., at the corner of N. Milledge and Prince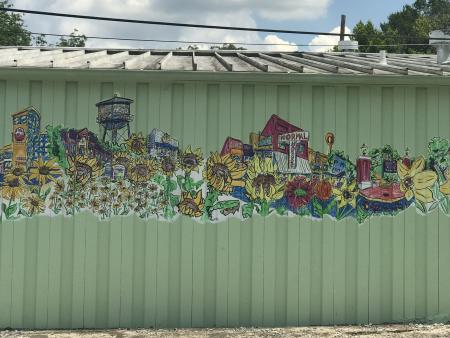 Artist: Jamie Calkin
A crowd favorite, this mural is seen by many as they drive by. The artist, Jamie Calkin, is very well-known around Athens. His beautiful watercolors are found everywhere and make a perfect addition to the side of the Flowerland building. One side of the building features a watercolor of all the main UGA landmarks while the other side of Flowerland shows popular Athens' landmarks!
Winterville Murals
Just a few short minutes driving-distance away, you can find two more murals in the city of Winterville honoring the Firefly Trail and Winterville community garden. Located within Athens-Clarke County, these are two little-known gems that you won't have to drive too far to discover!
Location: Front Porch Book Store, 102 Marigold Ln.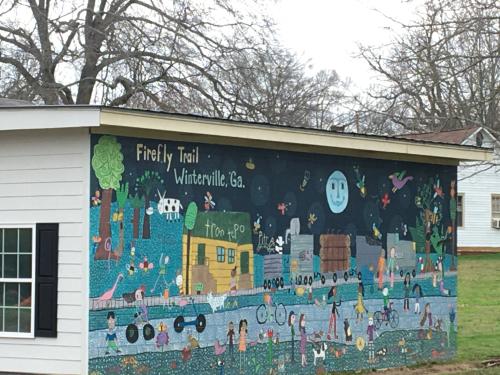 Artists: Community effort with help from Carlin Brownlee, Winterville Elementary students and Cameron Ferrelle
Head over to the Front Porch Bookstore to check out this community mural celebrating the Firefly Trail, a 39-mile bike trail that will run through Athens and Winterville to Union Point. Directed by Winterville Arts Council member and art teacher Carlin Brownlee, Winterville Elementary students created the foundation of the mural by drawing what they imagined the Firefly Trail would look once it was completed. Cameron Ferrelle then led the painting of the mural, which was a community effort.
29. Winterville Community Garden
Location: Winterville Community Garden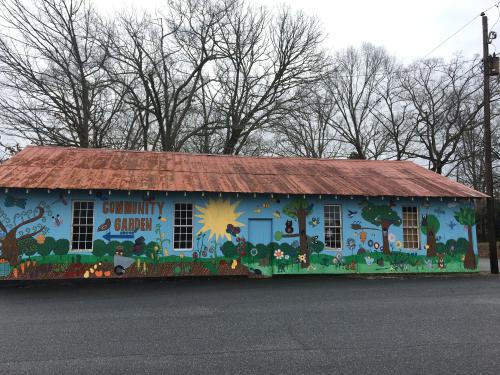 Artists: Winterville Elementary students, community members, Cameron Ferrelle, Carli Brownlee, Peter Loose, and Tex Crawford
Created in an effort to empower young students in Winterville, and as a way to better connect the community and the school, this mural was designed around the drawings of a class of young Winterville Elementary students. Artists Cameron Ferrelle and Carli Brownlee used the students' drawings as the foundation of the mural, which was then completed by multiple community members along with professional artists Peter Loose and Tex Crawford. When completed, the mural was revealed to the Winterville Elementary students, who were thrilled to see their ideas and drawings come to life in the public mural. Next time you're in the area, be sure to swing by!
Congrats! You have now found 29 of the most stunning murals in Athens, Georgia! If you are looking for more public art or want more information on these murals, please visit our public art page. Remember, you can find hidden gems just about anywhere in Athens.
Don't let your journey end here -- happy art hunting!