There's nothing like cheering on the Dawgs at Sanford Stadium, but an equally important game-day tradition is tailgating before watching the Georgia Bulldogs play. Athens, GA, has one of the best tailgating scenes in the country, and we have a complete guide on where to park, what to bring, and other must-know tips.
Where to tailgate:

There are so many great options both on- and off-campus to pregame before watching some UGA football. Here are some of our top choices:
On-Campus:
1. Myers Quad:
Myers quad, just south of Sanford Stadium and in the thick of the on-campus action, is a great spot to tailgate because of the atmosphere. Myers quad is so popular that ESPN has hosted multiple College GameDay broadcasts from the quad's pretty grassy area surrounded by historic buildings. At the height of the season, Myers quad is full of tailgate tents. You'll find all different age groups on the quad, whether it's UGA students with their parents, different student organizations, or UGA alumni and fans coming back to campus to cheer on the Dawgs.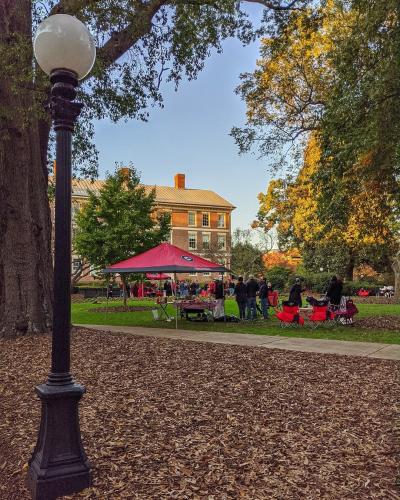 2. North Campus
Not only is North Campus one of the most scenic and historic areas of UGA, but it is also right by the downtown Athens historic district which gives tailgaters access to lots of great restaurants and shops. What could be closer to a Bulldog fan's heart than tailgating on the grounds of Herty Field, where UGA football began back in the 19th century? The North Campus quad, just on the other side of the Holmes-Hunter building from Herty Field and modeled after Yale University, boasts the oldest buildings on campus. Both Herty Field and the North Campus quad are adjacent to the Chapel, so you'll be able to return after the game to ring the bell in celebration! While there are many pros to tailgating on North Campus, do keep in mind that due to the historic grounds, there are some restrictions on hours and gear. Tailgating on North Campus begins 5 hours before kickoff, instead of at 7 a.m. Tents are allowed on North Campus, but some tailgating supplies are prohibited. Kegs, generators, televisions, grills, and loud music are not allowed on North Campus. Keep these details in mind when planning to tailgate on North Campus and you'll be in store for a wonderful and scenic experience! 
3. UGA Parking 
There are various parking decks on-campus that have tailgates set up outside of them. One spot, in particular, that is especially popular is outside of the Carlton Street Deck on South Campus. This area is usually home to alumni and an older crowd. 
In addition to tailgates outside of parking decks, there are a couple of popular parking lots across campus that have become a home for tailgates. There is a grassy area near the residence hall/dining hall Oglethorpe House (affectionately known as "O-House" among students), that usually fills up. This area is typically full of alumni and other fans and is less student-dominated. O-House is located off of South Lumpkin, and there are usually tents set up in other areas along this road.
4. Milledge Avenue
Fondly referred to as "Milledge" there are plenty of tailgates that are set up along this road. A large number of Greek life houses are on Milledge and you are likely to see students tailgating and playing cornhole here before game time.
If you would prefer to tailgate off-campus there are still plenty of options for you!
Off-Campus:
1. Classic Center Football Parking/Tailgating 
The Classic Center in downtown Athens has a variety of tailgating options. You have the ability to purchase a complete tailgating package or just park. Either option is a good one. The Classic Center is about a 10-minute walk from Sanford Stadium and takes you through the historic downtown area that Athens locals know and love.  
The Classic Center offers Game Day parking plans during UGA football season. You can purchase a parking package for the whole season, or a single game here. Make sure to plan ahead because spots fill up quickly.
The Classic Center also offers RV Parking. Get more information and purchase in advance here.
2. Downtown Athens Parking Decks
In addition to the parking decks on campus, there are also parking decks in Downtown Athens. Game day parking is available in both the College Avenue deck and the Washington St. deck. UGA football season parking passes can be purchased as can passes for individual games. Find out more information here.
Own your spot:
If you are a dedicated tailgater you may want to consider owning a spot to tailgate. If this sounds appealing to you, you can check out TailGAte Station or Bulldog Park.
1. TailGAte Station
TailGAte Station is a great option for off-campus tailgating. You read that right, there's an emphasis on GA at TailGAte Station. It's a great place for families to tailgate hassle-free. TailGAte Station is a "tailgate park." You make a one-time purchase of a spot within a gated community, and that parking space/lot is then considered your piece of property. Your spot is numbered and you can drive right up and start tailgating. It's about a 10-15 minute walk to the stadium. You also have the option of taking a shuttle. Owners receive 10 guest passes per game, so feel free to invite friends!
2. Bulldog Park (RV Parking)
As far as RV needs go, Bulldog Park is a great option. Bulldog Park is another facility where tailgaters have the option to own their spot. Once you purchase a spot at Bulldog Park you can use it throughout the year, not just football season. Bulldog Park is a 10-15 minute drive from Sanford. There are shuttles that take fans from the park to the stadium and back starting 2 hours before the game. In addition to the convenience of the shuttles, Bulldog Park has all sorts of amenities at the park including an entertainment area, restrooms, and a picnic area just to name a few. You can find out more information here.
What to do:
The University of Georgia is known for its tailgate scene. Here are some tips for joining in like a pro: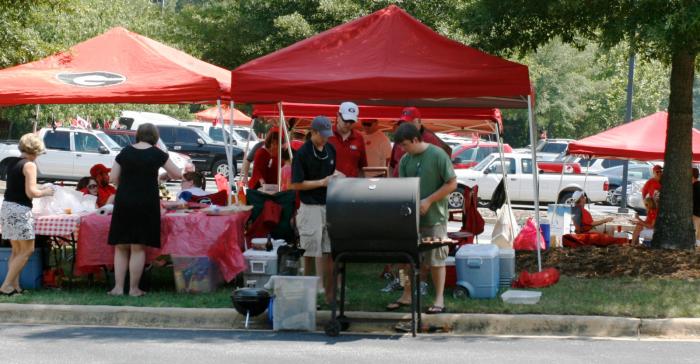 Socializing with your fellow Dawg fans is a must. There's nothing like a Saturday in Athens. People are always super hyped to watch some UGA football. "Go Dawgs!" is a proper greeting in all situations. 
Football is typically a main topic of conversation so you might want to read up on this year's team. In addition to talking about UGA football, depending on the tailgate, some folks bring a TV to their tailgate. People want to make sure they are staying caught up on other SEC teams playing that day.
A lot of tailgaters like to bring other forms of entertainment, including games like cornhole. Most people enjoy cornhole, but if you're hanging with a younger crowd you may get roped into playing drinking games like flip cup or beer pong. If you're feeling athletic, you can always throw a football before watching some football.
The social aspect of a tailgate is great; but if you're like us one of your main priorities is food. 
What to eat (and drink):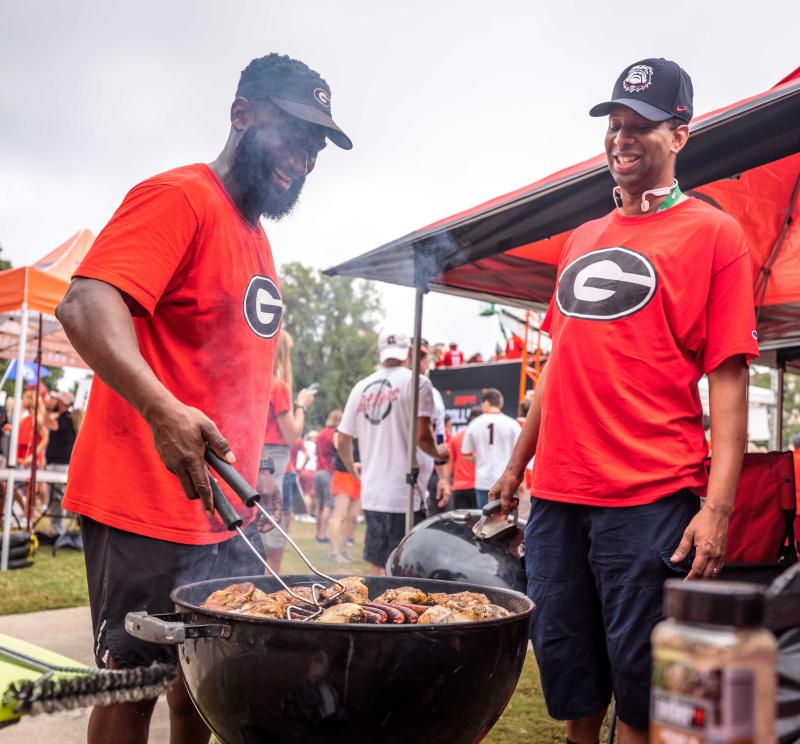 There are a number of great options as far as food goes at a tailgate. Food can completely set the vibe of the tailgate. Have snack foods like pimento cheese and Fritos, French onion dip and potato chips, and vegetables with ranch for a chill, fun pre-game.
If you want to go all out, some people do full-blown meals at their tailgates; a tailgating classic is hamburgers and hot dogs. Don't forget the grill! (But remember if you're tailgating on campus North Campus doesn't allow grills and the rest of campus only allows charcoal grills). If you don't want to grill out you can never go wrong with fried chicken, a southern favorite, and, at least in some households, a tradition that's said to bring the Bulldogs luck on the field!
If you're in the mood for BBQ Athens has some great local spots that cater on game days. Some of our favorite BBQ Spots include Pulaski Heights, Saucehouse, and White Tiger Gourmet.
As far as drinks go, the list is endless. Some people bring soda, others consider other kinds of cold beverages to be essential on game day. Alcohol is allowed at individual tailgates, but bartenders are not allowed, it must be self-pour. Whether you're consuming mixed drinks or beer, the options are endless. If you really want to have the full Athens experience, you can partake in a local brew from Creature Comforts, Terrapin, Southern Brewing Company, Athentic, Normaltown Brewing, or Akademia. 
If you're attending the football game after tailgating, don't forget that outside beverages are not allowed inside Sanford Stadium, and Athens does prohibit open containers. 
What to bring:
If in doubt- bring it! Hardly anything would be considered overkill by fellow Bulldog fans (though your crew may not be as excited about the packing and unpacking). Tables are important to set up food and drinks (just remember that on North Campus tables cannot exceed 6 feet). A cooler and some ice for your drinks are always a good idea. Chairs are another necessity because if one thing is certain, you're going to be doing a lot standing while cheering on the Georgia Bulldogs at Sanford Stadium.
Veteran tailgaters swear by their tents. Depending on where you're setting up, tents are essential for shade. Georgia heat can be brutal, especially at the beginning of the season.
Some other essentials you'll want to bring will be plates, napkins, and utensils. Bottle openers are nice to have on hand depending on the beverages you're serving. You may want to include a tablecloth if you're feeling fancy or want to make clean-up a little easier. Trash bags for clean-up are always a must. 
Tailgating tips specific to UGA: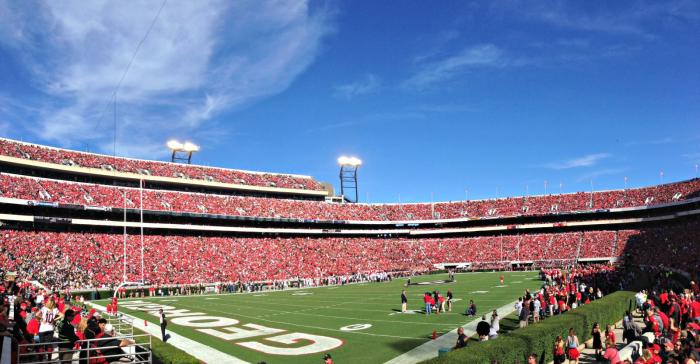 In order to keep the peace on campus, UGA does not allow tailgates to be set up before 7 a.m. on Saturdays. However, you can still park on campus before 7 a.m. Charcoal grills are allowed, but other sorts of heating/cooking devices are not allowed. Grills are not allowed inside or on top of the parking decks. As far as restrooms go, there are multiple public restrooms around campus including bathrooms at the Tate Student Center and Zell B. Miller Learning Center (also called MLC). There are also restrooms open at Bolton Dining Commons and Joe Frank Harris Commons (also known as ECV). In addition, there are multiple portable toilets across campus. When it comes time to clean up, fans are encouraged to either take their bagged trash with them or leave bagged tailgate trash at their tailgate area where the UGA clean-up crew will come to retrieve it. UGA has also made it easy to recycle plastic, cans, and cardboard by placing Dawg House recycling bins in various spots on the way to Sanford. 
For more information about tailgating and football weekends in Athens, check out our UGA Football Page. If you think we missed an important tailgating tradition let us know in the comments below. Most importantly, enjoy your time in Athens, GA and Go Dawgs! 
This post was originally written in 2019 and was updated by Shannon Dominy in 2022.